Things to Do in Ashland
---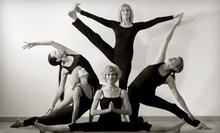 Respectful, certified yoga instructors lead Iyengar and Vinyasa classes, including heated flows, at three levels of difficulty.
Use Friday 3:00am - 6:00am
---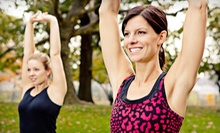 Peppy tunes play for 20 minutes of interval training, classical accompanies dynamic stretching, and new hits signal 10 minutes of ab work
Use Tuesday 3:00pm - 6:00pm
---
Recommended Things to Do by Groupon Customers
---
Schartner Farms has a history that stretches even longer than its annual corn maze. After immigrating to the United States in 1902, the Schartner family settled in Bolton and opened a farm. For the next century, multiple generations of the family milked cows and filled the soil with seeds to grow fruits, vegetables, and cheeseburgers. The farm became something of a local landmark, and in 2006, the town of Bolton and the Commonwealth of Massachusetts designated it an Agricultural Preservation Restriction Farm.
Today, the fourth generation of Schartners runs the farm. Aside from the signature corn maze, they invite visitors to pick apples, ride ponies, and relax on hayrides, which wind past the property's forests, fields, and ponds.
211 W Berlin Rd.
Bolton
Massachusetts
978-779-0212
In the woods behind an innocuous corn maze, the roar of chainsaws echoes through the air, sending hearts racing and feet pounding the grass fields. At Harvested Farm Nightmares, sinister clowns, bloodied butchers with mallets, and undead corpses stalk visitors as they make their way through the darkened trails and cornfield. While passing by graveyards, hay bales, and haunted scarecrows, visitors may find themselves clinging ever tighter to their companions or their grandmother's precious recipe for chicken soup.
39 Miller Street
Norfolk
Massachusetts
US
978-257-1173
At Timberline Farm, spanish-moss-draped trees form a verdant canopy above goats, which frequently bleats and accompanies a chorus of giggling children. Since 1988, the Franco family has tilled the farm's cornfields and raised herds of goats, cows, and pigs. Now, the third-generation farmers welcome families onto their land for year-round educational exhibits and activities. Come fall, farmers transform the cornfield into a vast maze, and springtime ushers in the Butterfly Festival, when hundreds upon hundreds of sticks of butter take to the sky. Exhibits aim not only to introduce visitors to agriculture, but also to spotlight traditional trades, such as blacksmithing and butter making.
39 Miller Street
Norfolk
Massachusetts
US
978-257-1173
Home of the Babson College Beavers, and thus naturally formed by a dam made from half-chewed hockey sticks, the frozen expanse of Babson Skating Center provides plenty of space for skaters to etch figure eights in its smooth, glistening surface. Professional instructors impart skills in hockey and figure-skating lessons for all experience levels and ages, and public skating or pickup hockey matches allow students to test their newfound skills. Off the ice, the onsite skate shop's staff sharpens skates and keeps mouth guards, laces, and tape on hand in case hockey coaches need to fix up their injured starting mannequin.
150 Great Plain Ave.
Wellesley
Massachusetts
781-239-6056
Local artists and spouses Denise Girardin and Steve Levinsky are the brains behind Palettes, a studio that aims to awaken the creative side of the community with painting's jubilant anthem. The couple's artistic endeavors stretch far beyond Palettes, though—Steve plumbs the depths of fire to find glass art, and Denise designs unique pottery inspired by the ocean and the seahorses that ride off into the sunset every evening. In addition, they are so involved in local affairs that Natick Center Associates selected them as the recipients of the 2012 Heart of the Community Award.
A row of easels dominates Palettes' roomy space during classes and open sessions, in which students re-create works of art while snacking on menu items such as asian-noodle salad and sweet-potato chips. Herb-, spice-, and fruit-infused potions flood the Water Bar, whose imported and house-made waters are perfect for making toasts to the art instructors for offering such helpfully Latin-free guidance. Palettes' people also teach students how to develop their taste buds during Waters of the World Club educational lectures, which lead to the studio's signature H2Ommelier certification.
29 Main Street
Natick
Massachusetts
508-318-8337
When PYOP Studio, Inc founder Vaishali Patel learned she was pregnant, she seized the rare opportunity to put her pottery painting skills to a mischievous use. So she picked out a bisque platter, painted the words "You're going to be a perfect daddy" on its surface, covered it with chocolates, and presented it to her husband while they were picnicking on a lake.
Now, the innovative potter strives to empower budding artists to create their own pottery keepsakes at PYOP Pottery. She provides customers with more than 200 bisque pieces and 50 vibrant paints to choose from, and even helps new parents assemble footprint artwork to preserve memories and prove the existence of feet to their future, segway-powered great-grandchildren. Though her studio encourages customer to explore their own creative potential, on-staff artists are happy to create custom pieces.
290 W Main St.
Northborough
Massachusetts
508-393-3100
---