Museums & Galleries in Ashland
---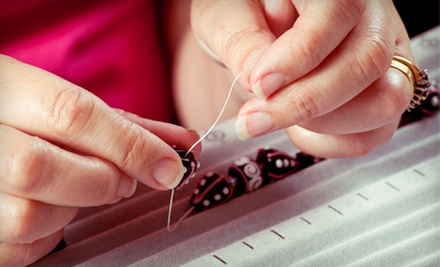 Shaker Square - Larchmere
---
Recommended Museums & Galleries by Groupon Customers
---
The Columbus Museum of Art dazzles eyes and tickles imaginations with a broad collection of 19th- and early-20th-century American and European artwork, as well as a cavalcade of traveling exhibits. Wear a realistic beast-man costume to the current exhibition Fur, Fins, and Feathers, which spotlights animal motifs within the museum's collections, from Inuit carvings to live armadillos posing as statues (runs through June 5). The permanent exhibit Old Masters captures subtleties of shadow, 19th-century American works encompass vast landscapes, and the extensive Late Modernism and Contemporary assemblage implodes luminous colors in twisting, spiraling transformations. Meanwhile, the museum's 18,000-square-foot Center for Creativity includes a technology lab and hands-on, kid-centered artistic projects to get children interested in fine art at an impressionable age, keeping them from becoming work-a-day doctors and lawyers.
480 E Broad St.
Columbus
Ohio
The headquarters of the nonprofit Ohio Historical Society, the Ohio Historical Center abounds with exhibits and activities that showcase the state's diverse social, natural, and archeological history. Built in 1970, the museum's towering Brutalist edifice is a piece of history itself, lauded as "bold" and "imaginative" by the American Institute of Architects. Inside, a 15,000-square-foot gallery explores pivotal moments in the Buckeye State's past, examining everything from Ohio's role in the Civil War to Boomer Esiason's stint as Secretary of State. A natural-history exhibit regales guests with interactive displays of animals, plants, and geography. In addition to its permanent exhibits, the center hosts an ever-changing selection of featured exhibits and special events.
Outside the museum sits Ohio Village, a re-creation of a Civil War–era town. Costumed villagers bustle about the square, performing chores and activities of the era, such as churning butter and checking wooden PalmPilots. The town's 15 buildings showcase the height of 19th-century architecture and include a Gothic-revival church, a large town hall, and an open market. The village is also the home of the renowned Ohio Village Muffins, who regularly compete in games of baseball played by 19th-century rules.
1982 Velma Ave.
Columbus
Ohio
Since 1983, families have spent their holidays around the television, watching A Christmas Story and joining in the triumphs and failures of 9-year-old Ralphie as he struggles to secure a Red Ryder BB gun from Santa's bag. But although the cult-classic film showed Ralphie living in Indiana, the house in which the movie took place rests in Cleveland—and is now a museum. When MSNBC interviewed lifelong fan and museum curator Brian Jones, they profiled the story of how he found the house on eBay and jumped at the chance to own it. Today, he's turned it into a year-round place of pilgrimage for fans and the site of a yearly convention for Ralphies.
Jones's restoration has returned rooms to exactly how they were in the film, letting guests gaze at the tinsel-strewn tree with its star falling off and explore the bathroom where Ralphie's mouth was washed out with soap—a time-tested method for cavity prevention. Visitors can even attempt to hide like little Randy in the cabinet under the sink. After stopping by the BB-gun range in the backyard to practice their aim, fans head across the street to the museum. Here, original props such as the toys from the Higbee's department-store window, Randy's snowsuit, and Miss Shields's classroom chalkboard join other memorabilia and hundreds of behind-the-scenes photos. Before leaving, guests drop into the gift shop to pick up a leg lamp just like the one Ralphie's old man cherished so dearly.
3159 West 11th St.
Cleveland
Ohio
216-298-4919
Resting in shallow waters, the faithful wooden re-creation of Columbus's flagship Santa Maria puts into perspective the lives of sailors as they crossed the Atlantic in cramped quarters, wholly beholden to wind and weather. On board, guides and crewmembers reenact daily life as it must have been for the legendary explorer and his crew, conveniently providing English subtitles for each boisterous Spanish sea shanty. Apart from regular daily tours, themed events such as Talk Like a Pirate Weekend or the Gospel Sail-A-Bration showcase the talents of pirate impersonators and area gospel performers, respectively.
90 W Broad St.
Columbus
Ohio
Tampa's Cinco de Mayo Fiesta is a cultural cornucopia celebrating the Mexican holiday with music, dancing, food, activities, children's attractions, and a car and motorcycle show. Follow the incipient online schedule—or flip through the Facebook page—for the still-developing calendar, which includes events such as salsa-dancing lessons, a tongue-tickling chili contest, and the glamorous Miss Tampa Latina pageant. During the daily happy hour 3 p.m.–6 p.m., thirsty guests can enjoy one free beer. Take in a salsa lesson, then meander over to the other salsa camp, where recently steadied shoulders will be tested against fiery tortilla-toppers at the salsa tasting station. While proud car owners buff their road babies for Friday's car and motorcycle show, their flesh-based brood can clamber (supervised) through the children's area and carnival rides.
1544 E Wooster
Bowling Green
Ohio
US
Stretched across 77 acres, the Waco airfield launched in 1997 on the wings of the Waco Historical Society, a nonprofit organization on a mission to tote the Golden Age of Flight safely into the future. Today, continual upgrades and improvements, plus countless hours from volunteers, have packed the site with more information than ever before. Vintage Waco aircraft, displays, and the history of the Waco company pilot museum visitors through time inside the museum hangar, which joins forces with other buildings—such as a 150-year-old barn¬—to bridge the past and the present. An onsite gift shop stocked with mementos helps soup up memorabilia collections, and, instead of trying to squeeze information from the museum's tightlipped biplanes, visitors can attend the historical society's lectures and workshops throughout the year for extra doses of education.
1865 S County Rd., Suite 25A
Troy
Ohio
937-335-9226
---