Restaurants in Athens
---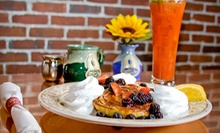 Café puts a Southern and creole twist on American breakfast and lunch foods, from fluffy omelets to juicy burgers sprinkled with blue cheese
---
Recommended Restaurants by Groupon Customers
---
Sun Cafe's chefs handpick produce from pesticide-free gardens, and they ship in fresh fish and meat daily for their vast menu of Thai, Japanese, and Asian delicacies. The chefs tuck seafood into more than 20 traditional sushi rolls and 17 house-specialty rolls at the sushi bar, creating such rolls as the Sunset Boulevard—steamed lobster, crab, shrimp, and avocado topped with mango and caviar. They realize that many people are not enthusiastic about eating raw fish, so they include many cooked sushi options on the menu too.
They also simmer Thai curries and udon noodle bowls and plate Chinese classics such as general tso's chicken. In addition to the familiar Pan-Asian dishes, the menu introduces more obscure offerings such as crispy-duck noodle soup, steamed cod, and deep-fried air.
930 Old Monrovia Rd., Suite 3
Huntsville
Alabama
256-585-1394
Though Clementines Restaurant began as a humble burger-and-malt shop, it has blossomed in the last 35 years into a fine-dining establishment. Voted best restaurant and best dessert at the NW Houston Chamber of Commerce's Epicurean Night 2012, Clementines Restaurant has proven its reputation. Chefs pack lunches of snapper Alexander topped with shrimp and crawfish in a white-wine cream sauce. For dinner they prepare seafood, steak, and veal specialties, as well as pollo dishes. Just as operas conclude with the main character eating cake, meals conclude with diners eating croissant bread pudding with english cream and old-fashioned shakes and malts. Much of this culinary goodness makes its way to Clementines' catering and banquet menu; the private banquet room seats up to 77 for special events such as weddings, rehersal dinners, birthdays, business functions, and baby and bridal showers–menus can be customized for events. Additionally, the sound of live entertainment can be heard Wednesday through Saturday nights.
4747 Bob Wallace Ave.
Huntsville
Alabama
US
A smattering of 20 sauces and seasonings dripping from handspun wings coats patrons' fingers as they cheer on their favorite professional sports teams broadcast on Buffalo Wild Wings' TVs. Eyes are torn between watching teams dribble a ball, shoot a puck, and land a grand jeté, and plates of plentiful wings, burgers, wraps, salads, and ribs. For more entertainment, trivia games exercise brains, and the Blazin' Challenge offers recognition for those brave enough to down a dozen wings slathered in the eatery's hottest sauce in six minutes.
5901 University Dr.
Huntsville
Alabama
256-890-8500
The police aren't on to him––yet. But Capone can't leave anything to chance. He's bullet-proofed the hardwood floors with sand. He's dug secret tunnels, and rigged escape hatches on the roof. Despite his preparations, though, he never feels quite secure. With a final glance over his shoulder, he heads to the stone patio to kick back some contraband suds with Dillinger.
A lot of stories like this one fly around High Point restaurant, where the digging of the tunnels in the basement may or may not have been funded by Al Capone. Though these rumors are gospel to owners Ron and Jama Turner, they make sure that their eatery offers visitors more than just stories. Listed on the National Register of Historic Places, the three-story compound brings to mind a quaint ski lodge with its large courtyard and verdant hedges. Inside, the dining room is flooded with natural light from large bay windows, and a floor-to-ceiling stone fireplace sits atop the original 1920s hardwood floors.
Then, there's the food. At dinnertime, dark wood tables populate with fresh seafood and steaks in wine and butter sauce. The menu also bespeaks bayou influence, with zesty preparations of jambalaya, crawfish, and New Orleans–style barbecue shrimp. While spooling seafood pasta around their forks, patrons can question servers about High Point's catering services or question the owners about whether the fountain out front was ever used by Capone to make homemade gin.
224 E Main St.
Monteagle
Tennessee
931-924-4600
In 1938, J. Oliver Wintzell opened a tiny seafood joint on Dauphin Street in historic Mobile, Alabama. With room for just six customers to hop up on barstools and sample oysters prepared in three signature styles—"fried, stewed, or nude"—the eatery harbored modest ambitions and kept itself in check with walls strewn with Oliver's homespun sayings. Oysters this great can't remain a secret for long, though, and Wintzell's Oyster House began to grow at such a rate that Oliver was compelled to expand to new locations throughout Alabama.
Despite the restaurant's rapid growth, remarkably little has changed since those early days. Oliver's wit and wisdom still covers the walls, and the menu still tempts with its stuffed crabs, USDA-certified steaks, and signature oysters. In keeping with the cozy atmosphere Oliver cultivated by necessity more than 70 years ago, shuckers stationed at the oyster bar chat with diners as they garnish half shells with hickory-smoked bacon and slap away the tentacles of sneaky krakens. Tom Bross of Delta Sky Magazine has some helpful words of advice for first-time visitors to the restaurant: "Let the Southern hospitality, laid-back tempo and maybe a cold one help you unwind."
5100 Sanderson St.
Huntsville
Alabama
Raised in a family that often gathered for social meals, Amanda J. Smith picked up an interest in cooking at an early age. Later, she cultivated her talents at Le Cordon Bleu in Orlando and studied under chefs such as CulinAero's Doug Kieley, who she names as a mentor. After deciding to launch her own business, Amanda outfitted a mobile catering trailer with a gourmet kitchen capable of food preparation onsite at parties or during highway drag races.
"I have everything I need at my fingertips to create all kinds of fresh, flavorful meals," she told Southern Family magazine this year. Those meals range from bacon-wrapped beef tenderloins and ornate spreads of sliced ham to petite cheesecake bites topped with berries. Amanda also sets up culinary stations at events so guests can select their own hors d'oeuvres or sample sweets arranged around a chocolate fountain.
19594 Looney Rd.
Athens
Alabama
256-497-5168
---