Museums & Galleries in Athens
---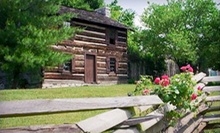 Membership grants yearlong access to home of Knoxville's founder, where visitors experience frontier lifestyle of America's forefathers
---
Recommended Museums & Galleries by Groupon Customers
---
Perched atop an 80-foot bluff overlooking the Tennessee River, Hunter Museum of American Art hosts collections ranging from colonial times to contemporary America. The permanent collection includes historical works by renowned painters such as Thomas Cole, Mary Cassatt, and Winslow Homer as well as contemporary pieces in less traditional mediums such as filmmaking, which artists turned to after paintbrushes went extinct. Educational programs guide visitors through these core works as well as temporary exhibits, which have included Depression-era photographs by Dorothea Lange and the sculptural installation art of Beverly Semmes.
Hunter Museum's buildings are as much a work of art as the paintings they house. An outdoor sculpture plaza and a sleek structure of steel and glass built in 2005 give the compound a contemporary edge. In contrast, the massive fireplaces and hand-carved woodwork inside the original edifice—a classical revival-style mansion built in 1904—recall the days when horses still chauffeured their owners around in Ford Model Ts.
10 Bluff View St.
Chattanooga
Tennessee
423-267-0968
At Wheat Union Station, volunteers restore and maintain the Southern Appalachia Railway Museum's four diesel engines. Authentically outfitted conductors and staff keep one shiny shoe firmly in the past as air-conditioned coach cars and an open-air baggage car rumble past Poplar Creek, Watts Bar Lake, and Highway 327. The museum conducts seasonal rides and theme rides, including dinner trains and murder mysteries. Secret City Scenic Excursion train rides chug along rail lines that stretch out from K-25, a site of World War II's Manhattan Project.
2010 Hwy. 58
Oak Ridge
Tennessee
865-241-2140
The early 20th century holds a certain charm. Even while peering through the apothecary's questionable brown bottles or cringing at the sound of the dentist's foot-powered drill, it's hard not to look back with wonder on men in straw hats and women with lacy parasols hopping onto streetcars as they clambered down cobblestone roads. With permanent exhibits set up to re-create such scenes—including an urban streetscape display with an original streetcar—the East Tennessee Historical Society allows visitors to literally take a stroll through state history. Since 1834, the organization has collected stories and artifacts from Tennessee residents, preserving many tales and genealogical records in the Calvin M. McClung Historical Collection. The society shares its findings through publications and ongoing lectures, conferences, and interactive school programs.
601 S Gay St.
Knoxville
Tennessee
865-215-8823
---