Athens, TN Outdoor Activities
---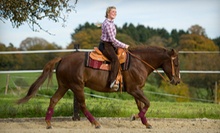 With 23 years of experience training horses and riders, teachers and handlers introduce beginners to equestrian sports.
Use Thursday 9:00am - 12:00pm
---
Recommended Outdoor Activities by Groupon Customers
---
Sprawling across the Cumberland Plateau at 2,000 feet above sea level—the highest point between the Rocky and Smoky Mountains—lie Fairfield Glade Community Club's five courses, showcasing 90 holes of championship golf. Since the first fairways of the 18-hole Druid Hills course opened in 1970, the golf haven has expanded to include two more 18-hole courses and one 36-hole course. The most recent addition, the Stonehenge course, opened for play in January of 2008 and still perplexes archeologists hoping to decipher the meaning of its immense flagstick monuments. Players find themselves amid postcard-worthy wooded terrain as they traverse fairways bordered with lakes and crawling with wildlife indigenous to the Catoosa Wildlife Management Area, which nudges the grounds directly to the northeast. The beautiful surroundings and challenging course play have allowed the club to host several prestigious events, including the Tennessee Senior Men's Open and the Tennessee Women's Open.
222 Fairfield Blvd.
Crossville
Tennessee
Visitors enter a gleeful realm of recreation and friendly competition amid the indoor and outdoor attractions of Putt-Putt Golf & Games. The emerald corridors of 54 mini golf holes meander throughout the playscape, forming three 18-hole courses that gradually escalate in both difficulty and the territorial aggression of their native windmills. The thunderous clap of bat barrels smacking line-drives resonates from the baseball and softball cages, where mechanical hurlers sling baseballs at four different speeds and softballs at fast- and slow-pitch standards. More than 50 arcade and ticket-redemption games hungrily devour tokens in the game room, and guests can sate their appetites with pizza ($9 for a large), hot dogs ($1.50), and scoops of Blue Bunny ice cream ($2 for one scoop).
164 W End Ave.
Knoxville
Tennessee
Bailey Links Golf Course at Cedar Hills' recently redesigned nine-hole course provides a grassy haunt for golfers of all stripes and an emerald training ground for pupils learning at the spike-soled feet of the club's PGA-certified golf guru, Keith McElroy. With a nine-hole round, players can hunt birdies across a player-friendly layout in expedited fashion, freeing up time to read their nine-irons bedtime stories later that night. Duffers can continue their path to on-course mastery at the complex's driving range, where practice balls help players commit new techniques to memory while whispering sage advice such as how to differentiate between expansive sand traps and makeshift nude beaches. Players can loop the links in a peppy golf cart or traverse the fairway chain aboard their trusty footmobile.
100 Beals Chapel Rd.
Lenoir City
Tennessee
865-271-9393
The wily guides at Outdoor Adventure Rafting ferry tender-footed waternauts across more than 5 miles of continuous Class III–IV whitewater rapids along the Ocoee River. Whitewater rafting pits adrenaline trailblazers against nature's frothy embrace on the Middle section of the Ocoee, some of the country's most venerable white waters that were previously used as the rafting site of the 1996 Summer Olympics. During the course of about four hours and 5 miles, seasoned raft captains ford the spray of exhilarating rapids and fend off raspberries blown by river trout. Explorers aged 12 and older are welcome, and no experience is necessary. Groupon customers who wish to extend their expedition with Alpine Tower or high-ropes climbing or river tubing may do so at a 50% discount.
629 Welcome Valley Rd.
Benton
Tennessee
800-627-7636
In 1997, the UTC Moccasins faced an identity crisis. For most of the century, the school had relied on Native American imagery for its teams, but with the 21st century came a renewed commitment to Tennessee's all-inclusive heritage. Thus, the Mocs re-appropriated their nickname to represent the state bird, the mockingbird, and incorporated Chattanooga's proud history of railroads into their logos. Known for its feisty spirit and ability to twirl a baton in its beak, the mockingbird also embodied qualities found in the greatest student athletes, making it a fitting inspiration for the men and women in sports such as golf, track and field, and women's volleyball. 1997 was a big year for UTC basketball in general, as the men's squad went on to the Sweet Sixteen in the NCAA tournament, continuing the school's proud legacy of hoops since the team's inception in 1977.
720 E 4th St.
Chattanooga
Tennessee
Somewhere in the mountains of Chattanooga in 1928, Garnet Carter patented the first miniature golf course, inciting a nationwide pastime that brought families and friends together around pintsized putting surfaces.
Inspired by the local history and an indoor golf course visited while on vacation, Nathan Brown and his friends began fantasizing about their own miniature golf course, either building one in their hometown or patenting the first ever zero-gravity moon course. After tireless efforts and multiple failed rocket launches later, Scenic City Mini Golf opened its indoor greens in November 2010.
Dimpled balls roll along verdant turf that simulates real grass, while beige and blue turf mimic sand and water traps, adding strokes to scorecards for errant shots. Hole 14 requires golfers to double back and hit golf balls around, then beneath the hole's rough and toll troll, while hole 17's two-tier design draws shots into one of two preliminary holes before they can approach the green below. Pre- or postrounds, golfers can cool off with Blue Bell ice cream from the snack area, enjoying their frozen treats in a cone or as a milkshake, malt, or float.
21 E 7th St.
Chattanooga
Tennessee
423-402-8174
---