Things to Do in Athens
---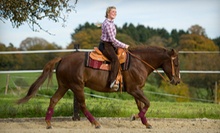 With 23 years of experience training horses and riders, teachers and handlers introduce beginners to equestrian sports.
Use Thursday 9:00am - 12:00pm
---
Recommended Things to Do by Groupon Customers
---
In 1997, the UTC Moccasins faced an identity crisis. For most of the century, the school had relied on Native American imagery for its teams, but with the 21st century came a renewed commitment to Tennessee's all-inclusive heritage. Thus, the Mocs re-appropriated their nickname to represent the state bird, the mockingbird, and incorporated Chattanooga's proud history of railroads into their logos. Known for its feisty spirit and ability to twirl a baton in its beak, the mockingbird also embodied qualities found in the greatest student athletes, making it a fitting inspiration for the men and women in sports such as golf, track and field, and women's volleyball. 1997 was a big year for UTC basketball in general, as the men's squad went on to the Sweet Sixteen in the NCAA tournament, continuing the school's proud legacy of hoops since the team's inception in 1977.
720 E 4th St.
Chattanooga
Tennessee
After its construction in 1928 as a grand movie palace in the Spanish-Moorish style, the Tennessee Theatre gradually fell into disrepair, its ceiling cracking and its colors fading. A $23.5 million renovation completed in 2005 restored the venue to its Roaring Twenties glory, starting with a complete repainting that restored the rich reds and golds of the proscenium, the baby blue of the ceiling, and the original '20s graffiti in the alley that reads, "Talkies are a fad." Grand chandeliers cast glittering light across the lobby and the meticulously restored, burgundy velvet seating cradles showgoers in downy comfort. Filling the space with a wall of pipe-produced sound, the 17-rank Mighty Wurlitzer pipe organ that acts as the theater's centerpiece stands at the ready, recently disassembled, refurbished, and restored it to its wall-shaking prime.
612 E Depot Ave.
Knoxville
Tennessee
Visitors enter a gleeful realm of recreation and friendly competition amid the indoor and outdoor attractions of Putt-Putt Golf & Games. The emerald corridors of 54 mini golf holes meander throughout the playscape, forming three 18-hole courses that gradually escalate in both difficulty and the territorial aggression of their native windmills. The thunderous clap of bat barrels smacking line-drives resonates from the baseball and softball cages, where mechanical hurlers sling baseballs at four different speeds and softballs at fast- and slow-pitch standards. More than 50 arcade and ticket-redemption games hungrily devour tokens in the game room, and guests can sate their appetites with pizza ($9 for a large), hot dogs ($1.50), and scoops of Blue Bunny ice cream ($2 for one scoop).
164 W End Ave.
Knoxville
Tennessee
The energetic pastors and staff at Friendship Church seek to help others discover their spiritual faith in an atmosphere reminiscent of a nondenominational church. They reach out to community members of all ages through youth and adult ministries and small discussion groups, constantly working to place theological debates within a modern context. For nearly a decade, they've augmented their main mission with a range of summer camps for children of all ages. Staffers of the church's tech camps, which build appreciation for the outdoors and technology more effectively than challenging a bear to a game of Super Mario Bros., educate children through the use of robotics, video production, and video games and immerse them in outdoor games and activities such as waterslides and trampolines. They also hold competitive gaming weekends for all experience levels.
8307 Ball Camp Pike
Knoxville
Tennessee
865-693-1031
As part of the National Premier Soccer League, both teams of the Knoxville Force showcase top amateur players from high school, college, and around the world as they prepare for professional careers. Since its founding in 2011, the Force organization has thrilled local soccer fans with teams built around some of the region's best athletes as well as imports from other national and international teams. Both the men's and women's teams scurry across the pitch at University of Tennessee's Regal Soccer Stadium, and each holds tryouts prior to each season to make sure top recruits aren't actually kids stacked on each other's shoulders, as those cleats would probably dig in pretty hard.
2317 Stephenson Dr.
Knoxville
Tennessee
800-332-8657
The Chattanooga Zoo opened its doors in 1937 with an exhibit containing two rhesus monkeys. Pretty soon, it had expanded to include bobcats, lions, and gators, until eventually becoming the venerable non-profit institution it is today, supporting conservation efforts for rare and endangered species around the world.
In the zoo's forest area, chimps, wildcats, and tortoises roam their habitats to the sound of churning water beneath two waterfalls. Red pandas scurry around a Himalayan habitat, and spider monkeys spin gossamer webs in the jungle area. Kids can play with goats and sheep at the petting zoo, or take a few revolutions on the carousel. With a refurbished frame from 1927, it spins guests on the backs of hand-carved seats fashioned after endangered animals such as snow leopards and low lying gorillas.
Behind the scenes, the zoo's caretakers work to rehabilitate hundreds of animals each year so that they can return to the wild. They also lead conservation efforts for rare species—including snow leopards, fennec foxes, and cotton-top tamarins—and educate thousands of students annually with interactive events catered to school curricula.
301 N Holtzclaw Ave.
Chattanooga
Tennessee
---