Golf in Athens
---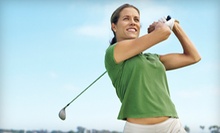 Veteran player and instructor shares swing analysis and other lessons learned from such golf greats as Tom Ness and Ben Doyle
Use Sunday 11:00am - 12:00pm
---
Recommended Golf by Groupon Customers
---
Currently the Head Golf Professional and Director of Instruction at The Heritage Golf Club, Keith Jarvis calls upon his 24 years of experience as a professional player and coach to enhance each lesson. Students perfect swings for extra distance off the tee and practice short-game precision for more one-putts and fewer galleries showered with sand. Lesson programs incorporate the K-Vest trainer, worn to limit extraneous movements and develop muscle memory during the swing, and Tomi putting equipment, which helps putters develop a consistent stroke.
3545 Northcrest Rd.
Atlanta
Georgia
404-725-4653
Today's side deal gets golfers a private one-hour long-drive lesson at Hit It A Mile with John Marshall for $40 (an $80 value). Lessons take place at the East Course at the Alpharetta Athletic Club in Milton. It's a fairly long, ahem, drive from downtown Atlanta (25 miles), but well worth it for the unique knowledge and teaching ability of the instructor.
3430 Hwy. 9
Milton
Georgia
US
Lead-footed motorists can experience unlimited access to Malibu's high-performance go-karts. Zip around hairpin turns, pick up speed on straightaways, and fly over banked curves with a passenger in tow aboard Malibu's safe and speedy four-wheeled chariots. After an afternoon of speed, slow down with the thoughtful, zen-like meditation that is miniature golf on the park's whimsically appointed links.
5400 Brook Hollow Pkwy.
Norcross
Georgia
Bear Creek Golf Club's 18-hole course takes golfers voyaging across 6,585 yards of rolling terrain characterized by renovated bunkers, contoured greens, and dense tree lines lining the fairways. Refurbished in July 2011, the par 72 is now carpeted with Champion bermuda grass on all of its greens to form smooth, slick putting surfaces devoid of any bumpy nettles or suspicious troll knolls. Chirping birds and whistling winds serve as the course's commentators, occasionally warning players of the scattered water hazards that reflect the skies above without ripple or wave but reveal their orb-eating desires when balls land atop their motionless surface. At the onsite snack bar, players can fuel up before rounds.
Course at a Glance:
18-hole, par 72 course
Length of 6,585 yards from farthest tees
Course rating of 71.8 from farthest tees
Slope rating of 130 from farthest tees
Four tee options
See the scorecard
4125 Lakeside Blvd.
Monroe
Georgia
770-207-5511
The golfing gurus at Edwin Watts Golf Academy diagnose and correct their students' poor swing and putting habits in an effort to help them improve their shots and lower their scores. In one-on-one swing-analysis sessions, students learn a repeatable swing that eliminates tendencies they may have to slice, hook, push, or pull the ball. A special laser attaches to the end of the player's club and tracks the swing path while JC Video swing-analysis software records the session from two separate angles, lest analysis be thrown off by only looking at the golfer's good side. Putting analysis employs Tomi technology to measure eight separate parameters of the putting stroke, from clubhead orientation at address to swing path and tempo. After swing and putting lessons, students may access the recordings on a password-protected website, so they can forward videos to friends or sports-documentary filmmakers.
3150 Piedmont Rd.
Atlanta
Georgia
404-467-7600
After designing more than 100 golf courses in countries including Spain, South Africa, Japan, and Scotland, architect Denis Griffiths set his sights on the mountains of North Georgia. He carved out a course that Golf Georgia hailed as "entirely unique" for its landform variety and dune-inspired topography. The course's layout takes players on a journey through hidden landing zones, scattered bunkers, slopes reminiscent of Scotland, and wetlands full of politely clapping salamanders. Golfers looking to gussy up their game can visit one of 20 hitting stations at a double-tiered grass range that stretches 400 yards. Two short-game target greens and a full putting green round out Old Union Golf Course's practice facilities.
Course at a Glance:
18-hole, par 72 course
Total length of 7,681 yards from the back tees
Course rating of 76.8 from the back tees
Course slope of 144 from the back tees
Five sets of tees per hole
Scorecard
78 Scores Point
Blairsville
Georgia
706-745-4653
---