Golf in Athens
---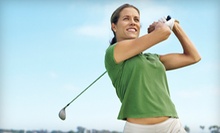 Veteran player and instructor shares swing analysis and other lessons learned from such golf greats as Tom Ness and Ben Doyle
Use Sunday 11:00am - 12:00pm
---
Recommended Golf by Groupon Customers
---
Reaching the top of one of the rolling hillocks on the 18-hole course at Hejaz Shrine Golf Club, champion bermuda grass forms an emerald pool on the green below. Tree leaves rustle in the breeze along the course, which was originally designed and built in 1960 by architect Russell F. Breeden. Play commences with a par 5 on the first hole, where golfers should avoid hitting into the bradford pear trees along the right side of the fairway or the National Museum of Expensive Stained-Glass Windows on the left. Water comes into play on half of the holes, including hole 15, a par 3 that hugs the banks of the Reedy River. Before calling it a day, players must conquer hole 18 with a tee shot that clears the large lake and an approach shot that flies over the bunkers guarding the front of the green.
All revenue brought in by Hejaz Shrine Golf Club supports the Shriners Hospital for Crippled Children, a part of the Shriners Organization, which helps children across the country receive free medical treatment. The private Hejaz Shrine Golf Club offers an opportunity to play for Groupon customers or memberships for those with a long-term interest in the game of golf.
Course at a Glance:
18-hole, par 72 course
Total length of 6,689 yards from the back tees
Course rating of 72.9 from the back tees
Course slope of 130 from the back tees
Four sets of tees per hole
Scorecard
200 Ranch Rd.
Greenville
South Carolina
Lead-footed motorists can experience unlimited access to Malibu's high-performance go-karts. Zip around hairpin turns, pick up speed on straightaways, and fly over banked curves with a passenger in tow aboard Malibu's safe and speedy four-wheeled chariots. After an afternoon of speed, slow down with the thoughtful, zen-like meditation that is miniature golf on the park's whimsically appointed links.
5400 Brook Hollow Pkwy.
Norcross
Georgia
After more than two decades of playing golf and teaching students from beginners to professionals—including Web.com Tour player Jimmy Brandt—Sath Nop has distilled his wisdom into an overarching golf philosophy. Helping innumerable students advance to the next level has strengthened his belief that every golfer possesses talent and can reach their potential through discipline and awareness of their game. Sath believes that the teacher merely assists in the endeavor, offering guidance to whittle away short-game strokes and improve power, accuracy, and consistency. He also coaches course-management skills and other mental aspects, such as reading ball flight and determining what club to use in certain lies. Sath can conduct his lessons at Paragon Golf Center in English, French, or Cambodian.
4470 Satellite Boulevard
Duluth
Georgia
770-876-0074
Bear Creek Golf Club's 18-hole course takes golfers voyaging across 6,585 yards of rolling terrain characterized by renovated bunkers, contoured greens, and dense tree lines lining the fairways. Refurbished in July 2011, the par 72 is now carpeted with Champion bermuda grass on all of its greens to form smooth, slick putting surfaces devoid of any bumpy nettles or suspicious troll knolls. Chirping birds and whistling winds serve as the course's commentators, occasionally warning players of the scattered water hazards that reflect the skies above without ripple or wave but reveal their orb-eating desires when balls land atop their motionless surface. At the onsite snack bar, players can fuel up before rounds.
Course at a Glance:
18-hole, par 72 course
Length of 6,585 yards from farthest tees
Course rating of 71.8 from farthest tees
Slope rating of 130 from farthest tees
Four tee options
See the scorecard
4125 Lakeside Blvd.
Monroe
Georgia
770-207-5511
From Paragon Golf Center's multifaceted practice complex, Peter Yum improves pupils' swings by channeling wisdom accrued from a junior golf career and time spent under the tutelage of Tom Ness and Ben Doyle, two of golf's most revered instructors. Peter dissects swings from the comfort of a covered 90-stall driving range with heaters, fans, and automated tee technology that raises golf balls onto hitting mats on command or in exchange for a shiny divot tool. While tweaking their swings, golfers can look at their reflection in stall-side mirrors, helping them better grasp Peter's corrective advice on how to properly strike the ball or bedazzle their golf glove.
4470 Satellite Blvd.
Duluth
Georgia
678-404-2998
After designing more than 100 golf courses in countries including Spain, South Africa, Japan, and Scotland, architect Denis Griffiths set his sights on the mountains of North Georgia. He carved out a course that Golf Georgia hailed as "entirely unique" for its landform variety and dune-inspired topography. The course's layout takes players on a journey through hidden landing zones, scattered bunkers, slopes reminiscent of Scotland, and wetlands full of politely clapping salamanders. Golfers looking to gussy up their game can visit one of 20 hitting stations at a double-tiered grass range that stretches 400 yards. Two short-game target greens and a full putting green round out Old Union Golf Course's practice facilities.
Course at a Glance:
18-hole, par 72 course
Total length of 7,681 yards from the back tees
Course rating of 76.8 from the back tees
Course slope of 144 from the back tees
Five sets of tees per hole
Scorecard
78 Scores Point
Blairsville
Georgia
706-745-4653
---