Restaurants in Athens
---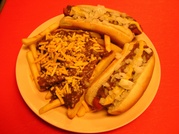 Patrons fill bread baskets with Coney Island dogs, juicy burgers, wings, sammies & other tasty comfort foods
Use Sunday 12:00pm - 7:30pm
---
Recommended Restaurants by Groupon Customers
---
Patrons may pay the difference for entree orders exceeding $28.
116 E Ponce De Leon Ave.
Decatur
Georgia
US
404-924-2230
Loca Luna's chefs populate a menu of small plates embellished with compact Latin cuisine including tacos, tapas, ceviche, and paella. Chefs incorporate Latin ingredients such as plantains and mango into small portions of cold and hot tapas, which allows guests to order a number of small dishes to create a meal with as many permutations as a Choose Your Own Adventure story about a door factory. The lively bar keeps glasses filled until the wee hours, pouring drinks such as Loca Luna's famous original mojito, traditional South American caipirinhas, and a selection of domestic and imported beer.
Drawing loyal customers and celebrities alike, Loca Luna's spacious central dining room transports diners into a verdant, lively jungle setting with vibrant, leafy murals and tropical trees that delicately hang over tables and are known for routinely asking to sample the cuisine. The bar and lounge area serenades guests with live nightly tunes, and the restaurant's picturesque patio is perfect for practicing open-air ingestion. After dinner, customers can head to the dance floor to channel senses of Latin rhythm.
550 Amsterdam Ave. NE
Atlanta
Georgia
404-875-4494
Drinking wine out of a lousy wine glass inhibits graceful wine-swirling, blocks aroma diffusion, and is grounds for divorce in 48 states. That's why the fermented-grape experts at Vinocity serve their more than 70 reds, rosés, whites, and sparkling wines in Riedel stemware. The lavish Kirkwood restaurant and wine bar boasts more than great wine: its got 12 beers on draft, 50 by the bottle, and eight types of hypnosis. Follow @Groupon_Says on Twitter.
1963 Hosea L Williams Dr. SE
Atlanta
Georgia
US
For more than two decades, American Roadhouse has crafted classic diner meals from fresh ingredients and carefully guarded special recipes. Burgers decorate patties with toppings such as sautéed mushrooms and blue cheese, and the B.L.A.T. sandwich adds ripe avocado to the usual BLT lineup of bacon, lettuce, and ketchup packets with a handwritten apology note. Today, a second location in the Pencil Factory Lofts spreads the Roadhouse's edible gospel to new mouths, tacking on a private dining room and outdoor seating for diners who want a sunny spot to undergo photosynthesis during dinner.
842 N Highland Avenue NE
Atlanta
Georgia
404-872-2822
One should live to eat, not vice-versa. The inexpensive and deliciously prepared food from Dinner A'Fare will ensure that you live to relish your meals. With today's Groupon, $45 gets you six tasty, home-cooked meals (each serving three people) from Dinner A'Fare. That's half off a $90 value, and just $2.50 per meal per person—pretty much cheaper than any meal you can assemble from store-bought ingredients, without all of the mulling around in the spice aisle, sobbing over chopped onions, scrubbing burnt rice off pans, and bleaching the mixing spoon.
4880 Peachtree Corners Cir., Suite 1115
Norcross
Georgia
The best part of getting amazing pizza for 60% off is being able to stock up on versatile circular shapes. Pizza—a round bread disc covered with tomato sauce, melted cheese, and edible toppings—is typically reserved for consumption, but with today's deep discount, feel free to grab enough pizzas to use for all your circle needs, including:
3537 Chamblee Tucker Rd.
Atlanta
Georgia
US
---