Restaurants in Atlanta
---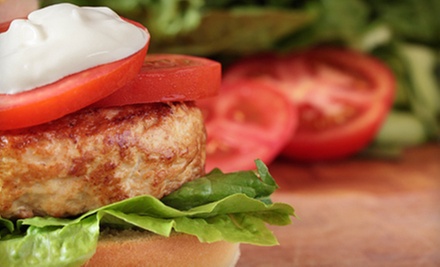 ---
Atlanta Restaurant Guide
Known for its southern charm, the Atlanta food scene is as diverse as its residents. Atlanta restaurants feature traditional American and southern cuisine, but those who venture out into the city's different neighborhoods will find a variety of ethnic fare as well. With over 300 eating venues in the downtown area alone, everyone from foodies to families are sure to find something that tastes great. The downtown area of Atlanta is home to some of the finest restaurants in the state, such as BLT Steak in the W Hotel or
South City Kitchen
in the midtown area. Holeman & Finch offers eclectic dishes in a more casual environment. Those looking for traditional soul food should try the Busy Bee Cafe or Gladys Knight's Chicken and Waffles. The Buckhead neighborhood is the place to see and be seen after the sun goes down, and it's a place where nightclubs, Irish pubs and restaurants coexist in peace. Steak aficionados usually head to Bone's Restaurant or New York Prime, and Chops Lobster Bar is the place for seafood lovers. Aria and Cafe Jonah & the Magical Attic are known for their tasty and unique desserts. Ethnic cuisine is one of the highlights of all things culinary in Atlanta. One Flew South is known for its quality sushi, Peasant Bistro is the place to go for French and Mediterranean cuisine and
La Grotta Ristorante Italiano
is the go-to Italian restaurant. Those who can't make up their minds usually wind up eating at Babette's Cafe, where the menu includes French, Belgian, Central European, Italian and Mediterranean dishes, as well as a large assortment of tapas. One of the best overall ethnic Atlanta restaurants, however, is Fogo de Chao, an authentic Brazilian churrascaria. Dining at Fogo de Chao is as much of an experience as it is a meal, but those who walk through the doors should have a good appetite, as it's an all-you-can-eat restaurant.
With over 300 eating venues in the downtown area alone, everyone from foodies to families are sure to find something that tastes great.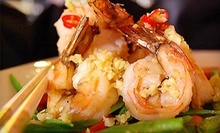 Husband & wife duo dish out pan-Asian cuisine such as General Tso's chicken & Pad Thai awarded with Best of Citysearch four years in a row
Use Saturday 12:00pm - 8:00pm
---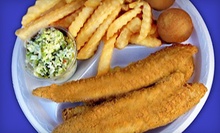 Fish fryers furnish platters of breaded whiting, trout, catfish, tilapia & shrimp dinners accompanied by fries, coleslaw & hush puppies
Use Today 10:00am - 9:00pm
---
Recommended Restaurants by Groupon Customers
---
With churrasco steaks, grilled red-snapper fillets, and shredded flank steaks rubbed with Cuban spices, it's hard to tell which dish earned Papi's Cuban & Caribbean Grill the tile of Best Cuban fare in 2010 and 2011 from the readers of Creative Loafing Atlanta. It could have been owner Rey Regalado's recipe for pork marinade passed on from his father. Brought to America in a harrowing tale of escape from oppression, the signature sauce now trickles beneath layers of smoked pork, ham, swiss cheese, and dill pickles on the cuban sandwich or traditional masitas de puerco made with tender cubed pork. Selecting from a stash of family recipes, chefs fill plates with bold flavors and cap meals with such sweet treats as coconut flan and rice pudding. As the sun falls out of the sky on Fridays and Saturdays, live salsa music populates the dining room with toe-tapping beats and digestion-aiding rhythms.
216 Ponce de Leon Ave. NE
Atlanta
Georgia
Creative Loafing Atlanta declared Chin Chin the city's best Chinese restaurant in 2012; that's a title the eatery has held for the better part of a decade thanks to the skill of the chefs there. Diners catch glimpses of those chefs chopping vegetables, braising tofu, and glazing breasts of duck through a large pane of glass that separates the kitchen from the dining room. Rice soup simmers, and dumplings open blossoms of steam near plates of pork ribs covered in honey like the world's wealthiest bear.
1635 Old Hwy. 41 NW
Kennesaw
Georgia
770-218-3993
Under the glow of lotus-shaped white chandeliers, plumes of steam ascend from aromatic Thai dishes laden with lemongrass, coconut milk, and tangy tamarind paste. The menu showcases a traditional spread of curries, noodle dishes, and grilled fish and meat entrees. The authenticity and tastiness of the recipes won praise in 2010 from the Cynical Cook, who called the thai beef jerky "addictive" and the chicken larb "everything you could want … Each bite was juicy, meaty, and a satisfying mixture of peppers, limes, and salt." Thai statues and artwork dot the dining room, which opens to a white-curtained patio available during warm months to feed hungry breezes.
2201 Savoy Dr.
Atlanta
Georgia
US
770-451-3880
The simple description of Fishook Grille's cuisine is "South African," but since the country's culinary influences come from around the globe, that term doesn't quite capture the diverse flavors that spring from each dish. The spices are Portuguese, the cooking techniques are Bangladeshi, and the entrees themselves—tilapia, salmon—are reflections of the coastal country's prominent fishing industry. The eatery also features an abundance of health-conscious dishes, including entrees that are grilled instead of being fried in oil or injected with cream filling. The restaurant's two locations pay homage to South Africa in other ways, too; artwork from the country lines their walls, and their moniker derives from the small fishing village of Fish Hoek.
264 19th Street
Atlanta
Georgia
404-347-9781
El Porton Mexican Restaurant has sated cravings for fresh, healthy ingredients for more than two decades, serving up authentic Mexican lunches and dinners that complement the bar's array of 85 tequilas. Amid golden walls that evoke a warm afternoon in a tropical cantina, guests kick-start stomachs by watching chefs craft lime-infused guacamole tableside. From the kitchen, beef and shrimp fajitas sizzle, wafting aromas of onion and bell pepper that transform into cartoon hands to lure in noses. Warm days open El Porton's patio, where sunshine heightens the flavors of make-your-own combo platters spread with chile rellenos, tostadas, and burritos, as well as USDA steaks aged a minimum of 21 days. Tequila shots arrive in flights or individually, and customizable margaritas in flavors such as mango and classic lime pour forth from salt-rimmed glasses to accentuate entrees and fuel conversations about Mexico's hidden agave rivers.
910 Marietta Hwy.
Roswell
Georgia
770-552-1613
Siam Square is to Bangkok what Times Square is to New York—a place full of trendy shops, four-star hotels, and gourmet food. The folks at Siam Square Thai Cuisine want to bring the essence of that spot into their restaurant, but they don't rely on the chic decor or panoramic photographs of the square that hang around the dining room to do it. It's the menu's contemporary take on traditional Thai dishes that truly embodies Siam Square's hip, urban vibe. Chefs grill freshwater prawns to top with Pa-nang curry reduction and sprinkle with kaffir lime leaves, or they roast half-ducks, fry the skin to make it crispy, and apply a tamarind sauce galze. All their curries and stir-fries can be made with chicken, tofu, pork, beef, or shrimp, and there are vegetarian options upon request. Noodle dishes include traditional pad thai, spicy drunken noodles, pad-woon-sen (stir-fried clear noodles), and pad-see-eew (wide rice noodles served with broccoli and egg).
To handle the heat of a spicy curry, diners can order red and white wine and sake, or pick from a beer selection that includes SweetWater brews as well as Thai and Chinese imports. Diners can also sip thai iced tea or coffee as they linger in the modern dining room, which features red accents that pop against cream walls.
1995 Windy Hill Road
Smyrna
Georgia
770-333-1700
---