Atlantic Beach, FL Beauty and Salons
---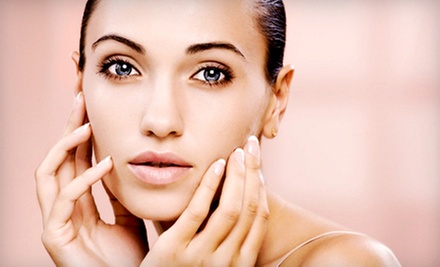 ---
Recommended Beauty by Groupon Customers
---
De Javu Salon's current staff brings decades of experience to a business that has snipped and styled hair for Jacksonville's men, women, and children for more than 30 years. With continual training and certifications from the likes of Goldwell and Paul Mitchell, the professionals possess the knowhow to revamp looks not only with stylish haircuts, but also color, highlights, and strand-smoothing keratin treatments. To complement their signature salon services, aestheticians tend to the rest of the body by administering facials, tending to nails, and waxing away unwanted hair.
11018 Old St. Augustine Rd.
Jacksonville
Florida
904-268-4911
A lobby decked out with leather chairs, stained wood, tiles, and flowers greets visitors to Massage Bliss & Day Spa, preparing them for a spa visit that melts away the stress and responsibilities of the modern workday. Soft, low lights and gauzy curtains hang over heated massage beds, and two candlelit couples-massage suites surround pairs in a sensual glow during romantic anniversaries or ill-advised first dates. Deep-cleaning facials flush out clogged pores and stimulate blood flow with natural ingredients, such as apple pulp and flaxseed, and aromatic salts and coconut oils soothe digits during spa mani-pedis. The day spa's arsenal of sophisticated technologies beautifies and rejuvenates bodies, with its infrared sauna detoxifying and purifying skin and its TriActive laser smoothing out dimpling and cellulite.
7860 Gate Pkwy., Suite 105
Jacksonville
Florida
Dr. Quinn leads her staff in boosting clients' health and beauty with nonsurgical treatments that blend Western technology with holistic philosophies. Whether seeking to slim down or look younger, clients meet with Dr. Quinn to create a plan-of-action that matches their desired goals. This can include dermal fillers to plump up lips, medical diet plans to sleek silhouettes, or lasers to banish unwanted hair and tattoos. No matter the treatment, the staff lavishes clients with personal attention and ensures their safety and comfort.
8075 Gate Pkwy. W, Suite 101
Jacksonville
Florida
904-296-0900
One part salon and spa, one part fitness center, and one part tattoo parlor, Alaric Health Beauty and Wellness is a one-stop shop aiming to glam up, firm up, and wind down clients' bodies. Hairstylists sweep men's and women's manes into trendy styles and nourish scalps with deep conditioner and hydrating scalp treatments. During one-hour Swedish massages, long, flowing strokes untie knotted muscles and help rejuvenate auras cluttered with stress and stale boxes of chi, and basic and deep pore-cleansing facials exfoliate visages to help skin regain a youthful glow. Inside the full-service fitness center, bodies work toward fitness goals among rows of weight and cardio machines, and can attempt to expedite results with help from a personal trainer or prescription weight-loss program. In between workouts or wrinkle-reducing cosmetic injections, bodies can seek out immediate and permanent aesthetic enhancements at the hands of resident tattoo artist Jimmy Riggs. With 15 years of experience and a background as a multimedia artist, he can easily translate any design to skin, whether it be a lover's name, a portrait of a favorite musician, or small-scale replica of Jackson Pollock's No. 5
4000 St. Johns Ave., Suite 34
Jacksonville
Florida
904-619-3413
Board-certified plastic surgeon Dr. Lewis Obi of Renaissance Center for Cosmetic Renewal has assembled a staff dedicated to the artistry of beauty-enhancing therapies. A Jacksonville native, Dr. Obi served in the United States Marine Corps and graduated cum laude from the University of Florida with a pharmacy degree. He then continued his medical education at the University of Miami, where his medical thesis was published in the international magazine Medical World News.
Dr. Obi performs myriad plastic-surgery procedures such as face-lifts, tummy tucks, and liposuction, as well as minimally and noninvasive laser procedures ranging from skin tightening to laser hair removal. He and his technicians also perform facial cosmetic treatments such as chemical peels, microdermabrasion, and photofacial treatments that aim to treat a variety of skin types and ailments, such as rosacea, sun damage, and Sharpie unibrows.
3599 University Blvd. S, Suite 603
Jacksonville
Florida
904-399-4555
Dr. Bernard, resident physician of Park Place, A Medical Spa, attempts to foil the effects of aging and excess body blubber with noninvasive med-spa procedures. His trio of chemical peels uses either powerful phenol, trichloroacetic acid, or gentler alphahydroxy acid to unveil younger-looking skin. He leaves countenances supple enough to invent never-before-seen expressions with custom facials, and sweeps away surface imperfections such as fine lines, acne scars, and hyperpigmentation with microdermabrasion.
In addition to skincare-focused services, the doctor performs health- and body-related treatments, such as K1 whole-body vibration, which aims to improve circulation and muscle tone with oscillating vibrations created by thousands of mexican jumping beans. Also making the list are Lipo-Ex treatments—which harness advanced technology to smooth cellulite and tighten sagging skin—hydrogen-peroxide teeth-whitening, and laser hair-removal treatments.
9191 RG Skinner Pkwy., Suite 702
Jacksonville
Florida
US
904-206-7929
---