Things to Do in Atlantic Beach
---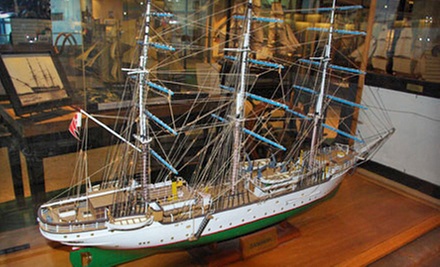 ---
Recommended Things to Do by Groupon Customers
---
Pump It Up party centers pique the spirits of young and restless rovers with safe, clean, and climate-controlled indoor arenas packed with a bevy of custom bounce houses, obstacle courses, and merry-making inflatables. Their trained staff continuously casts watchful eyes over young bouncers, ensuring that kids safely burn off excess energy as they leap, duck, and dive with abandon during open play sessions, summer camps, and birthday parties. The customizable, multi-hued playscape, vibrant with primary colors and a sound system, captures the romping imaginations of tykes and magazines alike, earning a mention in Parents Magazine's list of "Six Fun Places to Party." Parents are always admitted for free with their child, and may join in the fun as well, engaging their inner youth as they lovingly supervise, socialize with other parents, or fill out patent papers for the world's first inflatable minivan.
11840 Beach Blvd., Suite 10
Jacksonville
Florida
904-646-1441
For those looking for a unique watersport experience, kiteboarding combines surfing, wakeboarding, and gliding in one action-packed experience. North Florida Kiteboarding's lessons begin on the beach, where instructors will work through a dry-run of paddling, standing, falling, and maneuvering to equip patrons for the steady sloshing of waves. Patrons also practice essential skills, cresting waves with the help of a kite's gentle tug or the daily tides. Instructors critique form during in-water sessions, sharing tips on how to handle the waves' unexpected changes and how to properly relaunch after falling. Lessons include complimentary refreshments and sunscreen, ensuring patrons safely enjoy their fun in the sun without wearing wetsuits filled with layers of concentrated ozone. In addition to kiteboarding classes and rental services, North Florida Kiteboarding offers surfing lessons, sells landboards and water-wear gear, and coordinates summer surf camps.
Ocean Dr. S & 34th Ave. S
Jacksonville Beach
Florida
386-547-9708
Waves aren't created equal—each rolls in differently than the ones preceding and following it, which explains why surfers often lie on their boards, studying the waters in anticipation of the next worthy wave. Reading the waves is one skill; popping up on the board to catch a wave is another. The instructors of Saltwater Cowgirls teach youth and adult students both skills in year-round private individual and group lessons. Students also learn basic through advanced maneuvers and board maintenance, such as what vitamins boards need for shiny coats. The staff organizes weekday and weekend surfing camps, meeting up with students directly on the beach.
7th Ave. S
Jacksonville Beach
Florida
904-238-4716
Founded in 1976 and managed by the same owner ever since, Lauden Golf instills that prolific experience into every transaction, from its custom-built equipment to lessons taught by seasoned golf pros, including 10 members of the PGA tour. Private lessons help players refine a number of shots, from tee shots with drivers, to iron-approach shots, and transcendent putts requiring no club at all. Lauden Golf also fills bags with custom clubs such as exclusive Logo wedges, hybrids, and putters, personalized with etchings ranging from names and business logos to a caddy's invaluable advice: "Hit the ball kind of far."
330 A1A N, Suite 305
Ponte Vedra Beach
Florida
904-543-1433
A State Amateur Champion a former Nike/Nationwide Tour Member, Nicky Martin has more than 30 years of experience playing and instructing golf an a competitive level. With the belief that no two students are the same, he customizes instruction for each individual's swing with the goal of creating solid, repeating shots. As a teacher, some of his students have gone on to acclaim such as winning the Florida State Amateur Championship and walking on to the University of Florida golf team.
13823 Sutton Park Dr. N
Jacksonville
Florida
904-708-3131
Formed as a volunteer-operated nonprofit in 1985, Jacksonville Maritime Heritage Center amasses literature, documents, and artifacts to construct a narrative of maritime history within the city and Florida's First Coast. Exhibits showcase models of significant ships such as U.S. Navy destroyers, a German World War II era submarine, the M/V Comanche, and the first boat sailed by a salmon. The center also houses a diorama of the ocean liner RMS Titanic, a 15-foot model of the aircraft carrier USS Saratoga, and a smattering of interactive features nestled within the kids' play area. Along with membership meetings, the Heritage Center hosts quarterly programming and presentations on varied oceanic subjects, such as advice for courting sea nymphs, in an audiovisual room furnished with 75 cushioned seats, and has a gift shop that offers a vast selection of maritime-themed clothing and books.
2 Independent Dr., Suite 162
Jacksonville
Florida
904-355-1101
---