Atlantic City, NJ Beauty and Salons
---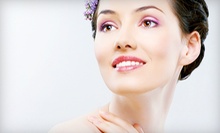 A dentist who specializes in cosmetic injectables combats patients' signs of aging with Dysport and dermal fillers such as Restylane
---
Recommended Beauty by Groupon Customers
---
Both laser hair removal and chemical peels are swift and precise, requiring little recovery time or ardous preparation. Physician Body Solutions' experienced and highly trained technicians can treat patients with a variety of skin and hair types, but results may vary depending on your skin tone and the character of your hair. These professional laser-whispers will be happy to consult with you on how many treatments it will take to achieve the results you are looking for.
1001 Laurel Oak Rd. , Suite D-1
Voorhees
New Jersey
Verde is a commitment to beauty on the inside and out—recognizing the need to both live beautifully and care for the world around us. The past few years have been spent putting the finishing touches on a holistic approach to salon services that elevates style while decreasing its impact on the environment. You'll find our p
4 Powell Ln.
Collingswood
New Jersey
856-858-0911
LA Bronze Ultra Luxe Tanning Studios service tanners on the go and provides a respite for those looking to relax. Inside stand-up booths, clients remain on their feet while up to 60 bulbs create a 360-degree tan. Clients may also choose to stand up for a twelve-minute session inside a warm capsule or choose a bronze hue to have misted on their skin and settling into a sun-kissed glow in three hours. Those looking to enhance their tans can purchase power lotions, bronzers, accelerators, and cooling lotions from the salon's collection of tanning products.
658 Cuthbert Rd.
Westmont
New Jersey
After earning her medical degree and completing her residency in otolaryngology and facial plastics, Dr. Danielle Brenza continued her study of aesthetic medicine on the West Coast. She returned with the perfume of the Pacific Ocean in her hair and the knowledge of anti-aging secrets in her mind.
At Ageless Skin & Laser Center, she offers complimentary consultations to each patient. Depending on the results of the skin analysis, Dr. Brenza might recommend IPL photofacials and chemical peels or Botox and bioidentical hormone supplementation. She also wields lasers to remove unwanted hair and spider veins or play the digital music encoded in everyone's cheeks.
11 Parke Place Blvd., Suite A
Sewell
New Jersey
856-218-4848
Technicians at Clearly Beautiful Nails use the 1064 Yag Laser to painlessly rid feet of infections, warts, and nail fungus. In addition to treating toes, the office rents and sells laser units and also creates foot-centered marketing materials for display in waiting rooms.
17 White Horse Pike, Suite 10A
Haddon Heights
New Jersey
888-510-2410
As the joint namesakes of Salon Christopher, co-owners Chris Angelastro and Chris Moore run their sizable team of stylists with experienced aesthetic eyes. Moore draws upon years of climbing the ranks in a New Jersey salon, and Angelastro taps a lifetime of growing up in his dad's salon. Today, their joint venture boasts both stylists' chairs and mani-pedi stations. Under the owners' direction, stylists rinse locks in ebony shampoo bowls, lathering strands with products that boast shampoo-championship-ready pedigrees from brands including Italian-import Davines and Australian line Kevin Murphy.
137 Egg Harbor Rd.
Sewell
New Jersey
US
856-401-9500
---