Atlantic City Gyms and Fitness
---
Gym, Exercise, Weightloss Deals
---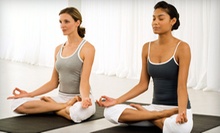 Use Monday 5:00am - 9:00am
---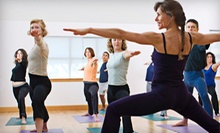 Heated studio fosters detoxification and flexibility as yogi guides pupils through medley of salubrious poses and meditative breathing
Use Tuesday 8:00am - 11:00am
---
Recommended Gym, Exercise, Weightloss by Groupon Customers
---
Versa Fit Studio's two locations blend old-fashioned support from personal trainers with newfangled technology, including the Vacu Fit, which, according to an ABC News report, exists nowhere else in the country. Classes and workouts incorporate the good vibrations of the Power Plate machine that quickens circulation, and Vacu Fit elliptical machines enclose lower halves in a heated vacuum chamber to trim away excess inches. Group exercise sessions bow to restrictive schedules with a range of classes that, unlike getting a tan from an Easy-Bake Oven, last only 30–60 minutes. In addition to high-tech courses, guests can drop in on traditional sessions such as core-toning Pilates, yoga, and boot camp, or they can burn calories in spin and dance aerobics that amp up heart health.
910 Haddonfield Berlin Rd.
Voorhees
New Jersey
856-566-1000
While waiting for a group of tour participants aboard his kayak on Cape Island Creek, Bob Lubberman made a new acquaintance when a 4-foot great blue heron landed on the nose of his boat. It's not an entirely new experience for the owner of Miss Chris Kayak Rentals and Tours, as opportunities to commune with nature came often as he crabbed and fished as a child from his grandmother's dock. Now he's able to connect visitors to this ecosystem as they independently paddle rented sit-on-top kayaks or as they participate in guided kayak or boat tours.
Paddlers on kayak tours often catch close-ups of ospreys, terns, and other birds, and see diamondback terrapin turtles sunning themselves on the shore or trying to hold their own ice-cream cones. Day and sunset tours let guests explore the wildlife-rich salt marshes, and night tours led during high tide let them paddle over grassy terrain to otherwise inaccessible areas. Guests explore similar territory on tours aboard the Osprey as they watch migrating shore birds or look out on the harbor's historic buildings. Kayak tour guides include an associate naturalist and a Cape May Bird Observatory field associate, and land-based staffers maintain a touch tank on the Miss Chris mooring dock, which they temporarily fill with conches, eels, and other sea life pulled up using open-sided conservation traps.
1212 Wilson Dr.
Cape May
New Jersey
609-884-3351
At La Belle Fit, fitness classes, spa services, personal training, and nutritional counseling team up to lead patrons toward total-body wellness inside and out. Visitors can choose from more than 50 fitness classes at the gym's four locations each week, tackling sessions dedicated to dance, spin, barre, and active conditioning. Students bestride Star Trac Spinner stationary bikes in spin classes and line up at the ballet barre in Studio Barre, which combines elements of Pilates, yoga, and orthopedic stretching to form a low-impact, high-intensity program. To singe calories and tone physiques sans dance moves, trainers lead sessions of step, kickboxing, and TRX suspension.
La Belle Fit complements their group fitness programs with one-on-one personal-training sessions and body-rejuvenating massage services helmed by a certified massage therapist. An on-site nutritionist helps patrons maximize the results of their workouts by recommending healthy grocery shopping lists free of bacon-stuffed twinkies deep fried in bacon-stuffed twinkie fat.
219 Berlin Rd.
Cherry Hill
New Jersey
Diamond Angels, founded by Tangey, inhabits a 1,500 square-foot-facility, equipped with two dance-training rooms and a cadre of hand-picked instructors that teach all-levels of dance-fitness classes. The all-female studio fosters a nonjudgmental environment suitable for adult women of all ages and whistling abilities. During one-hour classes, held seven days a week, up to 10 flirty-fitness fanatics in athletic shorts and high heels soak up an instructor's expertise. The toning, cardio-intensive, aerobic routine's sultry moves help dancers develop a more toned, slimmer silhouette. The studio also hosts private parties for groups of girlfriends 18 years or older, which they must prove by reciting the Latin alphabet backwards.
909 Whitehorse Pike
Haddon Township
New Jersey
856-883-3275
Twenty-six poses, 1,500 square feet of space, and 105 degrees of heat: these numbers all added up to make Bikram Yoga Voorhees the Best Yoga Studio as chosen by South Jersey Magazine in 2011. Inside this calming and serene studio, a team of experienced instructors guide yogis of all ages and skill levels through the 26 postures that make up Bikram yoga. With the heat turned up and humidity levels high, students sweat their way through 90-minute classes that are available every day of the week. As muscles twist and pores expel sweat, bodies flush out toxins, stress, and any bacteria that are bullying friendly blood cells.
250 Haddonfield-Berlin Road
Gibbsboro
New Jersey
US
As part of the Chelsea Piers Sports & Entertainment Complex, located at the historic Chelsea Piers, the Golf Club perches over the same port that once welcomed ships into New York City. Now, golfers tee up in the driving range's 52 heated and weather-protected stalls, which overlook the glinting waters of the Hudson River. Automatic tee-up systems position balls for launch across the 200-yard, net-enclosed fairway. A putting green allows patrons to improve their short game, and two Full Swing simulators encourage them to take hacks in virtual environs, transporting them to famous courses across the country or fifth-grade birthday parties where they missed the piñata.
Children and adults alike can enlist in Golf Club at Chelsea Piers' classes, which stratify students by experience level. The 13-member coaching staff includes PGA and LPGA professionals, and sessions take place in a 2,000-square-foot teaching facility.
111 South Chelsea Ave
Atlantic City
New Jersey
US
---