Things to Do in Atlantic City
---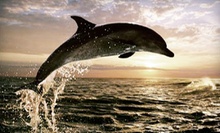 Marine biologist narrates three-hour tours that traverse waters around Wildwood in search of dolphins and whales
---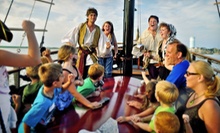 Custom-built pirate ship manned by costumed buccaneers whisks passengers away on exciting voyage
---
Recommended Things to Do by Groupon Customers
---
Comprised of beersmiths at locally-owned, nationally-distributed breweries such as 16 Mile Brewing, Dogfish Head, and Iron Hill Brewery, the Delaware Brewers Guild forms a single, sudsy hub for beer connoisseurs in the First State. In 2012, the guild has organized the first-ever Brews by the Bay festival, an afternoon of music, food, and craft beers on the brink of Delaware Bay. Besides planning frosty, foamy festivals and hilarious pranks like filling fire hydrants with wort, the guild works to promote and protect the interests of local brewers big and small.
43 Cape Henlopen Dr.
Lewes
Delaware
302-437-4920
Assateague Island sits along the eastern coast near the spot where Maryland and Virginia begin to touch. The National Park Service safeguards the 37-mile island's varied ecosystem, in which wild horses brought there by 17th-century colonists still trot freely near the salt marsh. In 2009, a trio of college pals made it their mission to introduce nature enthusiasts to this dynamic wilderness. After Tom Simon, Neil Nimrichter, and Dale Barber left The Ohio State University with degrees in Environmental Science and Adventure Recreation, the friends were drawn to Assateague's complexity and coastal beauty as a spot to begin their careers. Today, their company, SuperFun Eco Tours, leads customers on various kayaking explorations of the island's wonders, quenching theirs and their customers' thirst for adventure by exploring the areas of the island accessible only by boat or human catapult.
107 West St.
Berlin
Maryland
410-656-9453
Ayers Creek softly ripples by the idyllic location where Steven and Suzy Taylor run their kayak and canoe center. Despite being situated near Ocean City, the watery spot is quiet except for the occasional stirring of a duck, heron, or standup paddleboard. Steven has been a neighbor to the animals in this stretch of coastal Maryland since childhood, and the couple now operates their business from their own bankside property. Both Suzy and Steven spent decades mastering the waters on their own before they began giving tours of the salt marshes and wetlands. Steven, an environmental consultant, often narrates on these tours, reliving his boyhood awe for visitors as groups encounter deer and fly-by cameos by bald eagles. Committed to preservation, the Taylors sprinkle guided adventures with educational factoids about the area's diverse ecology as paddlers conquer the headwaters.
8628 Grey Fox Ln.
Berlin
Maryland
Ever since he was a child, Ocean City native Tyler Barnes cruised the waters around his nautical town on his parents' boat. His nautical knowledge culminated in a three-year stint as a mate for a parasail company. As he fell in love with the craft, he realized he wanted to start his own adventure company. By blending his skills in watery sports with training as a marketing major, he founded Paradise Watersports. Ten years later, his company now owns a fleet of four 12-passenger parasailing boats and 30 Sea-Doo jet skis, which they buy new each year to ensure high-quality performance.
Tyler leads a team of U.S. Coast Guard–licensed captains and crew, who also all hold certifications in CPR and first aid and boast a thorough knowledge of the area as well as a near-compulsive need for year-round water-bound activity. They put this knowledge to use teaching boater-safety courses on the bay and guiding jet-ski rentals and beach-hugging parasailing tours. On tours, they pilot U.S. Coast Guard–inspected boats custom-built to accommodate parasailing gear and equipped with hydraulic winches and towlines to enable slow takeoffs, steady ascents, and undisturbed conversations with seagulls. For many trips, they grant visitors waterproof Canon cameras, letting riders snap their own photos from the boat or above it.
12913 Ocean Gateway
Ocean City
Maryland
410-213-7627
In addition to the physical aspects of the art form, yoga, for some, can take on a deeper meaning than a traditional workout involving weights and treadmills and frozen turkeys. For the instructors at Rehoboth Beach Power Yoga, the ancient discipline has come to mean several things. It's a way to empower the self, it's a way to watch others grow, and it's a way to thoroughly enjoy the journey of life. The instructors' omnipresent enthusiasm for movement infuses itself into each session of yoga at their studio, promoting a positive atmosphere.
Classes take place in a heated room to warm the joints, muscles, and breakfast pastries. Beginner classes acquaint new practitioners to basic postures in a pressure-free setting. Open-level courses—such as the therapeutic slow flow or cardio-boosting Vinyasa—can challenge students after they have mastered the basics.
18977 Munchy Branch Rd., Suite 5
Rehoboth Beach
Delaware
302-727-5450
---