Atmore, AL Outdoor Activities
---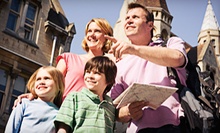 Scavenger hunts send explorers through different locales to solve puzzles and overcome challenges
---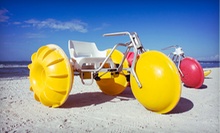 Oversize tricycle with floating, paddle-treaded wheels lets passengers cruise up and down coastal waters
---
Recommended Outdoor Activities by Groupon Customers
---
Cypress Lakes Golf Club's course was designed by William Amick to rise and fall across the natural landscape for 6,396 yards of fairways hugged by gentle waters and towering trees. Unlike most Floridian links, the course unfurls across somewhat mountainous terrain, where cresting hilltops can obscure distant targets, leading to blind shots that aren't just the result of opponents kicking sand in your eyes. Fairways bob and weave around groves of leyland cypress trees, more than 300 crepe myrtle trees, and 500 lush azaleas, giving advantage to players who can work drives and approaches around the arboreal impediments. A circuit of streams ebbs and flows across the picturesque par 71, adding to the native obstacles and striking fear into the caramel hearts of hydrophobic golf balls. A roaming beverage cart slakes midround thirsts, and the club also boasts a driving range with grass hitting areas and a fully stocked pro shop.
Course at a Glance:
Designed by William Amick

18-hole, par-71 course

Length of 6,396 yards from farthest tees

Course rating of 70.4 from farthest tees

Slope rating of 118 from farthest tees

Four tee options
2365 Old Chemstrand Rd.
Cantonment
Florida
850-937-3820
The professional pilots at Timberview Helicopters ferry passengers high into the clouds aboard a sky-scraping whirlybird during flight tours through Destin, Kansas City, and Key West. Having chartered flights for National Geographic and the Travel Channel, these pilots expertly navigate planes toward sweeping, picturesque views, allowing sightseers to steal glances of Fort Walton Beach, downtown Kansas City, and Key West's ocean views from a perspective normally reserved for birds and astronauts with binoculars. Additionally, their high-definition videos grant guests a lasting commemoration of their in-flight experience. When they're not chartering tours, they teach budding pilots the gravity-defying tricks of their trade through pilot training and lug precious shipments from port to port with their cargo-lifting services.
9750 Aileron Ave.
Pensacola
Florida
850-774-0991
Originally built in 1930, Spring Hill Golf Course spans 6,665 yards of kempt fairways lined by mature trees and interspersed water hazards. The par 72 course snakes through the charming Spring Hill College campus, challenging golfers with subtle elevation changes, six ponds, and rogue professors interrogating passersby about the lost history of the mashie niblick. The driving range prepares golfers for their 18-hole odyssey, which begins with an unforgiving first hole—a 435-yard par 4 rated the course's most difficult.
PGA professional Shane Allen oversees the stately grounds, employing digital video analysis in lessons for juniors, adults, and caddies desperate to determine their most intimidating post-putt howl.
Course at a Glance:
18-hole, par 72 course
Length of 6,665 yards from the farthest tees
Course rating of 71.3 from the farthest tees
Slope rating of 124 from the farthest tees
Four tee options
Scorecard
4000 Dauphine St.
Mobile
Alabama
US
Emerald Coast Tours' knowledgeable guides champion the bicycle as Pensacola's ideal mode of transport. They strive to serve as ambassadors to city visitors, customizing sightseeing biking tours to suit cyclists' interests and happily recommending travel destinations to patrons seeking daylong rentals. Their shop's single-speed Sun Revolutions cruisers prove ideal for coasting down city streets and laying siege to sand castles along the coastline.
113 N Palafox St.
Pensacola
Florida
850-417-9292
The course at Country Club of Brewton challenges players to navigate tree-lined fairways and avoid the two lakes that summon errant golf balls. Sculpted into the landscape in 1997, the Jerry Pate design rises and falls over frequent elevation changes, forcing golfers to continually readjust their shots on difficult-to-read terrain and wonder if a never ending figure-eight fairway might be around the corner.
Course at a Glance:
18-hole, par 72 course
Total length of 7,019 yards from the back tees
Course rating of 73.7 from the back tees
Course slope of 131 from the back tees
Four sets of tees per hole:m]]
---
Country Club of Brewton's rates fluctuate throughout the week.
700 Clubhouse Rd.
Brewton
Alabama
251-867-4100
Since its humble beginnings on Tomahawk Landing in the '70s, Adventures Unlimited has been reconnecting city dwellers and outdoors enthusiasts to the natural world through paddle-powered river trips, exhilarating ziplining flights, and team-building rope courses. Its staff of nature lovers young and old find their niche in the lush woodlands surrounding Coldwater Creek, with its robust ecosystem of hawks, turtles, and fish, as well as sasquatches disguised as hawks, turtles, and fish. When adventurers tucker themselves out with day trips into the wild, they can settle in for a long haul at Adventures Unlimited's selection of cabins and campgrounds.
8974 Tomahawk Landing Rd.
Milton
Florida
850-623-6197
---