Attleboro, MA Spa and Massage
---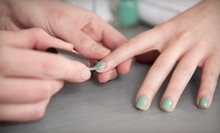 Nail technicians shape and smoothen nails, take care of cuticles, and apply choice of polish
---
Recommended Spa & Massage by Groupon Customers
---
Santosha Yoga Studio provides ancient yoga practices with modern context, creating unity between past and present. In doing so, the studio embodies union, or "the true meaning of yoga," as explained in Santosha's business philosophy. Holistic services, which include therapeutic massage and acupuncture, root out pain and promote openness. Yoga and fitness classes further support wellness to help patrons discover greater ease of movement. Although instructors do not require yoga students to chant during practice, they do encourage it and even provide resources on the topic. Transcripts and translations of common chants include call-and-response mantras and campfire kumbayas.
14 Bartlett Ave.
Cranston
Rhode Island
Squires Salon's charming, homey location staffs more than 20 trained professionals and has more than 22 private styling and spa rooms for cosseting clients in cocoon-like layers of contentment. Give your face skin a gift and clear pores of day-to-day clay with an American, European, or paraffin facial (facials start at $60). Prepare your body garden for summer blooming with a variety of waxes for eyebrows ($15), eyebrows and lips ($25), full legs ($60), bikini ($30), or a full-force Brazilian ($38). Indulge your entire soul sack with a soothing seaweed or herb body wrap ($100).
10 Euclid Avenue
Providence
Rhode Island
In high school, Hillary Adams stumbled upon a PBS TV special about massage therapy that inspired her to experiment with massage techniques on her friends and family. After graduating from college with degrees in English literature and anthropology, she reignited her teenage passion by enrolling at Bancroft School for Massage Therapy. Since completing massage school in 1999, Hillary has become a nationally certified and Rhode Island–licensed massage therapist who uses 100% natural oils and various modalities to treat clients ranging from pain-stricken weekend warriors to an 11-year-old girl receiving her first-ever massage.
Located inside a century-old Victorian home next to the historic Ladd Observatory, Hillary's Providence office reverberates with soothing new-age tunes by Dean Evenson. She also works out of Glow Face & Body Spa, which houses a massage room furnished with modern decor and artwork. Both of Hillary's locations offer ample parking, so guests don't have to worry about finding a place to park their car or stable their griffin.
475 Hope St.
Providence
Rhode Island
Retreat to Spadyssey's beautiful, relaxing sanctuary and feel the pressures of the outside world dissolve off your soon-to-be tension-free shoulders. The Swedish massage (an $85 value) remains a classic stress slayer, alleviating long-standing musculo-political tensions through five flowing pressure techniques. Bodies blighted by cavernous deposits of sepulchral trauma can have them swiftly exhumed via the deep-tissue massage (a $95 value), which targets problem areas and shoos out their bothersome spirits using slow strokes and deep pressure. The healing scented oils of the aromatherapy massage (a $95 value) will make you forget the smell of your own burning hair, as does the cocoa-rific scent of the all-natural chocolate facial, which benefits all skin types with a cooling Vitamin C mask followed by a thermal chocolate mask.
75 Dorrance St.
Providence
Rhode Island
ArchAngels is the specifically tailored brain baby of Rekha, a one-woman powerhouse of eyebrow-threading talent. With 25 years of experience and a self-described obsession with shaping, fixing, and perfecting the all-powerful brow, Rekha is a one-strand stand for eyebrow-threading needs. For arch pilgrims only familiar with waxing and plucking, threading is a technique that originated in ancient India in which brows are shaped using only a cotton thread. Instead of slathering on harsh hair-removal creams loaded with chemicals or hot wax that can burn and abrade your sensitive face skin, threading wicks away hairs one by one for elegant arches that will frame, define, and brighten your whole face. The results last longer than waxing, and you're also less likely to experience bumps, irritation, swelling, or event horizons. Check out Rekha's photo portfolio for images of her craft, and brace your forehead for a pair of symmetrical, elegant guests.
53 Weybosset
Providence
Rhode Island
Courtney and Corey Nappa complement each other's skill sets well. Courtney has a wealth of business experience and a passion for beauty, and Corey has years under his belt as a personal trainer and fitness-center manager. They realized that they could combine their skills into an ideal health-club experience, and Ten X Club was born.
On the fitness end of the business, instructors hold group Pilates, yoga, and spin classes. Cardio and weight-lifting rooms feature equipment from manufacturers such as Nautilus and Precor. A kids' playroom keeps tykes entertained while parents shed sweat. On the other end of the spectrum, the sleekly appointed salon features hair services, mani-pedis, and spray-tanning services in a quiet environment, the air perfumed with the scent of hair products. Here, too, members can send their kids to the playroom while they enjoy grownup relaxation time with beautifying services, adult conversation, and the freedom to eat animal crackers any way they choose.
95 Washington St.
Canton
Massachusetts
781-821-9876
---