Restaurants in Auburn
---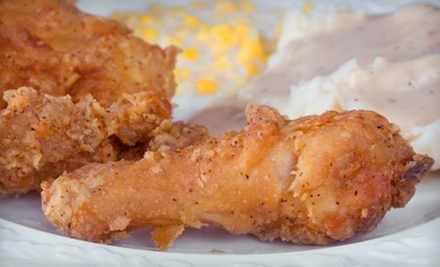 ---
Recommended Restaurants by Groupon Customers
---
With summer barbecue season bearing down like an angry bull, this meatberg ensures July evenings scented with charcoal and satisfaction, no matter the size of your crowd. The imminent meat-ark of USDA-graded steaks includes four bacon-wrapped 7-ounce filets, four 7-ounce filet strips, four 8-ounce Black Angus New York strips, four 7-ounce flat-iron tenders, six half-pound pure chopped-beef steaks (81/19 lean), and two 17-ounce porterhouse T-bones. Kick back with a bottle of hickory barbecue sauce and brush up on steak facts while you wait for the two-week processing and delivery.
3300 Lakewood Avenue SW
Atlanta
Georgia
The Pecan Restaurant's head chef Tony Morrow collects ingredients from the recipes of his favorite chefs, finding ways to work each of them into his own cuisine. The first flavor he fell in love with was pecans, a staple of his mother's cooking. Later in life, he encountered the rich spices of Cajun and Indian cooking, the perfectly prepared meats in French recipes, and the delicate pastas of the best Italian kitchens. He took these culinary experiences and, inspired, created his own masterpieces with each one, blending and changing each until he created a type of southern cooking all his own.
He serves his fusion food in a classic southern-style dining room full of light woods and white tablecloths complemented by the deep red curtains that hang around the space. During the eatery's remodeling, a giant Coca-Cola advertisement—first painted in 1917—was discovered beneath the room's drywall. Now re-exposed and retouched, it emblazons an exposed brick wall and adds last-century charm to the dining room, reminding its guests of a time when life was simpler and cola poured from the drinking fountains.
3725 Main St.
Atlanta
Georgia
404-762-8444
Live music regularly reverberates off Samba Loca Brazilian Steakhouse's bright-red walls, which bear festive decorations of ethnic artwork and wine racks crafted from gleaming chrome. Patrons sit under the full bar's flat-screen TVs, around tables, or in booths as the kitchen's Brazilian recipes power entrees of 10-ounce strip steaks and salmon doused in Brazilian honey-dijon mustard. Customizable meals come in the form of five grill-fired meats, including filet mignon and red snapper, which don one of nine traditional sauces splashed with notes of curry, blue cheese, or passionfruit. To help them to decide, patrons not fluent in Portuguese can rely on the menu's English and Klingon translations or gaze at screens that feature photos of Samba Loca's signature dishes.
120 Alabama Street
Carrollton
Georgia
770-214-1253
Long hailed for a mastery of ham far beyond the skills of mere mortal meat cookers, the meat mavens at HoneyBaked Ham invite you to put their newly honed turkey skills to the test with today's Groupon: a whole roasted turkey breast for $12 (an up to $25 value). Get your moist turkey breast unadulterated, or let the HoneyBaked masters finish your bird with crackling sweet glaze, which may or may not be cooled by having volunteer glaze-pixies fan it with their wings. Call one of HoneyBaked's participating locations (found here and in the sidebar to the right) to reserve your order, and pick up your juicy bird.
6175 Old National Highway
Atlanta
Georgia
770-997-2211
In an interview with al.com, chef Scott Preston Smith recalls slicing garden-fresh tomatoes in his grandmother's kitchen at the tender age of 6. Many years later, he's still preparing vegetables in a homey kitchen, but the recipes have evolved into contemporary southern cuisine of his own creation, wooing palates with artfully plated beef tenderloin, freshly caught seafood, and buttermilk-battered chicken. Buttermilk Hill Restaurant and Bar inhabits a century-old Victorian frame house replete with turn-of-the-century decor and an outdoor marble patio, ideal for dining amid soft breezes or taunting nearby birds with food they will never taste. Indoors, patrons cozy up to a fireplace in a wood-floored, high-ceilinged space that draws out the cuisine's down-home allure.
300 E Third St.
Sylacauga
Alabama
256-207-1001
Green Ginger's sushi chefs wrap up dozens of traditional and specialty sushi rolls as wok gurus elegantly prepare a plethora of Asian entrees from Japan, Thailand, and China. Fillings such as spicy salmon, red snapper, and snow crab nestle within sushi and sashimi rolls, and tender morsels of beef or tofu decorate teriyaki and fried-rice entrees. Fully stocked bars produce an arsenal of cocktails blended with top-notch sake and liquors from brands such as Grey Goose, Kahlua, and Malibu.
At the Peachtree City location, flame masters showcase their spatula-wielding finesse behind a lively hibachi grill inside a glossy eatery with tile floors and blond wood wall accents. At the Decatur locale, live jazz plays on Saturday nights, muted blue lighting stretches across two bars, and a covered patio shields guests from rain and year-round visits from abominable snowmen.
200 Market Place Connector
Peachtree City
Georgia
770-487-9982
---