Things to Do in Auburn
---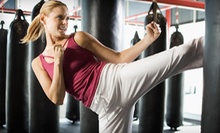 Hearts pound inside rib cages as students kick their way through calisthenics, light resistance & circuit training in cardio class
Use Monday 3:30pm - 6:30pm
---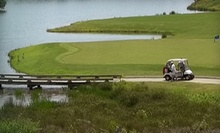 Balls sail over scenic traps of water & sand designed by Arthur Davis as pairs of players navigate 18 holes of undulating fairways
Use Monday 9:00am - 5:00pm
---
Recommended Things to Do by Groupon Customers
---
During live filmings in Metroplex Theater of Fine Arts' enormous dining room, the actors of Saturday Nite Live in Atlanta put a local spin on sketch comedy. The show invites guests to sit back and snack on a four-course Italian meal and, if they choose, jump on stage to join in on the comedic antics. The two-hour tapings intersperse comedic performances with the delivery of meal courses, filling plates with chicken encrusted with roma tomatoes and mozzarella, spaghetti and meatballs, or vegetarian and gluten-free entrees. Additionally, a souvenir DVD—replete with a backstage feature revealing the secrets behind the curtain's tightly sealed lips—lends clients a permanent record of the production.
1331 Metropolitan Pkwy. SW
Atlanta
Georgia
855-842-3456
The Robertson family exemplifies the unifying power of family fitness. While parents Mark and Melissa manage Ascension Climbing's incoming clients, their three kids—Grace, Caleb, and Zeke—provide one-on-one training in the art of scaling mountainsides or the gum-studded underside of a giant's desk. Grace, who formerly coached college climbing teams, transfers her expertise to competitive clients during one-on-one lessons at one of 18 ropes. Zeke oversees the littlest ones at Ascension's climbing walls and two bouldering caves, and Caleb fills in the schedule with lessons on climbing safety and technique.
As a tightly knit, climbing-savvy family, the Robertsons hope to strengthen the bonds of other clans through Ascension Climbing's many activities. They invite families to climb and boulder together during events and trips. They also host groups and parties, spreading their love of climbing through chaperoned events and overnight lock-ins.
125 Depot Ct.
Peachtree City
Georgia
678-870-1400
• For $10, you get one reserved-seating ticket to Swingin' Medallions on Saturday, July 2, at 7 p.m. (a $20 value) • For $25, you get one reserved-seating ticket in level 2 to Kool & The Gang on Saturday, July 16, at 8 p.m. (a $50 value). • For $25, you get one reserved-seating ticket in level 2 to 10,000 Maniacs and Edwin McCain on Saturday, August 20, at 8 p.m. (a $50 value).
201 McIntosh Trail
Peachtree City
Georgia
770-631-0630
Spotlight Theatres screens enrapture audiences with the high-definition imagery and digital soundscapes of first-run Hollywood movies. In each movie house, audiences get to rest easy in plush, high-backed stadium seats—each outfitted with a coin-operated mustache comb—or get thrown directly into the action through 3-D technology. Soda, candy, and salty, crunchy popcorn are available in abundance at the concession stand, and can be used to bribe the projectionist into splicing in a happier ending.
156 E Peachtree Center, Suite 230
Peachtree City
Georgia
Since its inception as a small park in 1990, Dixieland Amusement Park has grown to include more than 20 rides and attractions for kids and parents alike. From high-flying cable coasters to speedy go-karts, the park's attractions foster adrenaline-fueled joy, while the Digital Armory, a bustling arcade, transports visitors to a virtual world with motion sensors and laser tag. Dining areas pepper the park's walkways for between-ride snacks, and, come nightfall, fireworks fill the sky to entertain visitors and idling pigeons.
1675 Hwy. 85 N
Fayetteville
Georgia
US
770-460-5862
Dale Jarrett Racing Adventure places novice passengers alongside professional drivers for ride-along experiences on Talladega Superspeedway. At 2.66 miles around, Talladega Superspeedway is the largest oval racetrack in the Sprint Cup Series and is well-known throughout motorsports as the only one brave enough to venture into Dead Man's Creek. Passengers circumnavigate the speedy circle at speeds of up to 175 mph aboard real racecars once owned by such drivers as Mark Martin, Michael Waltrip, and Bobby Labonte. Before embarking, riders receive safety training and suit up in a full fire suit complete with a helmet with facemask and Hans Device, the same head restraint used by professional heavy-metal guitarists. Talladega Superspeedway is located next to the International Motorsports Hall of Fame, which is open daily to visitors.
3366 Speedway Blvd.
Talladega
Alabama
888-467-2231
---