Restaurants in Auburn Hills
---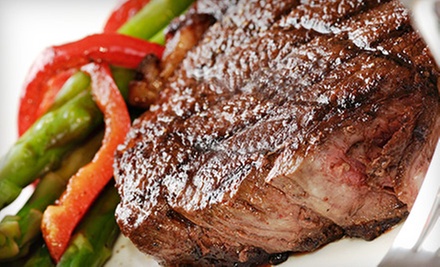 ---
Recommended Restaurants by Groupon Customers
---
Dream Dinners makes meal preparation a breeze with easy-to-follow instructions, precut meats and veggies, and a host of complementary ingredients. The experience is like a cross between a barn raising and a bar crawl, minus the alcohol and hard labor: After choosing from a rotating menu of up to 14 dishes per month, customers schedule a spot at a fun prep session (call at least a week in advance) to assemble meals in-store. Items from the April menu include blackened salmon with pineapple salsa ($15.89 for three servings) and crispy sesame chicken with gingered green beans ($14.04 for three servings). Groupon holders can dazzle dining-room tables with fancy, restaurant-inspired fare or serve up flavor-filled comfort foods such as white-chicken lasagna ($14.04 for three servings) and caliente pork chops with garlic mashed potatoes ($16.42 for three servings).
1994 Star-Batt Dr.
Rochester Hills
Michigan
While Mill Street Grille's wings ($7.99 for eight wings) have earned the restaurant ticker-tape parades from CityVoters and Nobel Prizes in physics, the rest of the menu proves to be no slouch in culinary capability. Split an appetizer of deep-fried pickle chips ($4.49) or conquer the mountainous nachos for two ($9.49) like an edibles-minded Edmund Hillary. Entrees include grilled salmon ($12.99), the Mill Street rack of ribs ($16.99), and a rib-eye steak dinner ($14.99), all of which come with a choice of fries, coleslaw, or house salad. Mill Street Grille's selection of sandwiches and wraps covers all-American favorites such as the catfish po' boy ($6.99), the Philly steak ($7.99), and the club wrap ($6.99), while its brigade of burgers ranges in size from four sliders ($5.99) to Mill Street's Big Daddy ($9.99), a pound of meat topped with cheese, lettuce, tomato, Mill Street Grille's special sauce, and the well-wishes of concerned onlookers.
12 South Mill Street
Pontiac
Michigan
248-454-8132
Every guest who steps into Kalamata Greek Grill smells it—the warm, comforting aroma of freshly baked pita bread. Made from a closely guarded recipe—the one thing Caesar saved before burning down the Library of Alexandria—pitas serve as the foundation of Kalamata's made-to-order Greek cuisine. The kitchen staff lines the pocketed bread in full view of customers, stuffing it with ingredients such as steamy gyro meat and each guest's choice of toppings. They can also make house-style pitas, such as the Greek Cowboy, which includes green pepper, red onion, and greek barbecue sauce.
The dining room invites patrons to relax under its latticework ceiling, and the patio offers alfresco seating. Kalamata's combination of fresh Greek food and a welcoming atmosphere—plus its enthusiasm for helping out with fundraisers—has won it Best Greek Restaurant from 2009 to 2012 in WDIV's Vote 4 The Best awards.
3149 Crooks Rd.
Troy
Michigan
Carved wooden pizza chefs stand sentry outside Georgios Pizza and Pasta's white-brick storefront, heads tilted back as if tracking the trajectory of the dough their human counterparts mix fresh each day and hand toss for each order. A brick oven toasts the crusts and melts ricotta and fresh mozzarella over toppings such as kalamata olives, pine nuts, and philly steak. Sicilian-style pies transform their components into thicker, four-cornered mozzarella monoliths that slide neatly into a standard briefcase, and complementary flavors unfold in overstuffed pastas and subs.
117 S Main St.
Rochester
Michigan
248-601-2882
It's A Matter Of Taste re-creates rustic Italian meals with a menu that showcases the nation's three most prominent food groups: pasta, seafood, and steak. From the tender gnocchi to raviolis filled with chicken and veal, chefs fashion many of the pastas in-house to ensure fresh, authentic flavors. Grills decorate sea scallops and Angus filet mignon with smoky lines, and the bone at the center of the osso buco–style lamb imparts a rich flavor to its barolo-wine sauce. The upscale cuisine matches an elegant interior with wrought-iron accents, exposed wooden beams, and a patio overlooking Union Lake that opens the dining room to natural sunlight and tugboat calls.
2323 Union Lake Rd.
Commerce Township
Michigan
248-360-6650
Fresh Mediterranean feasts unfold beneath the crystal-touched gold chandeliers of a cream-colored dining room as chefs in the kitchen blend chickpeas, fava beans, and fresh herbs to forge housemade falafel. These flavor gurus then sauté lemon chicken with oregano and garlic as well as stuff chicken kafta sandweechet with tomatoes and garlic sauce before grilling them both panini-style. After enjoying the chefs' creations, diners can enjoy a sweet slice of baklava as they linger in the dining room to watch TV or practice coquettish eyebrow lifts in the large mirrors framed in rustic wood.
Cedar Grille's staffers can also pack up dishes for takeout. To satisfy their fans' demands, they also bottle up their housemade fattoush salad dressing for customers to take home. Customers sometimes stop in just for one of the raw blends, such as the energy booster packed with carrots, apples, and parsley or a smoothie with strawberry, banana, and honey.
5377 Crooks Rd.
Troy
Michigan
---