Restaurants in Auburn
---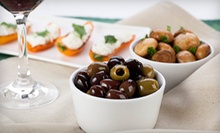 Wine or draft beer complements appetizers, such as veggie platters; wine accompanies Pinterest class, which focuses on a new project monthly
---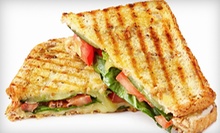 Use Today 9:00am - 3:00pm
---
Recommended Restaurants by Groupon Customers
---
Pieces of tender lamb quickly disappear as a chef drops them into curry sauce. Inside a pan, tiny lentils soften and plump up as they absorb the butter and spices in Elixir Restaurant & Lounge's daal makhani dish. Elsewhere in the kitchen, chefs stuff cauliflower inside flatbread and marry rice and curried bits of vegetables in biryani entrées. Out in the dining room, guests can top off their meals with sweet desserts or complimentary hand readings by the helpful wait staff.
310 Wells Ave. S
Renton
Washington
US
425-204-1000
Spring Taste Vietnamese Food & Bar charms visitors with its authentic recipes, fresh ingredients, and relaxed atmosphere. Chefs prepare fragrant Vietnamese dishes of rice vermicelli, pho, and grilled pork chops with utmost care and simmer chicken hot pots with complex five-spice marinades. Not only does the menu promise feasts of pho soups and noodle platters, but also crusty banh mi sandwiches that enclose Asian veggies, grilled chicken, or pork and banh xeo rice crepes that exemplify humankind's cross-cultural appreciation for the noble pancake.
101 SW 41st St.
Renton
Washington
US
425-988-2806
As one of the world's most populous countries, India is home to many culinary styles and philosophies that are as diverse as the people who inhabit its landscapes. Spice King's chefs attempt to showcase all of the country's flavors with a menu featuring inspiration from Southern India, the Nepali border, and everywhere in between. Plates pile high with hearty portions of veggie tikka masala, chicken tandoori, and lamb curry. The chefs also conjure up sweet rice pudding, pistachio-topped milk cakes, and other traditional desserts often used to rouse open-mouthed sleepers.
720 Lind Ave. SW
Renton
Washington
US
425-226-6700
---