Aurora Automotive
---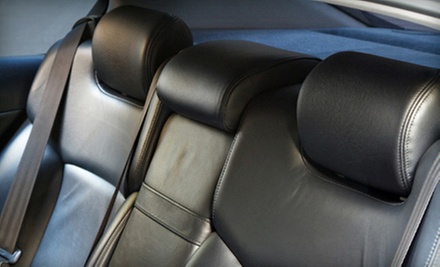 ---
Recommended Automotive by Groupon Customers
---
Kwik Car Wash is just that: Bring in your car and you can have it squeaky clean in as little as three minutes. Treat your ride to any of three car wash types, which include two, three, or four-stage washes with turbo dryers plus extras such as triple-foam conditionings and Simoniz tire shines. In addition, you can protect your auto with UV-blocking waxes and ensure its structural integrity with rust inhibitors. After exteriors are scrubbed spotless, you can grab an onsite vacuum free of charge to dispense with interior dust or backseat drivers.
All wash tunnels feature eco-friendly soaps and recycle 90% of water used. In case there's a storm or a tomato race right after your car wash, Kwik Car Wash also offers a complimentary re-wash within 24 hours.
16941 Lincoln Ave.
Parker
Colorado
The Glo Car Wash's automatic-wash system reclaims more than 90% of its water, making it an environmentally friendly option for cleansing road-weary vehicles. As autos sidle through the top-tier, multi-stage wash, the contoured arms of pressure washers angle over, under, and along the sides, blasting away bird droppings at 900 psi. With all sand and soil sluiced off, German-engineered SofTec washers twist and twirl around the vehicle, removing any residual film. Then, the three-stage detergent application featuring Citra-Glo lathers up the body as wheels rub against soft, spinning polishers during a two-stage cleaning. This system is designed to deep clean the auto and draw out its natural shine and infectious personality without wax or harmful chemicals. Extras such as RainX full-body protectant and Simoniz tire shine can also extend the life of the car's appearance. After a 180HP blow-dry, customers can unholster the Glo's onsite vacuums to hoover out the cabin and trunk and inflate tires to proper levels at the air machines.
6315 Sheridan Blvd.
Arvada
Colorado
Computer-controlled wash tunnels meet good old-fashioned elbow grease at Three Palms Auto Spa, where a spectrum of wash and detailing services restore cars to a like-new shine. Vehicles of all shapes and sizes zip through the sudsy vestibule, soaking in the shop's specially formulated soap, triple-foam wax, and rust inhibitor as they go. Once cars reach the other side, a meticulous cleaning crews hand-dries exteriors and dispenses a slew of detailing services, such as sprucing up paint jobs with Polymer II wax, conditioning vinyl and leather, and shampooing carpets or the driver's hair.
5380 S Parker Rd.
Aurora
Colorado
Voted best car wash in the Denver area by CityVoter, Bear's Car Wash & Detail Center takes a meticulous approach to purifying autos. Ozone-treated water rinses away environmentally friendly solvents, whose corrosion- and hazard-free formulas dissipate dirt and other debris during car washes through an automated tunnel. Detailing packages treat cars to hand-applied carnauba wax, carpet shampoo, leather conditioning, and other luxe spruce-ups. No matter the service, each newly cleansed car receives a thorough hand-dry with soft towels. Drivers can watch through observation windows as their rides roll through the wash tunnel, or sip a drink from the cappuccino bar in the sitting area while perusing car accessories and novelty items such as speed-bump-sized whoopee cushions.
8100 W Crestline Ave.
Littleton
Colorado
The certified repair specialists at Delta Auto Glass understand that dealing with a damaged windshield can be stressful, so they give their customers a little extra care. Technicians travel to homes and offices in the Denver area free of charge to replace entire windshields, repair chips and cracks, and compliment the smell of drivers' air fresheners. Whether they're providing a clear view for domestic or foreign cars, trucks, SUVs, or commercial vehicles, techs use glass that's been reinforced with primer and adhesives. They also guarantee the parts and installation against future leaks and stress breaks.
9251 E. Peakview Ave. Suite 7
Greenwood Village
Colorado
Stowing 18 years of automotive and residential window-tinting experience in his utility belt, Ben Salgado protects cars and homes with high-performance window films in several shades. His window armor of choice protects people and possessions from snooping onlookers and damaging UV rays. Ben customizes and precisely fits sheets for each window, including removable storm panes and windows shaped like a cartoon character's body. When he's not installing these custom films, Salgado is busy safeguarding automotive front ends with protective film bras, which keep paint jobs safe from kamikaze insects.
3301 W Hampden Ave. , Unit L
Englewood
Colorado
US
720-434-8986
---