Bootcamp in Aurora
---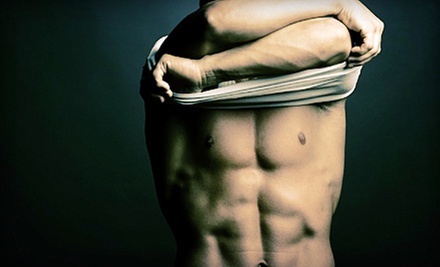 ---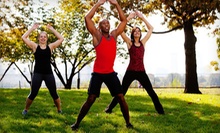 Upbeat music acts as the soundtrack to boxing drills and weight exercises designed to increase lean muscle mass and burn away fat
Use Saturday 4:30am - 7:30am
---
Recommended Bootcamp by Groupon Customers
---
Your Groupon includes two weeks of high-intensity boot-camp classes. With a circuit-training approach that incorporates cardio, resistance, and core workouts, each 30-minute session is accompanied by pulsating music and calorie abandonment. The small class sizes mean more attention to your fitness needs, and Danielle will motivate your workout routine to new levels. To help chart your progress, Danielle will help develop a customized fitness assessment. On non-boot-camp days, an online training program is available so your workout doesn't skip a heartbeat. You are also invited to attend a "Healthy Meals" preparation party where a group of likeminded fitness buffs gathers to learn about nutrition values. This fitness program is open to women and men of all skill levels.
8964 E Hampden Ave.
Denver
Colorado
At locations throughout the world, Fit Body Bootcamp's instructors share a common goal: to guide clients toward their fitness and weight-loss goals through regimented training programs. At the Colorado Springs Location, head trainer Nathan Cragg combines the techniques he gained from 12 years of army training with Fit Body Bootcamp's tried-and-true fitness strategies. He and his team of trainers lead group classes that integrate cardio with resistance training, strength training, and light alligator wrestling. He designs workouts to be time efficient and varied, avoiding workout plateaus that may leave clients uninspired. In addition to motivating clients to work their bodies, Nathan also empowers them with healthy eating guidelines.
1045-D Garden of the Gods Rd.
Colorado Springs
Colorado
A common sight at boot camp is a red-faced instructor shouting intimidating commands to participants straining with pain. At Davis Training, the trainers aim to erase this stereotype by creating an encouraging and supportive environment in which they never force their members to do military-style drills. Each session is geared toward virtually any fitness level and is different from the previous, and this variety helps foster full-body conditioning instead of just building muscles in the arms, legs, or toes.
15350 E Hinsdale Dr., Suite A
Centennial
Colorado
720-810-8080
When not busy taming bucking broncos as a professional bull rider, fitness aficionado and owner of Firm Body Boot Camp Ryan Ehmann helps physiques to evict calories during boot-camp workouts and vivacious Zumba classes. Ryan helps guests to blitz unwanted flab with a series of pushups, sit-ups, and various machine and free-weight exercises, each set to the motivational exhortations of the skilled fitness instructor and his animatronic dumbbell backup singers. To help fortify the workout's results away from the gym, Ehmann equips boot-camp contestants with a bundle of exercise extras, including motivational tactics, diet tips, and workout DVDs, which unveil proper warm-up techniques before guiding muscles through a carefully calibrated step-by-step routine.
6628 Powell St.
Loveland
Colorado
Whether she's racing her dogs on one of Boulder's scenic trails or leading boot-camp classes, V3 Outdoor Fitness's founder, Samantha Watts, is always in motion. Though her favorite sport is running, the personal-fitness trainer incorporates a bevy of total-body toning moves into her outdoor boot-camp classes. Push-ups, squats, weight training, stair climbing, and sprints torch calories and tighten abdomens during one-hour sessions held at North Boulder Park. The varying exercises give certain muscle groups a break while working others to more efficiently fill out roomy T-shirt sleeves and render foam muscle suits unnecessary. Sam also offers a trail running program to help fellow rustic hoofers hone their speed and endurance.
Range 1 - 1599 North Boulder Park
Boulder
Colorado
303-483-1166
Javier Lozano Jr.'s passion for physical fitness began during his martial-arts training. Since then, he's become a personal trainer certified by the Aerobics and Fitness Association of America and the International Sports Science Association. He's also a black belt in Wado Kai, and a Colorado-state karate champion. Along with his wife Susan, who is a certified boot-camp coach, he shares this passion for fitness with others during intensive indoor and outdoor boot-camp classes. During the always-changing sessions, the Lozanos help clients of all fitness levels sculpt fitter frames using functional movements augmented by kettlebells, resistance bands, and plump sandbags. They aim to further the effects of these workouts with their complimentary nutrition program, which overhauls unhealthy lifestyle choices with practical plans for swapping out bad diets with proteins, whole grains, and nonwax fruits.
12910 Zuni St., Suite 200
Westminster
Colorado
720-248-0449
---