Aurora, CO Health and Fitness
---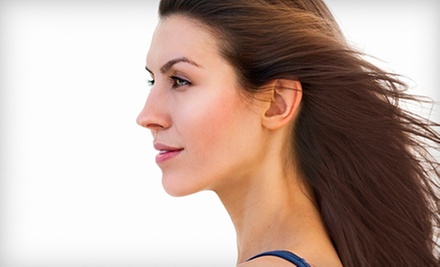 ---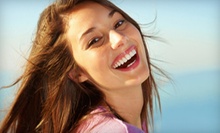 Dentists examine smiles inside & out with thorough exams & x-rays before scrubbing & flossing away decay-inducing buildup
Use Tuesday 12:00pm - 7:00pm
---
Recommended Health & Fitness by Groupon Customers
---
Jumpstart stagnant qi or manage chronic pain at Jing Acupuncture & Herbal Pharmacy. With today's Groupon, $40 gets you a consultation, exam, nutrition counseling, and acupuncture session (a $85 value). Acupuncture can treat or reduce symptoms of immune system disorders, allergies, anxiety, skin conditions, pain, digestive disorders, fatigue, butterfingers, diver's remorse, and more. Whether you want to dance at your sister's wedding on rollerskates, or rid yourself of anxiety related to accurate Mayan predictions, the services at Jing can help heal you. Independently wealthy, Raines accepted only kindness and handwritten letters of thanks in exchange for his services. Riding alone on his motorcycle, Diana, Raines stopped in his rambles just long enough to thwart local corruption, do some acupuncture, and capture the heart of any woman foolish enough to fall for him. A movie featuring Reno Raines, rogue acupuncturist, is set to be released soon, tentatively titled The Acupuncturist Who Travels Around and Gets Into Adventures.
5650 Greenwood Plaza Blvd., Suite 135
Greenwood Village
Colorado
US
Immortal Palace's therapists practice acupuncture and chinese herbal medicine to help patients overcome an array of physical and mental illnesses, from chronic pain and infertility to anxiety and insomnia. Using needles as thin as cats' whiskers, they stimulate different combinations of acupoints to strengthen the flow of chi, or life force, that circulates along the body's energy meridians. The therapists, who specialize in women's health, also oversee a diet program called The Only Nutrition Program You'll Ever Need, which helps participants detoxify their bodies and overcome cravings for sugar.
3867 Tennyson Street
Denver
Colorado
US
303-229-9684
We are a full service chiropractic clinic specializing in Active Release Technique, chiropractic adjustments, physical therapy, and massage. We have 3 licensed chiropractor who are fully Active Release certified, and 2 licensed massage therapists (and one very busy office manager).
1780 S Bellaire St., Suite 710
Denver
Colorado
303-300-0424
Dr. Craig Burns takes a methodical approach to chiropractic care. Before administering any of his signature adjustments, he establishes what the patient's spine should look like. This technique, called clinical biomechanics of posture, helps him pinpoint any abnormalities in the discs that can lead to headaches, dizziness, and back pain. He then tailors a treatment to gently nudge the discs into healthier positions, and helps manage pain with acupuncture and medical-grade massage.
7323 South Alton Way. Suite B
Centennial
Colorado
---