Restaurants in Aurora
---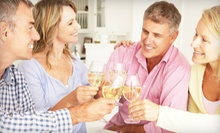 Winery spotlights Colorado grapes in handcrafted white and red wines such as fruity viogniers and peppery cabernet sauvignons
---
Recommended Restaurants by Groupon Customers
---
Cinderella's glass slippers have nothing on the boots that traverse Helga's German Restaurant and Deli's bar every night. Filled with 2 liters of Hofbrau Oktoberfest, Warsteiner Pils, or any of the five other German beers on tap, these boots find their perfect match in the hands of guests who shout "Prost!" before tearing into soft pretzels baked in the Bavarian tradition.
Founded by a mother and daughter in 1989, Helga's began as a four-table restaurant whose modest size seemed sometimes at odds with the giant pretzels and boot-size beers. However, the restaurant continued to grow and earn fans, many of who traversed the Rockies to sample its faithful interpretations of bratwurst, schnitzel, and other Rhineland staples. Though much of the menu remains the same as in those early days, the restaurant itself has expanded to resemble a lively German pub in the midst of Oktoberfest. When they aren't molding sides of sauerkraut into tiny models of German soccer star Michael Ballack, guests can play beer pong for prizes, watch the national team on 50-inch televisions, or dance to live music played by the house band on the second and last Friday night of each month.
14197 E Exposition Ave.
Aurora
Colorado
True to its name, Ignite Denver basks in the flavors imparted by fire—specifically the one that burns in its 700-degree wood-burning oven. The blaze adds a smoky note to its repertoire of gastropub dishes, each of which incorporates seasonal, local ingredients and a contemporary culinary edge. Cast-iron pans beget comfort food ranging from smoked-bacon mac 'n' cheese to fresh Scottish salmon, while flame-kissed pizzas flaunt gourmet toppings such as house-made mozzarella, crushed San Marzano tomatoes, herb-infused extra-virgin olive oil, and imported prosciutto. A vast selection of drinks augments the fire-forged flavors, including more than 100 wines, 50 beers, and artfully prepared martinis and cocktails. During the summer months, patrons savor meals on an outdoor patio, which is covered to prevent the sun from trying its hand at cooking.
2124 Larimer Street
Denver
Colorado
303-296-2600
In 1896, a wealthy jeweler commissioned a lavish, Victorian brownstone to be built on Denver's Capitol Hill. It was one of the area's finest homes, with Tiffany windows, ornate crown molding, and stylish woodwork throughout. In later years, the building was divided into apartments and then transformed into a luxury hotel. More than a century later, The Holiday Chalet still contains many of the original design elements.
Today, the building houses a bed and breakfast with four room types. Each room is outfitted with antiques, period furniture, and a fountain spouting Earl Grey tea. Some even have private kitchens. While the rooms retain much of their original Victorian décor, they've been updated with flat-screen TVs and WiFi.
1820 E. Colfax Avenue
Denver
Colorado
USA
Flavor and texture are integral to more than just the entrees at Axum Restaurant. Entire tables' orders emerge on communal serving platters, blending the aromas of collard greens with those of housemade cottage cheese, sautéed beef with rosemary and herb butter, and lamb shanks in fiery berbere sauce. Diners sop up the spicy, savory fare using scraps of injera, a spongy flatbread, in place of silverware or food-filled Super Soakers.
The cuisine is offset by the dining room's relatively austere ambiance, where fuchsia tablecloths add a vibrant pop of color to the space's soothing neutral tones. Pendant lamps hang directly above the bar area, illuminating the bartenders as they pour Ethiopian beers and uncork bottles of honey wine, which is made in-house by drilling into the subterranean honey reservoirs.
5501 E Colfax Ave.
Denver
Colorado
For more than 27 years, chefs at Rodney's have manned grills within the cozy basement eatery, unfurling a menu of steak-house cuisine headlined by tender slabs of aged, USDA-choice meats. Hearty hunks of sirloin, filet mignon, and slow-roasted prime rib sate appetites and tone wrists' abs alongside a colossal cheese- and bacon-swathed baked potato that the Denver Westword included among its 100 Favorite Dishes of 2010. In addition to its prized steaks, the neighborhood eatery's kitchen dispenses hefty sandwiches and elegant seafood, such as fresh Atlantic salmon and shrimp, and its full bar unleashes a spectrum of cocktails.
2819 E. 2nd Ave
Denver
Colorado
303-394-3939
Hot dogs have gone gourmet. At The Hawt Dog and Sausage Eatery, chefs pair charbroiled hot dogs or sausages with a host of creative accompaniments—which include marinated tomatoes, chipotle beef chili, and Cajun shrimp jambalaya sauce—before swaddling each "hawt" in fresh dough and baking it to perfection. Each hawt begins with a high-quality base: the restaurant only slings all-natural, locally sourced sausages made without antibiotics and growth hormones or Hebrew National hot dogs forged from 100% kosher beef. Chefs accentuate these savory cylinders with dressings, sauces, chips, and tater "tawts"—all of which they make in-house to avoid running costly background checks on the ingredients. In the dining room, customers relax at a long counter lined with metal sheets and sip local craft beer as they peer into the exposed kitchen.
3030 E 2nd Ave.
Denver
Colorado
303-355-4298
---