Restaurants in Aurora
---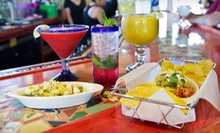 Authentic Mexican bar & grill serves up South American cuisine in lively environment
Use Today 4:00pm - 6:00pm
---
Recommended Restaurants by Groupon Customers
---
Veteran chefs prepare Stir Crazy's Chinese, Japanese, Thai, and Vietnamese dishes on sizzling woks right in the dining room. So while diners-to-be ponder the menu of more than 50 traditional and innovative Asian creations, they'll witness knives quartering veggies and flames lapping at the edges of the wok as the sights, smells and sounds of the kitchen come alive around them. Should your taste buds riot at the sight of all this mouth-watering action, satisfy them with an appetizer like the Ahi tuna and avocado poke ($9), a spicy stack of fresh fish and cool veggies. For main courses, choose from an array of entrees like the sweet and sour chicken, a dish featuring tender pieces of crispy chicken tossed with broccoli, red and green peppers, onions, carrots, and pineapple in a sweet and tangy sauce ($12.75). Or manage your intake with the Crazy Feature menu, which offers smaller-in-portion but towering-in-flavor classics like Mongolian beef or sesame chicken, served with a crispy veggie spring roll (all $8.88).
28252 Diehl Rd.
Warrenville
Illinois
Tommy Nevin's Pub was founded by Steven Prescott and christened for his grandfather Thomas Nevin, a WWI veteran. The flagship location in Evanston touts a bright red façade that pays homage to the renowned Temple Bar in Dublin, and the menus at all three locations likewise salute the culture of the emerald isle. Though it inhabits a decidedly Celtic corner of the pub world, Chicago Bar Project deemed the Evanston outpost "the best bar in the suburbs" for its "intriguing combination of country Irish pub, modern Chicago bar and cutting-edge alternative music venue." Chefs whip up corned beef and shepherd's pie as bartenders handle taps and spirits. Friends can cheer on local sports teams on TV or wrack their brains to remember the name of Azerbaijan's currency and most popular potato-chip flavor at weekly trivia nights.
3032 English Row Ave.
Naperville
Illinois
Traditional Japanese recipes and cooking styles continue to inspire the chefs at Shinto Naperville. Mushrooming bursts of flame erupt from stainless-steel hibachis as they sear diners' orders tableside. In between shuffling platefuls of scallops or 28-day-aged filet mignon across the steaming surface, the chefs entertain their hungry audience by juggling utensils, tossing small pieces of food into guests' waiting mouths, and correctly guessing everyone's least favorite astrological sign. Measured doses of housemade teriyaki sauce or herb-infused butter lend even more flavor to the carefully caramelized entrees. Meanwhile, the chefs behind the sushi bar avoid grills entirely as they roll specialty maki with premium ingredients, including tempura lobster and jalapeño.
1778 N Aurora Rd.
Naperville
Illinois
Chefs at Aodake Sushi & Steak House dispatch sushi and hibachi-seared steaks beneath hanging lamps and glowing globes. Meat, vegetables, and seafood make for multicourse lunches, and a variety of kitchen entrees bolster the thronged dinner menu. At the bar, more than 20 vodkas alchemize into a variety of martinis or blocks of pure gold.
462 N Weber Rd.
Romeoville
Illinois
815-886-9888
Pockets' health-conscious chefs have stuffed stomachs with fresh, all-natural ingredients for more than 20 years, creating low-fat, high-protein combinations of vegetables, fine cheese, and lean meats. Within freshly baked multigrain bread, selections such as spinach, salami, turkey, and tuna combine with edamame beans, crunchy noodles, dried cranberries, and a splash from one of more than 10 dressings, creating a snack more portable than a bicycle made of chocolate. Menu pages also brim with eight healthy salads, seven hearty calzones, and a kids' menu with pint-size portions and sides of magic. Not content with just challenging fast-food ideals, the locally owned Pockets furthers change in its community by regularly donating up to 50% of its profit to charities such as the Make-A-Wish Foundation and Fox Valley Heart Foundation.
1330 North Orchard Road
Aurora
Illinois
630-907-0011
The menu at Mother's Pancake House can sate breakfast cravings both sweet and savory. Plates such as the homemade banana-bread french toast and the banana split pancakes—topped with strawberries, bananas, and, of course, ice cream—awaken diners with an early-morning sugar rush. Meanwhile, chefs bake veggies, cheese, and breakfast meats such as ham, bacon, and sausage into hearty omelets. As time ticks into the afternoon, the staff begins serving sandwiches, burgers, pastas, and country-fried steaks.
2290 W Galena Blvd.
Aurora
Illinois
---