Tours in Aurora
---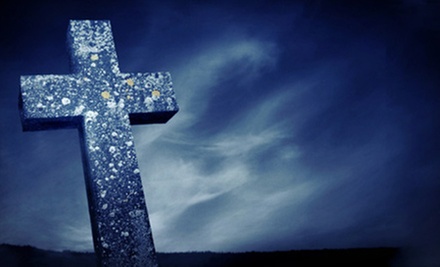 ---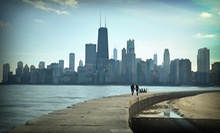 Savvy guides highlight the Loop's attractions using old photos, film clips & imaginative descriptions of Chicago's past & present.
Use Friday 12:00pm - 3:00pm
---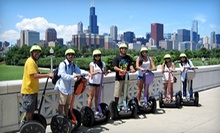 Segways roll past Chicago's famed sites such as Soldier Field, Buckingham Fountain, and Grant Park
Use Tuesday 8:30am - 2:30pm
---
Recommended Tours by Groupon Customers
---
The Chicago branch of Gray Line's global sightseeing operation organizes a wide variety of tours and excursions throughout the Windy City, from architectural tours that send passengers coasting on the river and lake for sun-drenched educational cruises to shopping odysseys at Chicago Premium Outlets, where travelers can zip through more than 100 stores and restaurants after being shuttled to the retail utopia. Blues outings treat music lovers to raw licks, soul food, and real tears at celebrated concert venues such as Buddy Guy's Legends and Rosa's Lounge.
Gray Line's cherry-red trolleys transport visitors and residents alike to famous Chicago sites. Just north of the river, the vehicles idle before the Wrigley Building's sparkling white terra cotta façade, which in the 1920s stood as the first major skyscraper outside of The Loop. From there, the trolley may motor north to the John Hancock Center, where elevators to its observatory sweep guests 96 floors in 39 seconds. The trolley could also steer south to the Willis Tower, which lost its maiden name of Sears after being charmed by a passing cumulus cloud.
Chestnut and Michigan
Chicago
Illinois
Slice of Chicago Pizza Tours takes a novel approach to acquainting visitors and locals alike with the region's famous cuisine. Over the course of two hours, the team escorts pizza lovers throughout River North in search of delectable, cheesy morsels on a history-filled tour of three of the city's most iconic pizzerias. The tour, which caters to all ages, leaves guests sated but not stuffed as they sample the various crusts, sauces, and toppings that formulate Chicago's most famous food and second most popular raffle prize.
29 E Ohio St.
Chicago
Illinois
312-623-9292
Founder Amanda Scotese, an avid traveler and freelance writer for Rick Steves's renowned travel guides, delegates sure-footed guides to lead sightseers to iconic landmarks and down the back alleys and lesser-known nooks of the Windy City. Tours probe the ins and outs of the Chicago's neighborhoods, such as the Loop, where they fill eyes with the sights of world-renowned architecture and minds with the secrets of the Pedway, an underground walkway that connects buildings throughout the business district with the Ninja Turtles' lair. Blues tours explore historic neighborhoods on the North and South sides, and include diversions such as harmonica lessons from a bona fide blues blower.
10 South Dearborn Street
Chicago
Illinois
312-350-1131
Six Taste co-owner Jeff Okita succinctly described his TripAdvisor Top 10 Pick tours to the Daily Trojan in 2011, calling them "a way for people to connect to different communities through an accessible medium, which is food." During four-hour excursions, in-the-know guides walk with fellow explorers through iconic Los Angeles–area neighborhoods—including Little Tokyo and the heart of downtown—stopping into gems to sample the eatery's cuisine and learn about the area. This cultural education is paramount for Jeff, who told the Christian Science Monitor in 2010 that "we choose the restaurants based on their story and what they add to the understanding of a neighborhood, its people and its history."
Guides currently lead more than 15 tours a week through eight different neighborhoods, with most tours meeting between 9:30 a.m. and 3 p.m. on Saturday and Sunday. In addition to the regularly scheduled excursions, the staff also leads specialty outings that focus on more adventurous cuisines, including intensely spicy dishes in Thai Town and lost seafood recipes in Atlantis.
600 W Chicago Ave.
Chicago
Illinois
Standing taller than pedestrians and gliding at a steadier pace than bicyclists, Segway riders experience cities at their own speed from an entirely new perspective. The knowledgeable tour guides dispatched by Segway Experience of Chicago lead groups through the Windy City's lakefront, strolling by the surrounding fountains and architecture across two-hour tours. More rewarding than riding atop a double-decker bus or clutching the cape of a superhero, Segway tours fill eyes with panoramic views of Chicago's best sights and its elegant skyline.
224 S Michigan Ave.
Chicago
Illinois
312-663-0600
Inspired by a love of fitness and a passion for travel and tourism kindled within him by his late father, Jeremy Lewno founded Bobby's Bike Hike to create an interactive Chicago biking experience. He named the company after his dad, Bob, an Arkansas bus-tour operator who taught him to focus on service quality over quantity. That advice has clearly paid off, as the business's guided tours have earned it some of the highest possible ratings on TripAdvisor and the title of Best Organized Bike Ride from the Chicago Reader in 2010.
During the tours, which include rented bicycles, guides lead groups of about 20 riders past Chicago icons in Millennium Park and on the Museum Campus, or direct them to samples of pizza, hot dogs, cupcakes, and beer in and around Wrigleyville. The crew has designed a Tike Hike tour for kids 10 and younger, a historic Hyde Park tour that pedals past the home of President Barack Obama, and a mansion-studded lakefront tour, during which riders may glimpse Oprah waving or handing out complimentary helicopters at her main residence. Patrons can also rent Schwinn mountain bikes, cruisers, and tandem bikes to explore the city on their own.
465 N McClurg Ct.
Chicago
Illinois
---