Gourmet & Healthy in Austin
---
Recommended Gourmet & Healthy by Groupon Customers
---
Make a healthy switch from deep-fried, ranch-smothered, game-watching grub and start a new tomato tradition by serving fans savory scoops of salsa. You won't miss precious touchdown time slaving away in the kitchen—there's no prep work, cooking time, or serious clean-up. You'll also appreciate the barbecue sauce's magical ability to transform your random groceries (tortilla shells, green beans, frozen dinners) into savory snackables.
500 N Lamar Blvd
Austin
Texas
US
The Georgetown Farmers Market Association unites more than 50 growers from 11 nearby counties to treat shoppers to a bounty of wholesome produce, free-range eggs, artisanal breads, and canned goods. Not only does the bumper crop of fresh greens, fruits, and veggies keep clients eating healthily, but it also connects consumers to their surrounding land and agriculture industry. While perusing bushels of onions, tomatoes, peppers, and melons, visitors can mingle with local farmers to shake the very hands that harvest the crops and learn the secret fifth verse of the Green Acres theme song.
200 E Bagdad Ave.
Round Rock
Texas
Hoping to revive the culture of the neighborhood butcher shop, with its personalized service, attention to detail, and artful products, restaurant-industry veterans Justin Rosberg and Jason Parent took a gamble on their first New Hampshire butcher shop in 2003. Dubbed The Meat House, their store quickly earned a foodie following, spawning additional franchise locations across the country. Today, The Meat House stocks fine cheeses, prepared side dishes, other gourmet grocery items, and hundreds of wines alongside the usual selection of traditional and exotic meats. Butchers also explain how to prepare each hand-carved cut of meat, sharing recipes, best slicing practices, and cooking techniques for giving pork chops the flavor of justice.
3267 Bee Cave Rd.
Austin
Texas
Spicely Organic Spices' long, narrow boutique, outfitted with hardwood floors, wood paneling, and a vintage-style chest, resembles an apothecary except for its glittering chandeliers. Within the chest, square cubbies display spices and herbs that fit four certifications: organic, vegan, kosher, and gluten-free. These seasonings, which include cumin, oregano, and sage, originated in exotic kitchen pantries all over the world. The boutique strives to give back to the global and local community, working with fair trade–certified farmers when possible and donating a portion of its profits to the Red Cross.
600 Congress Ave., Suite G-270
Austin
Texas
More than 30 years ago, Hal and Lisa Berdoll planted an orchard of 5,000 pecan trees. They tended to their crop diligently, and today more than 15,000 trees sprawl across 340 acres, their branches heavy with the weight of their bounty. At harvest time, the family shells the nuts, sells them whole, or creates whimsical treats from them to sell at the family store. There, second-generation Berdolls bake pies, make fudge, churn nut butter, and craft a variety of confections. Among their most popular items are pecan pies sold in a Texas-themed box, pecan clusters, and pecan-flavored pecans.
2626 State Hwy 71 W
Cedar Creek
Texas
The drumroll of corn being popped or devoured constantly resounds through air scented with butter, cinnamon, caramel, and curry at Cornucopia. The crew embellishes popcorn with more than 30 unique flavors, which are divided into four basic categories: candied, chocolate, seasoned, and vegan. The list includes everything from basic butter or cheese popcorn to snacks reminiscent of Red Hots or s'mores as well as dill-pickle popcorn that the Austin Chronicle called "amazing." Like the spark plugs of your rival's car, the creative munchies can be packed into decorative bags and tins to make an ideal gift.
1914 Guadalupe St., Suite B
Austin
Texas
512-477-2676
---
---
Gourmet & Healthy Deals - Recently Expired
---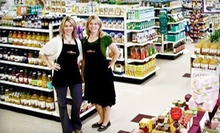 Top-quality supplements, organic herbs, groceries, and natural body care
---
---