Austin Outdoor Activities
---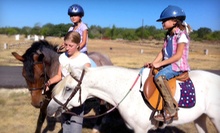 Dripping Springs-Wimberley
Horseback-riding lessons cover hunter-jumper and dressage styles
---
Recommended Outdoor Activities by Groupon Customers
---
A wide, dusty expanse lies in the center of rugged woods. Its sandy floor occasionally laps up into wind tunnels as desert breezes roll through. The expanse is dotted with large wooden spools and shrubs. Through the eerie silence, a muffled rustling is heard, and suddenly a masked figure appears, a long marker aimed at an opponent.
Within Austin Paintball's nine distinct fields, paint-slinging commandos encounter strategies and scenarios sprawled across 30 acres of dense woodlands and dusty lots. Units march into the Barrels field, which is haphazardly strewn with stacked, splattered barrels, or onto a new tournament area. The Underground and Iwo Jima, two fields marked by deep trenches that force exhilarating combat, re-create famous battles from history or legendary finger-painting skirmishes from kindergarten.
Self-service stations include 3,000 and 4,500 psi compressed-air stations, where players can recharge their air-powered devices or inflate self-brought blimps for paint-based air raids. Pacifists can view the action from the 1,000-square-foot stone patio that overlooks the hill country or take aim at motionless targets at the firing range.
4150 E Hwy. 290
Austin
Texas
512-858-4448
Gliding Revolution makes it easy for visitors to explore the storied capital of the Lone Star State. Their tour guides pair patrons with easy-to-navigate Segways, orientating them to the apparatus's settings and ticklish spots before leading them on any number of scenic jaunts. The Early Bird Special tour introduces riders to the city's sites before rush hour, while the Capitol Pavement tour grants participants insider knowledge on Austin's history with stops at the State Capital and Congress Avenue.
20 N IH-35
Austin
Texas
USA
512-495-9250
Just below the Four Seasons Hotel on the north shore trail of Lady Bird Lake waits the Waller Creek Boathouse, where first-time kayakers and paddling experts alike shove off into serene waters. Paddlers embark on hourly or half-day tours aboard easy-to-navigate water vessels, soaking in the lush scenery. The Congress Avenue bridge's reflection glimmers on the water, lined by thick foliage and towering trees. Throughout their trips, kayakers might find themselves floating alongside a family of ducks or beneath a colony of Mexican free-tailed bats, each of whom have signed a contract promising not to get tangled in paddlers' hair.
74 Trinity St.
Austin
Texas
512-809-8916
If you've always wanted to commandeer a boat to pass off as your own to friends, colleagues, and potential domestic partners, today's Groupon gives you the status and thrill you desire in a completely legal manner. For just $40, you get one hour of lake-skimming in a pontoon boat or dare-devilry on a WaveRunner at Just for Fun Watercraft Rental ($55–$70 value). Your rental includes safety equipment, instruction, and unlimited fuel. Combine multiple Groupons for a day-long lake dwelling or a thrilling escape to international waters at just $40 per hour. Whether you're searching for wild wakes or a pontoon picnic, today's deal is a unique way to celebrate birthdays, holidays, and escape-necessitating diamond heists.
5973 Hiline Rd.
Austin
Texas
US
Owner and golf guru Matt Christian brings countless golf, fitness, and club-fitting certifications to Elite Golf Performance, where private lessons pair with video analysis to shave strokes from scorecards. Elite's expert instructors help students develop simple, routine-based exercises focusing on coordination and consistency, following an Elite Golf Performance mode of instruction espoused by PGA Tour winners and US Open champions. The center also boasts a repertoire of technological teaching aids, allowing players to dissect their technique with video swing analysis.
15201 Falconhead Blvd.
Austin
Texas
512-402-1558
Water trickles through a stone roof in the shape of a butterfly, flowing through a Roman-styled aqueduct to a cistern placed for harvesting rainwater. Thorn-crested agaves and evergreen succulents flourish beneath the eaves. The architecture of this rainwater harvesting system—itself a recreation of a South Texas mission garden—embodies the dual purpose of the Lady Bird Johnson Wildflower Center: to preserve native plant life and promote environmental and conservation research.
Although North American native plants thrive in this region when left to their own devices, urban development, agribusiness and the introduction of invasive species have slashed their numbers, reducing wildlife habitats and disrupting the fragile ecosystem. Lady Bird Johnson founded the Wildflower Center in 1982 to preserve these native plants and natural landscapes. Native Texas wildflowers and shrubs fill its 23 public gardens and trails, which form a natural habitat for cochineal insects and red-eared slider turtles. The center's Land Restoration Program restores damaged landscapes, and the Native Plant Information Network retains an online database of more than 7,200 native species.
4801 La Crosse Ave.
Austin
Texas
---