Restaurants in Austin
---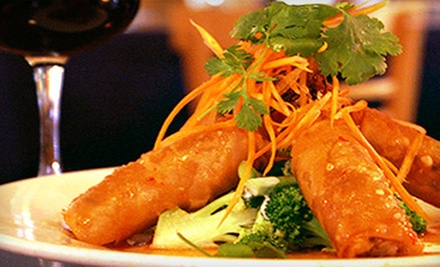 ---
Austin Restaurant Guide
If it can be tossed on a grill and slathered in barbecue sauce, it probably can be found at one of the many Austin restaurants that keep things classically Texas. But even though the city may have made its culinary name with sweet, smoky briskets and ribs, new and not-so-new cooking styles have made Austin a foodie destination. Thanks to the popularity of "Tex-Mex" cuisine, Matt's El Rancho on South Lamar has managed to become an Austin institution for more than 60 years. Since that time, Tex-Mex dining in Austin has gone uptown with Nuevo Mexican restaurants such as Manuel's, an upscale Mexican eatery located in downtown Austin, and
Garrido's
, a Warehouse District spot that marries traditional Mexican cooking with modern techniques. Foodies who consider eating an adventure are flocking to newcomers on the Austin dining scene including The Afin Modern Japanese Tapas Bar on North Lamar Boulevard, which turns out stunning sushi creations, and Foreign & Domestic, on East 53rd Street, where they utilizes local ingredients to reinvent classic American dishes at this updated take on the diner. Newcomers Asia Café (Sichuan),
Indian Spicy Kitchen
(Indian) and Mi Kefcito (Cuban) are also worth checking out. Still, barbecue reigns supreme among Austin food worshippers and one of the newest places is Franklin Barbecue on East 11th Street, recently named the best barbecue restaurant in the country by Bon Appetit magazine. Lines form early here (about 10 a.m.) and Franklin only serves lunch, so plan accordingly. Other places where the barbecue is popular include Live Oak Barbecue on East 2nd Avenue and longtime Austin favorites Stubbs, (located on Red River Street), Sam's BBQ (on East 12th Street), and Ironworks BBQ (downtown Austin). From traditional Texas chow to unique Southwestern twists on international dishes, Austin is now one of the top favorites for unique taste adventures.
But even though the city may have made its culinary name with sweet, smoky briskets and ribs, new and not-so-new cooking styles have made Austin a foodie destination.
Recommended Restaurants by Groupon Customers
---
Chef Jam Sanitchat's cooking career began at 5 years old, when she began following her grandmother around their kitchen in Thailand. After journeying to Austin for graduate school, she opened Thai Fresh delicatessen, where she began teaching classes and cooking. Thrice Cafe is her newest culinary undertaking—an expansion of Thai Fresh that pairs coffee drinks with innovative Thai-inspired dishes, all cooked fresh when customers order.
Sanitchat and her crew cobble together local meats, eggs, and vegetables into light and healthful breakfasts, sandwiches, and salads. They also concoct vegan and gluten-free baked goods, which pair with specialty beverages brewed from Casa Brasil coffee or selections from the lengthy wine and beer list.
Cushy couches and tables populate the interior, and umbrellas shade a verdant outdoor patio. Throughout the week, the café hosts live music and open-mic nights, where guests can showcase their talents to a receptive audience instead of a collection of unresponsive sock monkeys.
909 W Mary Street
Austin
Texas
512-447-9473
Under the direction of Chef Morris Buck, diners are treated to culinary delights every night such as crispy Statler chicken, served with green chili mashed potatoes, or pan roasted duck with a blueberry demi-glaze. Servers then transport this hearty, seasonal cuisine across hardwood floors, stepping to the swinging notes of live jazz bands.
Though sunset is the perfect time to drink in the patio's glorious views with a glass of wine in hand, the staff doesn't neglect its earlier visitors. Brunch serves up both sweets such as maple-drizzled, toasted challah and savories such as Texas skillets with potatoes o'brien, sausages, biscuits, gravy and eggs.
6550 Comanche Tr.
Austin
Texas
When Ben Googins met Rio de Janeiro native Elias Martins while teaching English in Brazil in 1998, he couldn't have guessed that the two would wind up making pão de queijo—cheese bread—on an episode of the Cooking Channel's FoodCrafters with celebrity chef Aida Mollenkamp. Their journey began as Googins learned more and more about the Portuguese language and the generous, hospitable Brazilian culture via Martins's family and their flavorful cooking. The duo eventually moved to Austin in 2006, bent on realizing their dream of opening their own restaurant. After their handmade foods gained popularity at the downtown farmers' market, their all-natural malagueta sauces appeared in Austin's flagship Whole Foods store. They finally opened Rio's Brazilian Café in 2010, where Googins now makes caipirinhas and Martins creates contemporary and traditional Brazilian recipes from scratch. The last Saturday of every month, Martins treats diners to feijoada, a classic Brazilian stew made with pork, beef, sausage, black beans, and the juice of one soccer ball.
He still, of course, makes the restaurant's renowned cheese bread. The basil variety was the favorite of Fearless Critic, which noted that the restaurant is "one of the few places where carnivores, vegetarians, and gluten-intolerant diners can all happily coexist." The restaurant was also a Critics' Pick for Most Charming Brazilian Outpost in the Austin Chronicle's Best of Austin 2011, and has appeared in numerous publications and on TV shows such as Good Day Austin and Fox 7 News. According to Eater Austin, celebrities Ryan Gosling and Rooney Mara have noshed at the cozy eatery, whose bright yellow and green exterior and outdoor patio give way to a similarly vibrant and eclectic dining area.
408 North Pleasant Valley Road
Austin
Texas
512-828-6617
Praised by the Austin Chronicle, Dolce Vita beckons taste buds with fresh paninis, mini-waffles, and a variety of beverages. Aside from punishing baristas with overtime shifts clapping the erasers, the chalkboard menu's rotating list of items encourages constant creativity, inspiring the staff to scoop out seasonal gelato flavors and craft unique food and drink items. Decorated with sienna-toned diamonds on the wallpaper, the cozy interior provides a genial place to chat or sip a latte, and an outdoor patio encourages photosynthetic patrons to soak up the sunshine.
4222 Duval St.
Austin
Texas
512-323-2686
---