Things to Do in Austin
---
---
Austin Things To Do Guide
Built in 1888, the pink-granite
Texas Capitol building
in Austin is the largest state capitol in the country and even taller than the US Capitol in Washington, DC—proof that everything is, indeed, bigger in Texas. Yet Austin stands apart from the rest of the state politically and culturally, a fact that locals seem to revel in. "Keep Austin Weird" is a popular motto here, appearing on bumper stickers and T-shirts. The weirdness manifests itself all over town: perch on a ripped-up recliner amongst the towering
Cathedral of Junk
—which stands in a local's backyard—or pay a visit to the
Museum of Natural & Artificial Ephemerata
, which counts one of Marilyn Monroe's cigarette butts as one of its less-bizarre relics. Even nature plays along: each night at dusk (from mid-March to November), an estimated 1.5 million Mexican free-tailed bats emerge from underneath the
Congress Avenue Bridge
to embark on their nightly insect hunt. Austin has been dubbed the Live Music Capital of the World thanks to the city's nearly 200 venues, where bands play everything from blues to punk rock. In fact,
Travel + Leisure
 magazine named Austin one of
America's Best Music Cities
, calling it the "mother ship for indie rock and alternative-country types."
Stubb's Bar-B-Q
books some of the bigger acts that come to town, including the White Stripes, Umphrey's McGee, and Snoop Dogg. In addition to the live entertainment taking place on a nightly basis, two massively popular music festivals—
South by Southwes
t and
Austin City Limits
—draw in huge crowds each year. The University of Texas brings its share of cultural attractions to the city as well. For starters, the sprawling campus is home to the
Blanton Museum of Art
, which boasts one of the country's most impressive private collections of old-master paintings. UT-Austin is also where you'll find the
Lyndon Baines Johnson Presidential Library
, dedicated to preserving and exhibiting artifacts related to the 36th president.
On any given day, there are multiple "only in Austin" things to do, each one uniquely different from the next.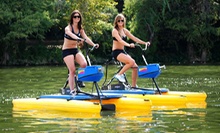 Use Today 11:00am - 4:30pm
---
Recommended Things to Do by Groupon Customers
---
To avoid last year's embarrassment of inventing modern art 90 years after the fact, it might do you good to visit an art museum and see what art movements already exist. Marvel and muse among the aesthetically astute with today's Groupon: for $30, you'll get a yearlong household membership to both locations of the Austin Museum of Art. Benefits include:
823 Congress Ave.
Austin
Texas
US
The tale of the Austin Children's Museum begins in 1983, when a band of parents and teachers started setting up educational exhibits and children's activities throughout the city. This "museum without walls" stretched into schools, parks, and malls, delighting children and families with a sense of whimsy and a place where play was rewarded. In the years that followed, the museum shed its nomadic beginnings and found a permanent home inside the pleasant green walls of the Dell Discovery Center. Firmly rooted, its exhibits have entertained and enlightened more than 800,000 youngsters and their parents while earning praise from the writers of Little Austinite.
Today, the sprawling 12,500-square-foot facility is a kaleidoscope of color and lights, where whippersnappers play with giant building blocks, cobble recycled materials into crafts, and marvel at golf balls as they soar through loops and shoots. Others explore the miniature Global City, where they take on roles such as veterinarians in the pet clinic, cooks in the diner, or stray raccoons hiding in the grocery store.
Throughout the week, a team of educators leads Discovery Time, guiding lads and lasses through kid-friendly science experiments that launch paper helicopters and make slime. The museum also hosts Storytime, where grownups read playful stories aloud to encourage creativity and instill a love of literature in young readers.
201 Colorado St.
Austin
Texas
Each Friday, Saturday, and Sunday, the cycle shepherds at Bike Nation open their doors to unite riders with a well-maintained fleet of rental bikes. Their Schwinn Sporterra cruisers feature aluminum frames, steel forks, and Sport Ergo saddles ideal for smooth and leisurely rides. For riders taking on the varied roads, trails, and Lego-riddled carpets of central Texas, the staff also lends Schwinn multispeed cruisers. As a partner of tour group Segway Nation, Bike Nation also organizes self-guided tour routes showcasing historic sights and modern attractions around Austin.
1108 Lavaca St., Suite 100
Austin
Texas
512-663-9634
Barton Springs Bike Rental outfits fun seekers for bike rides across Austin's historic pathways and scenic landscapes. The shop dispenses single-speed beach cruisers to riders along with lights, baskets, locks, and access to roadside assistance in the event of a flat tire or never-ending parade of ducklings crossing the road. The crew's routes include the 90-minute Peace, Love & Zilker Tour—an easy jaunt past sights such as the Auditorium Shores, the old railroad bridge, and Barton Springs Pool—and the Congress Avenue Bat Tour, an evening trek to witness the world's largest colony of urban bats. Guides narrate the history and significance of local sights, giving guests plenty of opportunities to stop and snap pictures or refill their bicycle's feedbag.
1707 Barton Springs Rd.
Austin
Texas
512-480-0200
---