Restaurants in Avocado Heights
---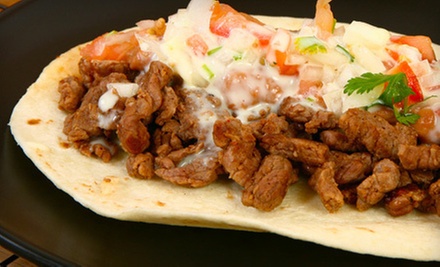 ---
Recommended Restaurants by Groupon Customers
---
At Scarlet Tea Room and Fine Dining, the tea services represent both a treasured English tradition and a modern form of celebration. Here, groups gather beneath a chandelier flecked with vibrant red accents to indulge in five-course meals. Their loose-leaf steeped beverages—which range from a sweet and lemony French verveine to a smoky Chinese lapsang souchong—complement a selection of bite-size desserts and light sandwiches stuffed with savory fillings such as prosciutto, aged white cheddar, and sun-dried-tomato spread. The afternoon tea service also includes housemade scones and berries romanoff, a fruity dessert served in a dark-chocolate cup.
On Friday and Saturday evenings, the award-winning kitchen staff prepares small plates of shareable dinner fare such as grilled skirt steak with marinated mushrooms, sautéed gnocchi with walnut-arugula pesto, and Fijian kingfish crudo with grapefruit and green papaya. To celebrate special occasions, such as Valentine's Day or Father's Day, diners can order specialty cakes for pickup or visit the dining room for a romantic concert or saucy burlesque performance by Queen Elizabeth.
18 W Green St.
Pasadena
California
626-577-0051
Rustic brick walls and a wine bar accent Lola's red, low-lit dining room, where candles illuminate the vivid oranges, purples, and greens of Peruvian cuisine arranged on crisp white ceramic plates. Libations culled from the bar's sprawling wine racks complement ceviche, sautéed Quechua vocabulary, and fried yucca.:m]]
230 N Brand Blvd.
Glendale
California
US
818-956-5888
Some chefs attend faraway schools or universities to learn how to cook, but for Emma Sue Miller McWhorter—the inspiration behind Big Mama's Rib Shack & Soul Foods—it was natural. Though she's gone to the big kitchen in the sky, a little bit of her soul can be seen today in the restaurant's hot links, saucy ribs, and fried chicken, which the Los Angeles Times called "beautifully cooked; moist, flavorful."
Bubbling pots of gumbo and jambalaya fill the eatery's air with rich smells and fill mouths with equally rich flavors when paired with sides such as corn bread, fried okra, or mac 'n' cheese served in the southern tradition of adding dairy to everything. Guests can enjoy live music on Tuesday nights, which ranges in musical style from jazz and R&B to soul and rock 'n' roll.
1453 N Lake Ave.
Pasadena
California
US
At Gus's Drive-in, cooks speedily whip up American meals without skimping on healthiness. At the drive-thru or in the spacious dining room, patrons enjoy 80% lean, all-beef burgers and chicken fried in zero-transfat vegetable oil. Sandwiches are loaded with hand-carved meats, including pastrami and turkey, whereas paninis can be served in traditional Greek style, with olive oil and feta cheese in a Spartan war helmet. Other ingredients on the menu, such as guacamole, dressings, and broasted chicken, are all prepared in-house. Patrons can also enjoy latin tacos and burritos on the outdoor patio, where umbrellas keep the sun from bearing down, asking if you're going to eat that.
1657 W 3rd St
Los Angeles
California
213-483-8885
Founded in 1936, Trader Vic's restaurants have been serving up tiki-style drinks for decades—they even claim to have invented the mai tai in 1944. Inside the Trader Vic's at LA Live, lush decorations whisk guests to an island retreat—carved tikis, stools trimmed in bamboo, and plush booths upholstered in green fan out beneath hanging canoes and other Polynesian-influenced decor. As eyes drink it all in, chefs immerse taste buds in a menu that fuses Hawaiian, Chinese, and other exotic flavors. They stir-fry char siu pork, sear Hawaiian tuna in a pink-peppercorn-sesame crust, and braise mu shu pulled duck with hoisin sauce.
Live music on Friday and Saturday nights adds to the festive atmosphere, as does a list of more than 90 tiki cocktails. Like the best fourth-grade tea parties, the restaurant also has a dress code—no shorts, T-shirts, or flip-flops in the dining room.
800 W Olympic Blvd.
Los Angeles
California
US
213-785-3330
When owner Frank White took over this Downey eatery—then called Granata's Italian Restaurant—in 2011, the Granata family had already been serving Italian cuisine there for more than 54 years, according to the Downey Patriot. Today, White still plucks recipes from the family cookbook but has also added his own touch with a new menu of hot and cold Spanish-style tapas. Made with gourmet ingredients such as fresh clams, spanish piquillo peppers, and rich serrano ham, the new plates are small enough to be shared with friends or slingshotted spitefully at enemies. The chefs also use locally sourced ingredients for classic Italian meals whenever possible, festooning linguine carbonara with fresh sweet peas and veal parmigiana with rich tomato sauce.
In the renovated dining area, blue pendant lamps light the full bar and surrounding cherry-wood tables and chairs. Flat-screen TVs share wall space with murals of the Venetian canals where Leonardo da Vinci first learned to jet ski.
11032 Downey Ave.
Downey
California
US
562-861-2997
---