Avon, IN Spa and Massage
---
Recommended Spa & Massage by Groupon Customers
---
When massage therapist with more than 30 years of experience Lolita Knight traveled to Fiji looking to soak up the sun and native culture, she wasn't expecting to discover what would become the signature tool in her therapeutic arsenal. While living in a remote village on one of the nation's smaller islands, however, Lolita had the good fortune of running into Simonis, a village doctor who had been healing sore muscles since the age of 7. A consummate giver, Simonis happily instructed Lolita in the methods that had been handed down to him across generations—methods that center on the feet and were unlike anything she had seen in her career.
Though her journey as a therapist has taken her to locales as far-flung as New Zealand, Lolita now devotes herself to the art of Fijian massage within the relaxing, tropical-themed confines of Islands Massage, which she founded in 2007. Fijian sarongs hanging from the walls and seashells scattered about evoke a distinctive island vibe as eclectic music wafts through the air. The soundtrack ranges "from Led Zeppelin to ocean sounds," says Lolita, who can find a kernel of relaxation in almost anything.
Aside from her specialty Fijian massage, in which she uses the pads of her feet and gravity to drive out tension, Lolita and her staff perform traditional table massages and healing sessions that utilize touch, such as Chinese acupressure facials and Indian head massage. To aid in relaxation, the therapists sometimes employ island-themed tools such as aqua heating pads or hurl coconuts at backs to break up clumps of tension.
5665 W 51st St.
Indianapolis
Indiana
317-445-5557
Lesley Neeley was in pain. Despite a rich family life, a meditative yoga practice, and a career as a certified massage therapist, inexplicable aches and fatigue racked her body with ever-increasing frequency and intensity. Her story chronicles six years of affliction and misdiagnosed depression, all of which finally led to her true diagnosis: fibromyalgia.
Now that she has battled the disorder herself, Lesley brings an uncommon empathy to her practice at Living Better Therapeutics, where she helps others cope with pain through her massage services and promotes education about fibromyalgia through presentations, workshops, and support groups. Lesley also supplements her already formidable education with continuing courses on craniosacral therapy, reiki, and Hatha yoga. When she isn't healing muscles within the serene confines of her own private treatment room, she can travel to clients for an additional fee to soothe their aches amid the comforts of their own homes or batcaves.
324 E Main St., Suite A
Brownsburg
Indiana
317-270-2277
Drawing on training in advanced skincare, Aura Lanier tends to dermal needs with a wide range of equipment inside Aura Skin Care & Massage Microdermabrasion units emit a fine spray of crystals, and FDA-approved red-light therapy helps to repair skin by stimulating cells and collagen growth. Custom blends of aromatic oils help to bolster the relaxing effects of massages and the comic effect of a bloodhound trying to get to work on time.
8100 E US Hwy. 36
Avon
Indiana
317-520-2905
---
---
Spa & Massage Deals - Recently Expired
---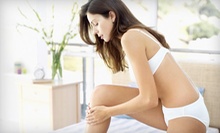 Techs use lasers to stifle hair growth at the follicle, eventually nixing the need to shave, wax, or pluck
---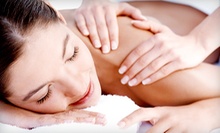 Licensed therapist references stress-and-pain review while performing massages tailored to each client's specific sore spots
---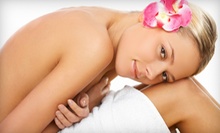 Therapeutic massage relaxes guests and deep-cleansing multivitamin facial boosts the appearance of skin; includes haircut and style
---
---