Avondale Gyms and Fitness
---
Gym, Exercise, Weightloss Deals
---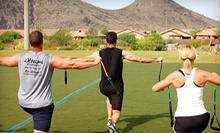 Instructors motivate campers through series of cardio and strength routines, such as sprints, plyometric drills, and core workouts
Use Saturday 5:00am - 8:00am
---
Recommended Gym, Exercise, Weightloss by Groupon Customers
---
Pink Fitness offers fun and flirty fitness for women of all ages, sizes, and fitness levels.
9822 W Peoria Ave
Peoria
Arizona
US
623-824-8721
Like a trip to the all-you-can-dance buffet, Jazzercise incorporates moves from hip-hop, yoga, Pilates, jazz dance, and air-busting kickboxing. In 60 minutes of class, participants of all ages and levels will benefit from improving their cardio, strength, and flexibility while burning off up to 500 calories and improving their chances of impressing Kevin Bacon at a celebrity dance-a-thon. Dancing with the Stars two-time champion Cheryl Burke is a big fan of Jazzercise's improvisational workouts, but clients won't need her encyclopedic knowledge of flashy footwork and spirit-fingered dance moves to get the most out of each class. Those prone to first-class jitters can review the basic moves before their shimmy session.
7902 W Union Hills Ave.
Glendale
Arizona
GolfTEC has three convenient locations in the Phoenix area and one in Tucson, all staffed by experienced golfing professionals and computers who've sworn allegiance to the Three Laws of golfing robotics. Motion sensors and high-speed cameras monitor the golfer's swing and break it down on a high-definition video display. GolfTEC's PGA specialists point out golfers' flaws and strengths, and coach them on how to permanently improve their game, from tee to green. Sensors chirp with approval when golfers execute a perfect stroke or crack an especially witty golfing joke. Customers will also benefit from a $10 gift certificate to Golfsmith, the golf equipment superstore housing GolfTEC's Chandler, Scottsdale, and Tucson locations. Each of Golfsmith's four Arizona locations is stocked with cutting-edge equipment and custom-fitted clubs.
8765 West Kelton Lane
Peoria
Arizona
The trainers at Ultimate Body Boot Camp forage through the workout wilderness to curate a fitness omnibus. They pull from multiple exercise styles—including Pilates, plyometrics, kickboxing, yoga, and core work—to build workouts that combine the benefits of cardio and resistance training. This earned the program a top spot on Arizona Foothills magazine's Best of Our Valley list for 2012.
To keep clients' muscles from hitting the wall, getting bored, or taking off in the dead of night to pursue a career as an anatomy textbook model, coaches change the routine each class and give campers personalized tips to fuel individual journeys. Body-composition tests and nutritional plans augment the sessions, inspiring long-lasting habits for healthy physiques.
17426 N 57th Ave.
Glendale
Arizona
602-635-6175
As a 23-year-old junior, Tom Hatten didn't spend his evenings at the raucous parties or ice-cream socials associated with college life. Instead, he'd spend the waning hours of his evenings waiting by the dryer for the last batch of towels before collapsing into bed. In the morning, he would lug them to Mountainside Fitness, the gym he opened as a student that he has thrown all his energy into maintaining ever since.
Today, the humble 4,800-square-foot space has bloomed into nine gyms that average a sweeping 41,000 square feet. Tom's vision of creating a friendly neighborhood gym that greets each guest with a warm towel underscores every decision he makes for the different locations, from the colorful kid-care spaces to the entertaining group fitness classes. Personal trainers plan regimens tailored to each client, helping them lose weight, build muscle, or target the muscles that will help build a better golf game. Clients can create their own routines with the help of cardio and weight machines, or explore the different amenities at each location, such as saunas, rock-climbing walls, and indoor basketball courts.
15455 W Bell Rd.
Surprise
Arizona
623-889-0374
You could probably run for three hours on a treadmill, but why would you want to? Brothers Jamil and Nick Coury provide far more enjoyable running opportunities at the 20 long-distance trail runs they organize each year through some of the most scenic terrain in Arizona and Colorado. They don't pick these courses by simply throwing darts at the earth from a helicopter. With more than 80 completed marathons between them, the brothers are experts at spotting the natural features that make for a satisfying run. These include steep inclines, sloping descents, and eye-popping views. Their events give you the chance to gaze on Phoenix from the White Tank Mountain Range or behold Silverton, Colorado, from more than 13,000 feet above sea level.
13025 N White Tanks Mountain Rd.
Wadell
Arizona
---