Restaurants in Avondale
---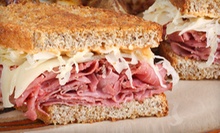 Arrowhead Entertainment Center
Use Tuesday 11:00am - 3:00pm
---
Recommended Restaurants by Groupon Customers
---
Voted the Best Neighborhood Mexican restaurant in the West Valley by the Phoenix New Times in 2009, Pedro's Mexican Restaurant serves lavish portions of Mexican food made with authentic recipes. Crispy chimichangas and chicken burros were particular favorites, along with stuff quesadillas, which the Phoenix New Times called "pure hedonism."
4938 W Glendale Ave.
Glendale
Arizona
Calico Jack's Cantina blends Tex-Mex cuisine with an atmosphere of all-night dance parties and music-fueled celebrations. Murals of Mexican calaveras dot the yellow walls as diners sup on hearty meals of carnitas, burgers, tacos, and salsas and dips. Revelers crowd the floor to rhythmically move to tracks from a live DJ or step up on one of the two full-service bars for delivering raucous toasts or taking first place in a height contest.
6770 N Sunrise Blvd.
Glendale
Arizona
In the interest of sharing their hearth-bound heritage with the wider culinary world, the two families behind Arizona Frybread combined their traditional Yaqui fry-bread with recipes plucked from the worn pages of treasured cookbooks. This dedication to homestyle kitchen craft is also instilled in their restaurant's cooks, who hand-sizzle each flat of crunchy fry bread before topping it with mojito chicken, steak, or beans and cheese. The shop pays equal attention to its toppings: red chili teases tongues with an heirloom kick calibrated in the course of three generations, and tender bites of cactus unlock the desert's surprisingly verdant flavors.
425 W. Western Ave.
Avondale
Arizona
US
At Brothers Pizza Express, hand-tossed New York–style dough serves as the fresh foundation for pizzas and oven-baked calzones. Toppings such as pepperoni, jalapeños, black olives, and meatballs await to be peppered across each cheesy slice to create custom pies, and specialty pies eliminate tricky decision making with pretested combinations such as a margherita pizza loaded with tomatoes, basil, and parmesan cheese, and served in a salt-rimmed glass. Hot, hearty sandwiches pack savory slices of pastrami, steak, genoa salami, or ham and cheese between slices of baked focaccia or ciabatta bread, and hot wings can be procured in packs of 6–50 to cater to varying appetites and bib sizes.
525 N. Estrella Parkway
Goodyear
Arizona
At Cleopatra Restaurant, restaurateur Ali Othman and songwriter Tony Youssef join together to enrapture diners with a combination of flavorful Near Eastern cuisine and live entertainment. Guests sip glasses of bubbly moscato and sup on marinated chicken kebabs while taking in the sights and sounds of salsa dancing on Thursdays and belly dancers and singers on Saturdays. An open, airy space decked out with plush leather couches, marble statues, and gold-hued curtains surrounds the entertainment and the edibles, which includes smaller bites of spinach pies, baba ghanouj, and falafel.
5686 W Bell Rd.
Glendale
Arizona
602-368-4760
Mike's Rigatoni Bistro is a hub for authentic Italian and Greek cuisines, including house-made pasta entrees and dishes cooked with ouzo, an anise-flavored apéritif that symbolizes Greek culture. Meat specialties span flavors from opposite sides of the Mediterranean: the Grecian-style myconos chicken lazes alongside sun-dried tomatoes, fresh oregano, and Kretikos wine, and the Italian-style milanese chicken scaloppini sports homemade parmesan-herbed breadcrumbs and veal demi-glace. Pasta entrees include noodles drenched in clam sauce or the lasagna al forno, stratified with meat sauce, ricotta, and house-made sausage to lend the plate more layers than Dante's famous disco inferno. Comfortable red booths ensconce guests as Old World wreaths and curios recall a rustic country villa.
8215 W Bell Rd., Suite 125
Peoria
Arizona
US
---