Beauty & Spas in Azle
---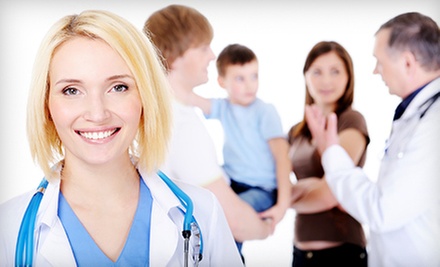 ---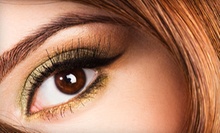 Use Monday 10:00am - 5:00pm
---
Recommended Beauty & Spas by Groupon Customers
---
Stylemakers' experienced hair stylists are follicle fanatics with a special interest in color. Like skilled ice sculptors, they will spot the potential buried within your split-end threads and snip, scissor, and style your locks to perfection before they melt. Your single-process color or partial highlights will give you a youthful-looking head, which often translates into a youthful strut and a plethora of compliments from friends, strangers, and the insides of hats.
1201 West Lancaster Ave.
Fort Worth
Texas
The Salon Upstairs's senior master designer Vandy and her staff of nationally trained stylists provide clients with a multitude of coloring, chemical, and styling services. With a selection ranging from a basic cut ($45+ for women, $30+ for men, $25+ for kids) to a Bridezilla updo ($45+), a look befitting any occasion is hiding in The Salon Upstairs. Use this Groupon to its max by getting a cut and style alongside a recoloring of your mop ($60+), or stripe your trendils with a few highlights ($60+).
1240 College Avenue
Fort Worth
Texas
A wildly successful alternative to traditional day spas—its more than 300 locations blanket 36 states and half a dozen countries—Planet Beach Contempo Spa is a futuristic relaxation station where state-of-the-art machines administer all the spa and tanning services. These friendly automatons sometimes replace familiar treatments, as in the Luminous facial, a light-based service that delivers blemish-busting results similar to those of a conventional facial. But other equipment maps out new spa territory entirely: the hydro-derma fusion chamber moisturizes the whole body with nutrient-rich steam in order to offset the effects of a dry climate or a rear-end collision with a salt truck. Other machines whiten teeth, spray tan skin, and massage muscles.
Planet Beach operates on a gym-style membership system, meaning that members purchase packages or pay flat monthly rates. As members spend more time at the spa, they get to know the helpful assistants who are always on hand to demonstrate how to use the equipment without activating its ability to cry.
9324 Clifford St., Suite 112
Fort Worth
Texas
817-246-1311
Fantastic Sams is a full-service salon for the whole family that will sculpt wilted hair into a look-twice hot commodity. Begin by receiving a complimentary shampoo with Fantastic Sam's signature line of products, followed by a three-minute scalp massage to blast away the dead-skin-cell-loving turtles. Whether you've got a secret style you've been saving in your panache pocket or trust the expert stylists at Fantastic Sams to get creatively awesome with your hair, your haircut and style (a $25–$30 value) will be snipped and primped to fit your desired identity. Next, you'll hit a fork in the road during your main mane journey, where you must choose between highlights or lowlights (a $65–$100 value). All hair curators are custom-trained TIGI colorists, ensuring the richest hue for your tried-and-true tresses. For a final hairtain call, a deep-conditioning treatment (a $15–$16 value) will strengthen, smooth, and add shine to your newly fashioned focal point. These beauty-renewal centers are staffed with follicle fanatics who will listen to your needs and pamper your worries away with precision and kindness. A stylish 'do will make enemies hate to love you and friends love to love you, making this your official summer of locks and love.
6060 Azle Ave.
Lake Worth
Texas
817-238-1112
The Lash Lounge's founder Anna Phillips—an advanced certified eyelash-extension trainer—once traveled the nation to impart the art of semipermanent eyelash application to scores of fellow lash artists. Now, at all of Lash Lounge's locations, such artists work to ensure that every guest returns to their day-to-day activities batting fuller, darker lashes. They meticulously apply each synthetic strand to a natural lash with medical-grade glue, imbuing peepers with a customized, natural look that can last up to two months with proper care. Applying lashes of varying lengths, thicknesses, and degrees of curl, they have earned the praise of publications including Allure magazine and Women's Wear Daily.
They also strive to eliminate lengthy daily makeup applications with permanent-makeup services. After a complimentary consultation, a staff of licensed aestheticians and permanent-makeup artists precisely applies permanent eyeliner, lip color, or third eyebrows. For those who prefer makeup that washes off, Anna has concocted her own line of mineral cosmetics, brushes, and primers.
2600 W 7th St., Suite 106
Fort Worth
Texas
Smile America has been in business for over 10 years bridging the gap between dentists and patients. We provide an alternative solution for dentists to introduce new patients to their practice and at the same time saving those patients money while providing a premium service.
1501 Handley Dr.
Fort Worth
Texas
---