Restaurants in Azle
---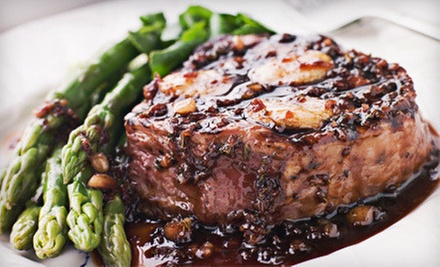 ---
Recommended Restaurants by Groupon Customers
---
Every Thursday at LightCatcher Winery & Bistro, owners Caris and Terry curate a 5-Course Chef's Tasting Menu, which highlights the restaurant's finest wine and food pairings. On Thursdays, Fridays and Saturdays, a dinner menu offers upscale bistro fare.
They welcome fledgling sippers to sample wines in the tasting room and happily answer wine-related questions, such as how to choose the perfect glass or how to properly perform a spit take when confronted with the indecency of a gentleman caller without a top hat.
Caris and Terry take wines seriously. They scour Texas vineyards in search of the most flavorful grapes and have won numerous awards for their winemaking efforts. Additionally, Caris tailors LightCatcher Winery & Bistro's menu to complement the libations with savory flourishes such as goat cheese creamed corn.
6925 Confederate Park Rd.
Fort Worth
Texas
817-237-2626
Sushi Yoko combines a clean modernist interior with a classic array of Japanese fare. Their sushi chefs roll simple maki that showcase morsels of eel or tuna, much as plants and sculptures are showcased in the mauve and tan insets along the dining-room walls. Chefs also combine flavors into specialty rolls such as the DFW Tower roll, a medley of crabmeat, avocado, and spicy tuna. Flames lick entrees of una ju, a broiled freshwater eel in unagi sauce, or katsudon, a combination of deep-fried pork loin with veggies, eggs, and house sauce. A broad front window gives ample illumination for diners to admire chefs' artful presentation and the tiny autographs they leave on every grain of rice.
6333 Camp Bowie Blvd., Suite 280
Fort Worth
Texas
817-737-4000
Brownstone is the result of award-winning designer Hatsumi Kuzuu's vision. Combining the expertise of the restaurant visionaries at Sameni Entertainment Group with the innovative architecture of her own imagination, she's given life to an airy, 5,000-square-foot space that crackles with convivial energy. As patrons fill the air with the din of friendly conversation or watch HD televisions from the comfort of their residential-style seating, the waitstaff ferries plates packed with forward-thinking takes on American cuisine. Juicy Angus burgers topped with fried eggs, cuts of chicken-fried steak, and delicate sea scallops seem right at home amid the din of friendly conversation. A well-stocked bar encourages diners to linger at tables on the open-air patio long after plates are cleaned, socializing while sipping on the specialty cocktails that were named some of the best in the city by reporters from Fort Worth CVB.
840 Currie Street
Fort Worth
Texas
817-332-1555
If Noodles @ Boba Tea House's dining room strikes visitors as welcoming and familial, the reason may be that the Vietnamese restaurant's owners share more than a dedication to fine boba teas—all three of them are sisters. Since opening in 2007, Holly, Nga, and Kim Vu have merged steamy Vietnamese dishes with milky teas in a casual, laid-back setting.
Bowls of the restaurant's signature pho—a Vietnamese noodle soup with French and Chinese roots—line tables alongside goi chun spring rolls filled with charbroiled chicken, imitation crab sticks, and fragrant cherry blossoms. Piles of rice share plates with marinated pork chops, beef, and cornish hen, and chopsticks spar for sushi rolls that reflect the restaurant's pan-Asian influences. Straws fish for treasure in boba teas, whose watermelon-, papaya-, and green-jasmine-flavored waters brim with chewy pearls of tapioca.
7355 N Beach St., Suite 101
Fort Worth
Texas
At BoomerJack's Grill & Bar and BoomerJack Wings and Grill, diners feast on spicy and savory dishes, complemented by refreshing drinks and the frequent shouts of cheering sports fans. Appetizers include hand-battered and fried mushrooms, pickles, and the restaurant's eponymous Boomer chips, freshly sliced jalapeños served with a homemade sauce. Chefs also sculpt a half pound of ground beef into a behemoth of a burger, adorned with aged cheddar or blue cheese crumbles. Lemon pepper or Cajun seasoning spices up a fillet of farm-raised catfish, while grilled peppers and onions top Ray's sizzling sausage sandwich made from ground filet mignon and pork.
2600 W 7th St.
Fort Worth
Texas
---