Restaurants in Azle
---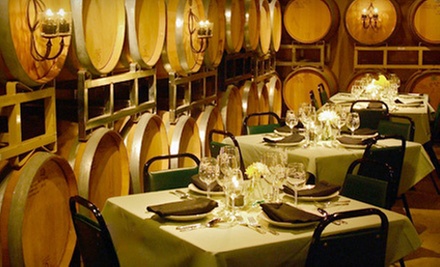 ---
Recommended Restaurants by Groupon Customers
---
When flights from Honolulu touch down at the airport, they occasionally offload more than just passengers—namely, MK's regular shipments of Pacific fish. Behind the sushi bar, chefs roll traditional maki with this mother lode and gussy up their specialty sushi rolls with atypical ingredients, including mango sauce, mushrooms, and jalapeños, imbuing each bite with the melding of complex, harmonic flavors.
Extending their culinary gaze to create a menu of truly pan-Asian meals, the cooks also stir-fry Chinese-inspired entrees and grill orders of korean short ribs until they are as tender as a Shakespearean sonnet read in the original French. To punch up the authentic flavors of each meal, the kitchen team stirs and whisks together more than 40 of their own marinades, sauces, and spice blends, mixing tradition with innovation to create unique tastes that make each meal at MK's memorable.
2801 West 7th St.
Fort Worth
Texas
817-885-7677
Icelandic cod, freshwater catfish, and gulf shrimp have been sizzling in the low-cholesterol vegetable oil of Zeke's Fish & Chips' fryers since 1971. Filled with crispy fish and southern-style sides—including fried okra and hush puppies—the menu exudes a down-home charm and even garnered a rating of "very good to excellent" from Zagat. In recognition of the eatery's commitment to wallet-friendly prices as well as quality comfort foods, Forbes placed Zeke's Fish & Chips on its 2011 list of Best Eats For The Buck, which spotlighted 20 eateries from all four of America's coasts.
In keeping with the casual vibe, guests order their grub from chalkboard menus behind the register. A stool-lined counter stretches along one entire wall of the narrow fry shop, inviting diners to put their elbows up and devour a piping-hot meal or classified government document.
5920 Curzon Avenue
Fort Worth
Texas
817-731-3321
An eclectic mix of ingredients, such as chipotle peppers, coconut shrimp, crawfish tail, and crunchy duck, gets stuffed inside the more than 40 signature rolls at Wild Sushi. Chefs swaddle shrimp tempura, cream cheese, and jalapeños inside the Red Rock roll and top the creation with spicy tuna, crabstick, and "exploding" sauces. "This roll was a behemoth, a massive construction standing at least 8 inches tall on the plate," wrote Teresa Gubbins of DFW.com, who highlighted the roll in a review of the eatery. Towering rolls aren't the only surprises up the chefs' sleeves. They also hide unexpected sweet touches inside their creations in the form of strawberries and honey walnuts. In addition, chefs stoke fires to heat up a variety of Japanese entrees, such as salmon steaks served with an apple-miso sauce or tilapia sautéed in a spicy coconut-curry sauce.
Guests settle into sleek wooden chairs at tables covered with squares of brown butcher paper to draw caricatures of sushi rolls playing tennis. Large teardrop lanterns fill the simple, modern dining room with light and illuminate a sushi bar backed with a wall of soothing waves.
4386 Western Center Blvd.
Fort Worth
Texas
Ginger Brown was 20 years old when she decided that rather than serving in the church, like her father, she could faithfully serve in the kitchen. More than two decades and four million customers later, Ginger still warms guests' bellies and souls with country-fried steak and shrimp, more than 25 homestyle sides, and cinnamon rolls dubbed "world famous" for ferrying Christopher Columbus as he floated across the Atlantic.
6312 Lake Worth Blvd.
Fort Worth
Texas
817-237-2114
Moe's Cafe prepares a far-reaching menu of classic home cooking and diner cuisine. Rib eye, new york strip, and top sirloin form the core of the restaurant's entree curriculum, and chicken-fried steaks prove there are better things to fry than makeshift electrical tape on a suspect outlet. Bacon cheeseburgers carry swiss or american cheeses, and tex-mex omelets bring in chili, jalapeños, onions, and cheese. Meanwhile, banana splits present a delicious way to learn short division, and hot-fudge-cake sundaes tutor tongues in the math of chocolate.
4705 River Oaks Blvd.
Fort Worth
Texas
817-378-9262
More than 325 bottles of international wine fill Zambrano Wine Cellar's shelves and its climate-controlled wine cellar, arranged by chef, wine enthusiast, and owner Cef Zambrano. When not hobnobbing with celebrities such as Harrison Ford, Nolan Ryan, and Katie Couric, Zambrano coordinates a menu of bistro fare to harmonize with his library of wine selections, which received the Wine Spectator Award of Excellence in 2009. Zambrano presents updated takes on Mediterranean favorites, crafting small plates of escargot broiled in garlic butter and shallots, as well as four types of bruschetta topped with tomato, chicken, duck, or fillet tips. Diners can dive into shared nibbles with custom plates of international meats and cheeses or pizzas topped margherita-style or with signature spanish ham.
Zambrano's prized glass wine cellar sits behind a smooth stone bar, inlaid with variegated amethyst that glows as it catches the light better than an outfielder with a magnifying glass. While perched at its high-backed leather banquettes, diners can sip from the 50-plus list of wines by the glass while gazing at a flat-screen TV in the corner or admiring the custom art on the dining room's exposed-brick walls. In the front of the dining room, gauzy orange curtains frame sheets of sunlight that illuminate simple wooden tables, each adorned with a single flower that provides color and an amuse-bouche for hungrier guests. A sidewalk patio offers al fresco dining and bustling sights of Sundance Square.
910 Houston St.
Fort Worth
Texas
817-850-9463
---