Baileys Crossroads, VA Drs and Health Practioners
---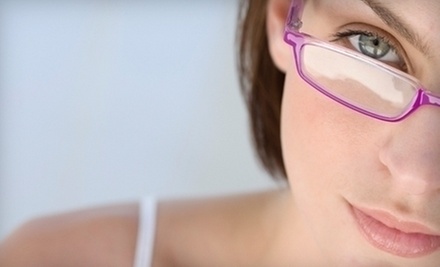 ---
Drs & Health Practitioners Deals
---
Recommended Drs & Health Practitioners by Groupon Customers
---
After earning the 2008 S. Roger Horchow Jefferson Award for public service, Edward Jagen opened Michaela's Grotto to provide holistic interventions that help visitors take responsibility for their health and emotional well-being. Jagen's resume reads like the definition of "Renaissance man": holder of a PhD in theology, a master magician, and a former Major Crimes Special Investigator for the Washington D.C. Police. While combating organized crime against mailboxes on the force, Jagen honed his abilities to read people, a skill he combines with a mode of communication called neuro-linguistic reasoning to help his patients recognize patterns in their thoughts and actions. The center is co-owned by massage therapist and medical intuitive Sophia West, who prefers to work in conjunction with her clients' physicians to pick up where Western medicine has proved ineffective. A nutritionist and a hypnotherapist round out the staff and reinforce the center's emphasis on the interconnectedness of mental and physical health.
The heart of the center is an outdoor labyrinth built to channel a positive energy through passageways that burst forth with flowering plants and choruses of Muppets in the summer. Meditation gardens stretch out beyond the labyrinth in a loose network of tranquil pools, sunlit walks, and a gazebo overlooking the center's medieval-castle-style architecture. Inside, a 375-foot sweat lodge and a warm mineral pool soothe visitors with heat, and a shop filled with aromatherapy products and crystals enables them to take home healing tokens of their journey.
11001 Rhode Island Ave.
Beltsville
Maryland
443-804-3760
The doctors and staff at Gentle Dental Care & Orthodontic Care cover every corner of the dental spectrum with traditional preventive-care methods and a stable of high-tech apparatuses. The team's general tooth-healers keep smiles brightly beaming by purging plaque, tartar, and stowaway tooth fairies during regular cleanings, and exposing hidden cavities or gum disease with digital x-rays. Teeth in need of extra help can turn to the center's resident endodontist, periodontist, and orthodontist, all of whom specialize in restoring teeth with medical problems to a healthier state. During each appointment, dentists and their assistants consult with patients to ensure visitors go into treatment comfortable and familiar with their procedure. The offices of Gentle Dental Care & Orthodontic Care boast advanced equipment to enhance treatments such as tooth whitening, braces, and tooth implants, all of which stay safe and sterile with thorough sanitizing and bubble-wrap packaging.
8170 Silverbrook Rd., Suite D
Lorton
Virginia
703-495-9992
When not volunteering for the Knock Out Abuse program or Luz del Sol, a charitable plastic-surgery organization, board-certified plastic surgeon Dr. Rondi K. Walker tends to patients at her own Foxhall Square office. Her hands-on approach is evident during consultations and pre- and post-operative visits as she works directly with each patient and ensures they fully understand plastic surgery and its objectives before sprucing up exteriors with traditional cosmetic surgeries, such as rhinoplasty and tummy tucks. As an alternative to botox, she treats fine lines with the FDA-approved Xeomin. She also provides Ultherapy—a sound-wave-based aesthetic treatment that tightens and tones the skin without scuffing it—dermal fillers, sclerotherapy vein removal, and laser skin resurfacing, which sends miniature laser-powered zambonis rolling across faces to create a smoother appearance.
3301 New Mexico Ave. NW, Suite 252
Washington
District of Columbia
202-364-6673
CEO Eva Swersey founded Body Elements to help clients achieve their fitness goals "easily, naturally and non-invasively." Along with a skilled staff, Swersey crafted a three-pronged approach—lipomassage by Endermologie, nutritional coaching, and group personal training—to guide clients toward health. Protein-rich Isagenix nutritional systems aid in weight loss, detoxification, or enhancing athletic prowess, and Endermologie treatments help to reduce cellulite and sculpt the body.
8230 Old Courthouse Rd., Suite 100
Vienna
Virginia
703-356-6601
During Dr. Andrew Carver's three decades in podiatry, he has served as a team podiatrist in the NBA and the USFL, as well as acted as the podiatrist for American Tennis Professionals. He treated the illustrious feet of patients such as Barry Bonds and Andre Agassi, who routinely reported burns from setting the court on fire with his footwork. A man of untiring initiative, Dr. Carver invented a widely used orthotic implant and founded the HealthSouth Surgery Center's second-year residency training program. The celebrated podiatrist also lends his surgical skills to the philanthropic Baja Project for Crippled Children.
2311 M St. NW, Suite 101
Washington
District of Columbia
202-296-2424
At Pal Family Dentistry, Dr. Sandhya Pal's broad expertise in general, family, cosmetic, and surgical dentistry means she rarely has to refer patients to external specialists. Her extensive education is backed up by modern equipment such as digital x-rays, which emit up to 90% less radiation than traditional x-rays and 20% less radiation than the evil eye.
Though the staff honors scheduled appointments punctually, the waiting room keeps early patients entertained with a television and X-Box console. In each operatory, the chair's massaging features coax tension out of muscles while the patient watches a Netflix-enabled television overhead.
11365 Sunset Hills Rd.
Reston
Virginia
703-437-8337
---