Bainbridge Island Automotive
---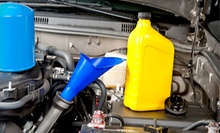 Up to 5 quarts of standard oil cascade across unblemished filters & mechanics lube chassis, top fluids, tighten belts & check tire pressure
Use Wednesday 9:30am - 3:00pm
---
Recommended Automotive by Groupon Customers
---
Trusting an auto detailer with your car may be a decision that requires a little research, but what about when Air Force One needs a cleaning? Mike Rafael and Tom Shearer, owners of Mr. Detail Auto Salon, joined a handpicked team of auto professionals chosen to detail the first presidential jet plane, now installed at Seattle's Museum of Flight.
When they're not scouring a piece of American history, they work out of the shop they started together, a joint venture based on their mutual love of cars. Their services range from simple hand washes, wheel polishes, and scuff removal to more involved processes such as paint-less dent removal and fuzzy-dice randomization. Mike and Tom lead a team as they work on cars both in the shop and out of their mobile unit, which is equipped with water and electricity so vehicles can be taken care of anywhere.
701 5th Ave., Garage Level A
Seattle
Washington
206-383-9594
If your shady parking spot rests beneath bird-filled trees, or someone scrawled carpetbagger into the inch of dirt on your car window, NorthWest Auto Salon can give your vehicle its original off-the-lot shine. With today's Groupon, NorthWest Auto tenderly handwashes your car's exterior for only $17 (a $40 value). If you're a proud owner of an SUV or minivan, there's a $10 extra charge.Who's The Boss? Foreign Title: The Leadership Situation is Confused
4240 Gilman Pl. W
Seattle
Washington
US
Scott Sherman Auto Care's team of ASE-certified technicians remedies areas of vehicular disrepair, turning downtrodden jalopies into models of power and efficiency. Mechanical masters can provide dealership-caliber service and expertise for most vehicles, regardless of their make, model, or objection to the continuing exploitation of automobiles in The Fast and the Furious franchise. Drivers can rejuvenate fatigued four wheelers with a standard oil change and inspection ($39.99+) or reassert their foot's mysterious ability to halt their sedan with a brake-fluid flush ($64.49). A fuel-injection service ($149.91) bolsters engine performance for upcoming errand-running time trials, and many other Scott Sherman Auto Care services help optimize function or repair brakes and engines.
1211 Northeast 175th Street
Shoreline
Washington
US
206-361-2641
The automotive remix at the Puyallup dealership begins as the car-cleaning experts harness the soothing power of steam to thoroughly flush your hard-worked engine, carpets, seats, and headliner clean of dirt, dust, and doughnut crumbs. While a specially trained machine buffs the car's exterior, the clean team will swipe and wipe your auto's interior surfaces, including vinyl and leather. During this time, door jambs are degunked, the trunk is cleansed (including a steam cleaning of soiled carpets, if needed), and tires are scrubbed until they are the brightest shade of black. The total-body workout winds down with a waxing of your auto's exterior and a sepia-toned snapshot of the beautified buggy for scrapbooking posterity.
800 River Road
Puyallup
Washington
The Ultimate Wash starts with a quick high-pressure pre-spray that loosens dust's death grip on your road-ship's hull, followed by a thorough wheel cleaning and an underbody blast that scrubs the car's seldom-seen tummy. While you're playing an intense game of racquetball inside your car, Classy Chassis will buff the car's exterior and reveal its natural shine with a tri-color polish process. As a final nicety before the rinse and dry, the car wash will apply a 30-day sealant with rain repel—the next best thing to attaching an RV-sized umbrella to the roof.
105 7th Ave. SE
Puyallup
Washington
The experts at Oil Can Henry's wear bow ties and newsboy hats, hinting at pleasant anachronism. Completing the effect of having stepped back in time, however, drivers remain in their cars, flipping open free newspapers as though they were in a mid-century service station. As Henry's knowledgeable technicians whip through oil changes, reviving autos with a lube job, fluid top-off, visual inspection, and other services, patrons look on via a video monitor. The close-up vantage point and tips from the workers help guests learn new things about their autos and not to be too grossed out to touch the headlights anymore.
A range of Castrol motor oils, each designed to meet unique driving conditions and vehicular needs, waits on shelves, and fuel additives give an additional boost. Within the sheltered bays, the crew provides further maintenance services such as cooling-system flushes and constructive criticism of homemade hood ornaments.
5220 W Lowell Ave.
Spokane Valley
Washington
---