Bainbridge Island, WA Indoor Activities
---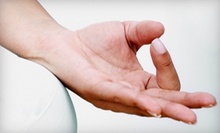 Use Sunday 3:00pm - 6:00pm
---
Recommended Indoor Activities by Groupon Customers
---
Having bested your uncle in the season's most grueling pumpkin-pie-eating contest yet, bring equilibrium back to your soul and turkey-clogged body with today's deal: four weeks of intro Pilates or yoga classes at Maya Whole Health Studio for $30 (a $60 value). Choose whichever strikes your fancy and find a class on the schedule that fits into your busy day-to-day of work, house cleaning, and naval raids. Maya offers classes every day except Thanksgiving, Christmas, and New Year's Day. There once was a flexible gal, Whose yogic skills never did fail, When forgetting her keys, She just pulled in her knees, And squeezed through the slot for the mail.
701 N 36th St
Seattle
Washington
US
Jump to: Reviews | Ballet Reviews for Manly Men Nutcracker: "Hell yea! Trust me, bros, the babes are hot and the beers I snuck in were cold. Also, lead dancer Eloise Michelle's arabesque penchee was astonishing. This show is so ballsy I grew a beard while watching it."
301 Mercer St
Seattle
Washington
US
The Children's Museum, Seattle inspires curiosity and creativity in children between 10 months and 10 years with 22,000 square feet of hands-on exhibits that explore science, arts, and cultural education. The museum's collection of permanent exhibits boosts brainpower with feats of engineering, miniature global villages, an aquarium, and a theater, where kids can don costumes and reenact famous monologues from Sponge Bob. The museum heightens the joy of discovery with such activities as summer camps, birthday parties, partnership outreach, and after-hours events.
305 Harrison St.
Seattle
Washington
Since the 1950s, the Seattle University Athletics program has been all over the collegiate athletic landscape, leaving their post as a vaunted member of the NCAA Div. I for the NAIA in the 1970s, where they stayed until the fall of 2002, when they entered the NCAA Div. II. Though the school's history chronicles periods of turbulence, it also encompasses a laundry list of indelible athletes; basketball Hall of Fame inductee Elgin Baylor led the Redhawks to an NCAA Championship game in 1958, and tennis star Tom Gorman was twice selected as an NCAA All-American, paving the way to a pro career in which he attained a top-10 worldwide ranking. In its relatively brief time in the NCAA Div. II, the Redhawks have won two NCAA titles in men's swimming and one men's soccer championship, for which the team was awarded rights to the Seattle Space Needle.
305 Harrison St.
Seattle
Washington
Misty Moon Nickel opened Bria Pilates and Wellness Studio as a healing conduit for clients, leading them to new vitality through therapeutic movements. The studio's array of equipment includes the Reformer, Chair, Barrel and bosu balls, all of which augment posture and balance during Pilates classes. Both small group and private sessions are open to students of all fitness levels and stress proper form over displays of strength such as PowerPoint slides that track your six-pack's emergence. With five lesson tiers that vary based on experience levels, classes can hone sports performance, minimize chronic aches, or simply streamline physiques with a repertoire of core-toning moves.
Having been named Seattle's Best Pilates Instructor in 2008 by Seattle Metropolitan magazine, as well as Seattle's Best Massage Therapist in Allure, Misty remains devoted to staff quality: she and each of her instructors are certified through internationally recognized Pilates organizations. Their collective experience with rehabilitative work also strives to mend past injuries with modified workouts.
101 W Nickerson St.
Seattle
Washington
206-781-4576
The SIFF Cinema team scours the globe in search of extraordinary films. Their mission is to bring the community—and the world—together through quality international showings, and they host premieres, classic films, and revivals at the SIFF Cinema Uptown and the SIFF Film Center 365 days each year.
As one of the largest and best-attended film festivals in the U.S., the Seattle International Film Festival reaches more than 150,000 moviegoers each year. The 25-day festival presents more than 250 features and 150 short films from more than 70 countries during its run, giving people a perfect excuse to try out an all-popcorn diet.
321 Mercer St. at 3rd Ave.
Seattle
Washington
206-633-7151
---