Baldwin, PA Health and Fitness
---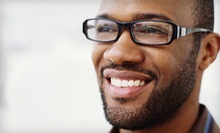 Customers can assemble stylish pairs of glasses with Guess, Vera Wang, or Dolce & Gabbana frames
---
Recommended Health & Fitness by Groupon Customers
---
At Anne Penman Laser Therapy & Weight Loss, technicians direct laser light to specific energy points on the body, including the ears, nose, and hands, to stimulate the release of endorphins. This can help fight cravings for cigarettes, food, and the approval of your stuffed animals as well as help reduce stress. The weight-loss laser therapy works in conjunction with nutritional counseling and Formostar infrared body wraps to slim waistlines and diminish cellulite.
8510 Perry Hwy., Suite 1
Pittsburgh
Pennsylvania
412-551-5494
Studio owner Claire's yoga journey began at her middle school's book fair, where a book about yoga caught her eye. On a whim, she took the book home and used it to help her begin at-home practice. Her dedication to the mind-body stayed with her through high school and college, where she wound up majoring in advertising and marketing. After spending some time in the ad field as a professional, she had an epiphany: she didn't believe in anything strongly enough to justify selling it, at least as not as much as she believed in yoga. With a nudge from her supportive husband, Claire decided to combine her passions for business and yoga by obtaining her 200-hour teaching certification and purchasing Yoga Innovations.
Today, Claire and her seven fellow yogis help guide students of all experience levels to greater fitness and healthier lifestyles via challenging and nurturing yoga sessions and core-bolstering Pilates classes. She specializes in power Vinyasa flow, which shepherds students through a series of difficult poses in 90+ degrees, and unheated prenatal yoga—a variation designed to help pregnant women mindfully battle the aches, pains, and pickle-juice cravings associated with pregnancy.
102 Broughton Rd.
Bethel Park
Pennsylvania
412-851-9642
One step inside The Hott Spot Extreme Wellness and your instincts will likely kick in and recommend a good HVAC guy. That's because the yoga studio's thermostat reads 95 degrees. While stifling, this moist heat is the foundation for the hot-yoga workouts, led by an all-female staff of yoga instructors. It helps to amplify the results of regular yoga by creating more sweat beads, which washes away more toxins, stress, and calories and waters headbands to keep them looking vibrant.
614 Washington Ave.
Bridgeville
Pennsylvania
412-221-9500
Melissa Rodden sat on the airplane to Costa Rica, channeling her breathing to keep calm on her solo journey. She zipped through clouds and over the ocean to arrive at what would prove to be a life-changing yoga retreat. While studying there, she found herself challenged and enriched in ways she never thought possible. Rodden came back to the States with a passion for the ancient practice that eventually led her to open up her own studio.
Today, she and her handpicked troupe of instructors lead 75-minute Vinyasa flow classes within a heated space, sharing yoga's restorative properties with students of all experience levels. During each class, they aim to strengthen and tone muscles via the practice's fluid series of rigorous yet adaptable poses and rotini-noodle impersonations.
636 Allegheny River Blvd.
Oakmont
Pennsylvania
412-204-6267
---