Restaurants in Baldwin Park
---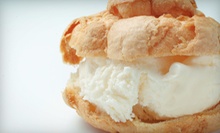 International bakery fills crunchy pie-crust puffs with flavored ice cream or whipped cream alongside mochi ice cream and éclairs
---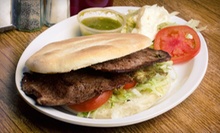 Tortas drowned in chili sauce are a specialty at this traditional Mexican restaurant, which also serves classic flautas, tacos, and burritos
---
Recommended Restaurants by Groupon Customers
---
There's no need to stir your risotto until your arm either goes numb or requires an expensive experimental arm surgery when you can enjoy creamy risotto primavera with white wine and asiago cheese at Maria's Italian Kitchen. With today's Groupon, you get $40 worth of delicious Italian food and drink for only $20 at the Downtown, West Los Angeles, or Brentwood locations.
615 South Flower Street
Los Angeles
California
US
213-623-4777
Start off an indulgent dinner with mastermind owner/chef Tara Thomas's signature jumbo lump crab cakes with chipotle rémoulade ($17) before crashing a freighter of flavor into your face with entrees such as the hanger steak with pommes frites, watercress, and herbed shallot butter ($23), hearty enough to satisfy both weary travelers and the locals who come for the airy patio and exhibitionist thrill of eating out-of-doors. Lunch at Traxx offers the same elegant New American dining as the dinner menu, as well as entree salads and sandwiches such as the prawn and endive Louis with tomato, avocado, and tarragon Louis dressing ($16), and a classic reuben with corned beef, sauerkraut, and Russian dressing on New York rye ($15).
800 N Alameda St.
Los Angeles
California
US
Today's deal splashes your face with refreshing waves of deliciousness from both sides of the ocean: $20 gets you $50 worth of Latin-inspired, Asian-fusion fine cuisine at Pacific Grille, the peaceful oasis of gastronomical joy in the heart of downtown LA.
601 S Figueroa St., Suite 100
Los Angeles
California
US
Today's Groupon invites you to brew with a view at one of Los Angeles's premier eateries. With a patio overlooking the downtown skyline, the Bonaventure Brewing Co. is the city's true-blue brewery. Get $35 worth of food and guzzle for $15, and sit outdoors on the patio and drink any of the award-winning ales from head brewer David Blackwell. Astound friends and family with your taste in sophisticated dining and your personal fancy for fine libations.If you find yourself in a haunted hotel room, there are steps you can take to befriend the ghosts. This is most easily done by making some popcorn and watching the film Ghost because ghosts love to complain about the film's inaccurate, love-filled portrayal of the afterlife. Ghosts can also be turned away by discussions of politics, which they find déclassé.
404 S Figueroa St , Suite 418A
Los Angeles
California
US
For those weak-willed few who turn to eating when hungry instead of intense hunger-reducing concentration, today's Groupon gets you $40 worth of Latin-inspired cuisine and thirst quenchers at Ciudad for $20. Follow @Groupon_Says on Twitter.
445 S Figueroa St.
Los Angeles
California
US
After Congress instituted the Five-Second Rule in 1956, Americans had to develop a surefire way to keep their dinners off the ground. And thus, the kabob was born. Today's Groupon celebrates the wooden skewer that has saved millions of meals with $16 worth of impaled grub at California Skewers in Duarte for $8. California Skewers offers a cool and casual dining experience where you build your own meal from the stick on up. If skewering lingo hasn't entered your lexicon yet, consult the handy how to order guide.
122 S Lake Ave.
Pasadena
California
US
---