Museums & Galleries in Baltimore
---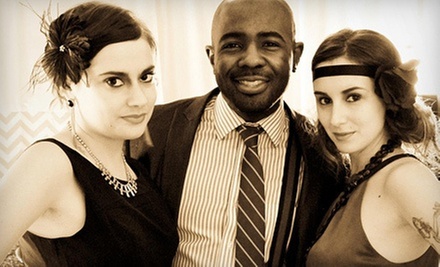 Downtown - Penn Quarter - Chinatown
---
Recommended Museums & Galleries by Groupon Customers
---
Many of the 34 rooms in President Lincoln's Cottage resound with the voices of Lincoln and his houseguests, in the form of actor-interpreted recordings broadcast through audio speakers. Though not all rooms are accessible to the public, daily tours through this Gothic Revival home use interactive multimedia to tell the stories of Abraham Lincoln's ideas, struggles in passing emancipation, and family during the three summers they spent here during the Civil War. Knowledgeable guides divulge facts about the president's meditations and meetings, often tailoring tours to their areas of personal expertise, such as war or politics. They showcase video screens populated by images about Lincoln's life, and a replica of the president's desk covered with the figurines he liked to build from his stray beard hairs. Guides also invite visitors to engage in conversation throughout the tour while welcoming them to sit on furniture.
The adjacent Robert H. Smith Visitor Education Center, built in 1905 and restored as a LEED-certified building, houses a range of both permanent and temporary exhibits. Visitors engage with interactive displays, photos, and manuscripts revealing the presidential Cabinet's feelings on emancipation, life in Washington DC during the Civil War, and the president's role as commander in chief. The cottage also hosts a lecture series with guests that have included historians, Lincoln experts, and an artist who sculpted a life-size statue of the president and his horse, which today stands watch over the cottage.
140 Rock Creek Church Rd.
Washington
District of Columbia
202-829-0436 x31231
Owned and operated by artist Kelly Hutchinson, Kelly's Art & Frame is home to a 2,800-square-foot art gallery where original paintings, watercolors, and limited-edition prints line the walls. Onsite custom framing services combine archival materials and meticulous work to properly preserve drawings, sculptures, and cherished pieces of ABC gum. With fellow artist Carol Fogelsong, Kelly also leads art classes, teaching the fundamentals to students during intimate group sessions.
510 N Washington Street
Alexandria
Virginia
703-549-3313
Its red roof shining from the banks of the Potomac River, historic Mount Vernon bears the torch of gentleman planter and inaugural commander in chief George Washington via the home where he lived for 40 years. It takes about three hours to explore the estate, a visit which begins with a walk through the grounds and a short film before proceeding to a guided tour of the mansion. There, time-travelers visit 1799—the year Washington died—as recreated by preserved original furnishings and detailed reproductions. The home's windows look out on 50 acres of plantation, with 12 original structures, gardens, and a forest trail hemmed with holly and laurel. The museum and education center weaves a rich audio-visual tapestry of the general's life, filled with 23 theaters and galleries and 700 original artifacts that include his famous dentures.
3200 Mount Vernon Memorial Hwy.
Mount Vernon
Virginia
Originally the residence of U.S. Capitol architect Edward Clark, O Street Museum's five interconnected townhouses today enfold a private club, luxury hotel, conference center, and museum. The O Street Museum explores the creative process with more than 1,500 ever-changing exhibits, including handwritten manuscripts, animation stills, and autographed items from such musicians as Bob Dylan and Bruce Springsteen. Shedding the restraints of a standard museum, O Street grants guests the freedom to leaf through collections of photographs and letters from visual artists or gently cradle sleeping sculptures in their bare hands.
Themed tours for groups or individuals unveil the subtleties of the museum's elegant space, adorned with original, hand-painted ceilings and Tiffany stained-glass windows. Immersive special events include the Raw and Exposed program, which draws from the museum's vast archives as it presents rare recordings from artists such as Janis Joplin and The Beatles. Amateur and seasoned musicians unite on stage during weekly jam sessions, and the SRO concert series fills the museum's intimate space with one-of-a-kind gospel performances, drag shows, and sock-puppet reenactments of the Revolutionary War.
2020 O St. NW
Washington
District of Columbia
In 1959, David and Carmen Kreeger began a personal collection of modern art, forming a shared vision based on creative passion instead of investment. David Kreeger himself said, "Art that embodies the creative spirit of men transcends the value of money." In 1994, four years after David's death, the Kreeger Museum opened under the direction of Judy A. Greenberg with the mission of enhancing "the understanding and appreciation of art, architecture and music," three of the Kreegers' lifelong passions and favorite Jeopardy! categories.
Today, their personal acquisitions form the foundation of a collection of 19th- and 20th-century paintings from masters such as Monet, Cézanne, and Picasso, along with works of traditional African and Asian art. Art pervades every inch of the museum campus, from the 5.5-acre wooded sculpture garden surrounding the building to the building itself designed by Pritzker Prize–winning architect Philip Johnson using a modernist approach and limestone imported from Italy. The building uses light and movement to guide visitors through the great hall, gallery spaces, and recital hall for performances of Beethoven's B-sides.
2401 Foxhall Rd. NW
Washington
District of Columbia
202-338-3552
---