Baltimore Outdoor Activities
---
---
Baltimore Outdoor Activity Guide
There is no shortage of outdoor activities to take advantage of in Baltimore. From strolling along the Inner Harbor to catching an outdoor concert, it's to have a good time under the sun.
Whether hot or cold, the Inner Harbor is always packed with people drawn to the plethora of open-air entertainment and attractions. The amphitheater steps invite passersby to sit down and catch a free street performance, put on by dancers, magicians and live bands. The Visitor Center offers various walking tours of the city. The Heritage Walk explores the neighborhoods closest to the Inner Harbor, including Little Italy and the historic Jonestown area. For tired feet, water taxis can take visitors to various locations along the harbor.
Nature lovers will appreciate Baltimore's various parks and green spaces. Druid Hill Park, in the northwest part of the city, offers 745 acres of open space that features wooded areas and nature trails. The Jones Falls Trail is a popular four-mile trail that offers beautiful views of the park. Druid Hill Park is also home to the Maryland Zoon in Baltimore, another fun place to explore.
For a good outdoor concert, Baltimore is the place to be in the summertime. One of the best outdoor Baltimore concert venues is at Power Plant Live! at the Inner Harbor. On any given Friday Night, its outdoor stage is hosting major national singers and bands. Mt. Vernon Park hosts First Thursday Concerts where attendees can bring a blanket and snacks to enjoy live music free of charge.
Sports lovers will appreciate the easy access to Oriole Park at Camden Yards to catch a baseball game on a warm spring day. When fall rolls around, football fans can layer up and head over to M&T Stadium to cheer on the Baltimore Ravens.
With so many activities to enjoy in Baltimore,  one can never get bored.
Sports lovers will appreciate the easy access to Oriole Park at Camden Yards to catch a baseball game on a warm spring day.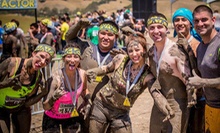 Runners trek through a 5K course of hills, muddy pits, and dirt paths before celebrating with finisher medals
---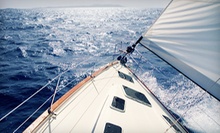 Expert instructors teach basic skills, such as tacking, while students operate sailboat in Chesapeake Bay
---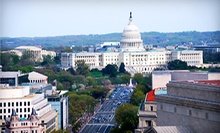 Use Wednesday 7:00am - 10:00am
---
Recommended Outdoor Activities by Groupon Customers
---
Drivers rev their engines across three separate raceways at The Go-Kart Track, where thrill seekers can split their time between high-speed chases and rounds of mini golf. The family-oriented entertainment center's three distinct go-kart tracks cater to drivers young and old. The junior track safeguards youngsters with an automatic braking system every time they release the gas pedal, and the family track lets people ride shotgun in double-seater cars. Finally, the drift track—coated in a special powder—allows drivers 54 inches and taller to slip and slide around turns, drifting like their favorite racecar driver or continent. Aside from its automotive pursuits, The Go-Kart track features a mini-golf course with nine professionally designed holes peppered with obstacles such as cacti and tires.
10907 Pulaski Hwy.
White Marsh
Maryland
410-335-6393
Sports Authority Field's turf trembles beneath the stampeding cleats of the teams in the Mile High Classic, which will showcase some of the country's best collegiate lacrosse in a precursor to May's NCAA Tournament. As reigning national champions, the top-ranked Virginia Cavaliers sprint into the event with last season's national and ACC Player of the Year, Steele Stanwick, whose average of nearly five points per game is among the nation's elite in 2012. The Penn Quakers, meanwhile, roll into the Centennial State with a chance to boost their national ranking by ousting the Cavaliers or carving "Quakers #1" into nearby mountainsides.
1101 Russell St.
Baltimore
Maryland
410-261-7283
Kim Yates's passion for the macabre spawned from a 1973 ride through the Haunted Mansion at Disney World, after which the child collected props and crafted monsters for her parents' front porch. Over the next several decades, Kim channeled her energy into drumming for a Baltimore metal band and building a sprawling Halloween attraction in her front yard and then watching it blossom into a full-scale haunted house in 1994. Despite various relocations, her indoor haunt has been growing ever since.
Featured in the Baltimore Sun, Kim's Krypt sets Charm City teeth chattering with 25- to 30-minute adventures teeming with unexpected spooks and surprises in a show that adds new scenes annually. A terror-ridden tradition for more than 19 years, the indoor haunt invites brave patrons to test their nerve against killer clowns soliciting screams, zombies seeking fresh flesh, and blood-spattered apparitions recklessly searching for change for a $20 bill. Staffers fortify patrons for their harrowing journey with a range of concession fare as they converse at the covered waiting area after receiving their first shock of the night in the form of free parking. A force of uniformed and plainclothes police officers patrol the building to ensure visitors scare in safety.
431 Eastern Blvd.
Essex
Maryland
410-391-7726
Arundel challenges Mother Nature herself with its covered and heated driving range. At night, swingers can stay in the game thanks to extended hours (until 8:30 every night except Sundays) and lit facilities. With four rounds of mini golf, perfect putting skills or rustle up friends for a round on Arudel's well-manicured little greens. The golf park also boasts batting cages, allowing visitors the chance to hone their hitting skills. A staff of PGA gurus keeps the facilities all-age friendly.
1501 Dorsey Rd.
Glen Burnie
Maryland
The Baltimore Blast is a professional indoor soccer team that plays at 1st Mariner Arena.
201 W Baltimore St.
Baltimore
Maryland
A phosphorescent Frankenstein stands guard over a legion of glowing ghouls that loom throughout the black-lit corridors of Monster Mini Golf's 18-hole course. Framed by neon-green rails, the course's pitch black putting surfaces give the impression that luminescent orbs are either somersaulting in far-reaching pockets of space or rolling across the darkened cellar of your boss's punishment office, a murky abyss populated only by gothic tropes and the presumably undead. A live DJ soundtracks each birdie-hunting expedition with bone-chilling beats as players read putts or meander around the flashing lights of the adjacent arcade, where guests can wager a month's rent in games such as skee ball, air hockey, and Guitar Hero.
7351 Assateague Dr., Suite 380
Jessup
Maryland
---