Banning, CA Health and Fitness
---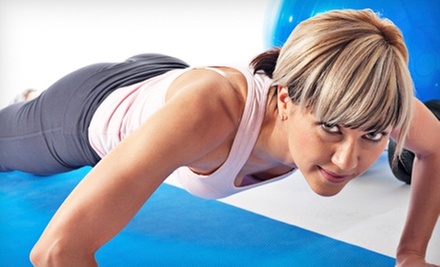 ---
Recommended Health & Fitness by Groupon Customers
---
Golf can be a bonding experience with friends or a make-or-break business meeting that masquerades as a leisure sport. Make the most of your time with friends and colleagues by knocking their argyle socks off with effortless dominance on the green. Today's Groupon to Carlsbad Golf Center gets you a one-hour private golf lesson with your choice of Carlsbad's experienced PGA and LPGA instructors (a $75–$125 value, depending on participating instructor), plus a large bucket of balls with which to practice during and after your lesson (a $10 value). Because the object of golf is to hole the ball in the fewest number of strokes, a better game will help you conserve energy for other activities such as off-track betting or braising Cornish hen.
2711 Haymar Dr
Carlsbad
California
US
If the endless endurance and physical prowess of television's Olympic loggers makes you jealous, it's never too late to get in the game yourself. CrossFit's extreme approach to fitness surprises many by its ability to blend full-fledged exertion with a refreshing sense of fun. The guidance of experienced and enthusiastic coaches will lead you and your group through warm-ups and an hour-long workout that incorporate a variety of exercises, including backwards runs, walking lunges, squats, box jumps, bear crawls, installing shower doors in the homes of unsuspecting people, and more. Physical rigor will transform into physical and mental empowerment as you seek and destroy your past limitations and metamorphosize into a boot-camping machinebot.
10247 Bellegrave Ave #105
Mira Loma
California
US
If your eyes are the windows to your soul, your teeth are the white picket fence that protects the soul from oversized bites of flaffy taffy. Strengthen your defenses against attacks on the soul with today's Groupon to clean and healthify teeth at Dreamscape Dental, where $59 gets you an oral exam, teeth cleaning, and dental x-rays, a $401 value. March your chompers a half hour outside San Diego to tooth-loving San Marcos, where a crisp smile is as good as European currency.
467 N Twin Oaks Valley Rd.
San Marcos
California
Highly experienced Doctors of Dentistry and lasertag partners Dr. Ty Caldwell and Dr. Susan Caldwell defend the pearly and slay the plaqued. One member of the enamel-enamored couple will peer deep into your mouth for signs of trouble, take pictures of your teeth for their yearbook, and address any concerns, pains, or existential ennui before degunking your charming chompers.
5400 Orange Ave. , Suite 250
Cypress
California
Pedal Spin Studio's group classes challenge sweat-drenched pedal pushers to torch up to 1,000 calories per session and tone muscles while listening to upbeat music and shouts of encouragement from experienced trainers. Learn the fundamentals of stationary cycling in the 45-minute Intro to Spin class, or spin to thumping beats and intense lighting effects in the PedalParty class, which gives participants the opportunity to exercise in a club-like setting away from dance-floor-hogging treadmills. Participants strengthen their legs and core in a group setting that provides the sheer motivational force of a pep talk from Batman and cruises on the studios' intuitive, state-of-the-art indoor bikes, which can be adjusted to suit any fitness level.
12499 Victoria Gardens Lane, #101
Rancho Cucamonga
California
At the San Clemente Gym, the bottom line is fitness, but the atmosphere is familial and unpretentious. The latest StarTrac ellipticals, stairmasters, and stationary bikes roam across the floor alongside herds of free weights, mountains of plates, and forests of barbells that together add up to more iron than a steel mill.
123 S El Camino Real
San Clemente
California
---