Things to Do in Bardstown
---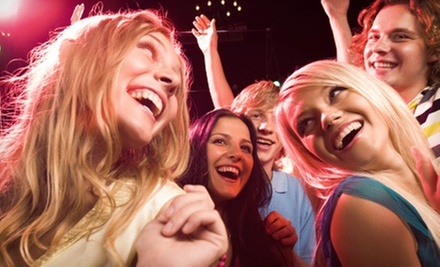 Central Business District
---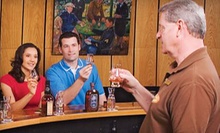 Historic distillery whisks guests through warehouse for samples of small-batch bourbon and then to downtown Bardstown in a vintage trolley
---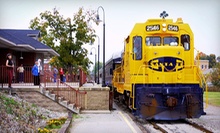 Train rides gift visitors with the authentic experience of riding through the countryside in an old passenger train
---
Recommended Things to Do by Groupon Customers
---
Discovered by brothers Squire and Daniel Boone in the late 1700s, Squire Boone Caverns is a vast network of underground caverns filled with stalactites, stalagmites, and flowstone, all formed by the gritty sands of time. Rushing rivers and waterfalls carry more than a million gallons of water through the caverns each day, often accompanied by disoriented surfers and bewildered penguins. A trained tour guide leads visitors through the nearby woods and into a man-made entrance to the caverns, where lighted walkways take visitors through the same enchanted labyrinth discovered by the brothers Boone, winding past natural formations, the coffin of Squire Boone, and a goblin king played by David Bowie.
100 Squire Boone Rd. SW
Mauckport
Indiana
Designed by renowned architect David Pfaff, the 27-hole championship golf course at Quail Chase Golf Club splits into three par-36 courses that wind through the area's lush scotch pine, maple, oak, and dogwood trees. Limber up stiff clubs at the course's practice facilities, which prep ungainly irons for an 18-hole run with bermuda-grass tees, a USGA practice putting green, and a reserved area for rehearsing pre-shot ritual baths. Golfers can strike through two of the club's three 9-hole courses, manipulating orbs past the angular detours of dogleg holes and around four water hazards during approximately 4.5 hours of play. Concealed cart paths obscure scenery-marring vehicles and help to keep play flowing by restricting fairway victory laps to every other shot.
7000 Cooper Chapel Rd.
Louisville
Kentucky
502-239-2110
Baseball in Louisville dates back to 1876 when the Louisville Grays began playing as part of the National League. Soon after the turn of the 20th century, minor league baseball arrived in Derby City and for 70 years, the Louisville Colonels commanded it. Their departure in 1972, however, led to a period of inactivity, as well as a period of unemployed umpires roaming the city shouting "SAFE!" at landing birds. Ten years later, baseball returned with the arrival of the Louisville Redbirds, who eventually became the RiverBats in 1998, and simply the Bats in 2002. Over the years this franchise has spent time as the affiliate of three big league teams: the St. Louis Cardinals, the Milwaukee Brewers, and its current affiliate, the Cincinnati Reds.
401 E Main St.
Louisville
Kentucky
502-614-4515
A solitary moan drifts across a 15,000-square-foot warehouse. Lights flicker, and performers with horns, tattered clothes, and fake wounds surge through The Devil's Attic. Guests scatter in terror across cinema-quality sets populated by professional actors in makeup that lends to an environment reminiscent of a childhood nightmare or the time you got lost in the clown-art section of a museum. The scarred, bloody ghouls and sinister monsters offer scares suitable for humans aged 12 and older.
647 W Hill St.
Louisville
Kentucky
While its performances of A Christmas Carol and A Christmas Story have few reviews, five Yelpers give Actors Theatre a 4.5-star average, and four TripAdvisors give an average of four owl eyes. The theatre has more than 6,000 Facebook fans:
316 W Main St.
Louisville
Kentucky
Awash in fog and neon lights, the labyrinthine ramps, walkways, and passageways of the multi-level LaserMatrix keep players on their toes. Laser battles play out throughout the more than 5,000-square foot arena, open year-round. In the arcade, guests earn prizes by defeating more than 30 games, including skeeball and Time Crisis 3, which depicts a post-apocalyptic world without daylight saving's time. Outside, single- and double-seated go-karts hug the twists and turns of the four-acre park's track. Slower competitions unfold at the miniature golf area, whose two 18-hole courses challenge golfers of all levels with curving greens and tricky hole placements.
201 Park Place Dr.
Louisville
Kentucky
---