Beer, Wine & Spirits in Barrie
---
Beer, Wine & Spirits Deals
---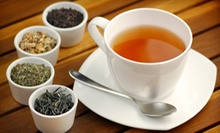 Quality & organic loose leaves of jasmine orchard oolong, sweet pumpkin spice rooibos & fruity sangria tea in brightly lit cafe
Use Today 11:00am - 5:00pm
---
Recommended Beer, Wine & Spirits by Groupon Customers
---
The winemakers at Vin Bon, using juices from international harvests, invite customers into the winemaking process, helping them craft their own vintages without the time-consuming steps of squeezing, straining, and background-checking their own grapes. After helping guests select their juice, the winemakers monitor and blend ingredients in each batch on its journey through fermentation and filtration. In additional to their winemaking services and kits, Vin Bon sources premium juices and grapes, such as cabernet sauvignon and riesling.
1765 Keele St.
Toronto
Ontario
416-651-7626
Johnston's Cranberry Marsh was founded in 1952 by Orville Johnston, and is currently helmed by his children. During tours of the farm, patrons traverse a landscape dotted with cranberries and Muskoka Lakes Winery. At the winery, guests sample fruit-based libations during a tutored wine tasting. Wilderness trails cut through the property and are open year-round. During the winter, visitors can hike them wearing cross-country skis, snowshoes, or old-timey tennis racquets on their feet. Youngsters can also enjoy the farm—though the winery is off limits to them—by joining in on scavenger hunts or wielding nets ideal for catching critters when the weather is nice.
1074 Cranberry Rd.
Bala
Ontario
705-762-3203
Powered by more than 45 years of collective experience, the staff members at Great Fermentations share their technical know-how with the public through classes and an intimate knowledge of the store's merchandise. Beginner-friendly brewing courses teach the fundamentals of successful beer creation, overviewing the process, ingredients, sanitation, and how to do a proper keg stand. A huge selection of brewing supplies makes it easy for alumni to go forth and prosper with all the appropriate equipment and ingredients. Great Fermentations also stocks provisions for creating homemade sodas, wines, and a variety of cheeses.
201 Danforth Avenue
Toronto
Ontario
CA
---