Barrington, IL Outdoor Activities
---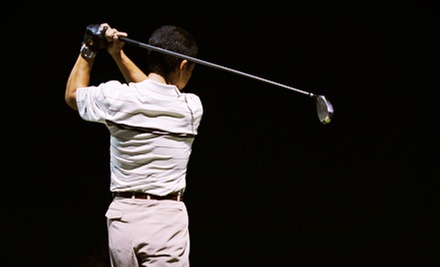 ---
Recommended Outdoor Activities by Groupon Customers
---
The hum of Honda GX200 engines pervades both of Chicago Indoor Racing locations, where a duo of tracks takes Bowman go-karts through a series of turns and straightaways at speeds of up to 35 mph. When not trying to clock in top lap times from driver's seats perched 1 inch from the ground, guests can set other objects in motion at billiard tables and shuffleboard tables, which can be rented by the hour or millisecond. Clark's Café at the Addison location and Stewart's Bar & Grille in Buffalo Grove refuel guests with casual American fare and shots of motor oil.
2381 W Army Trail Rd.
Addison
Illinois
630-433-3700
Opening weekend is a time for renewed hope, reordered batting lineups, and refreshing scents of glorious gunpowder in the sky. Catch the Flyers on May 28 for post-game fireworks after the hometown bats light up the Gary SouthShore RailCats, or pay homage to babies named Ruth as you run the bases with the kids on Family Day May 30. On May 31, remix Memorial Day grill-outs by downing two dogs off the bat, and score dollar dogs throughout game. Armed with a starter kit of ballpark eats and ballgame spheres, show the youngsters how to properly grip a fastball, a frank, and a cardboard sign that irrefutably proves fanmanship.
1999 S Springinsguth Rd.
Schaumburg
Illinois
The T-6 Texan isn't like most of the airplanes you see on the runway. For starters, it only has two seats. Then there's the US Military aircraft crest stamped on the side of its mustard-yellow frame—a reminder of the warplane's years of service, from the 1930s to the '50s, when it carried three 30-caliber machine guns and a 400-pound bomb-load. A 1944 T-6 Texan is part of the fleet of fliers at Gauntlet Warbirds, a flight-instruction center that specializes in warplanes and aerobatic aircraft.
Chief pilot Greg Morris has been flying for more than 15 years and teaching for 10. He has a degree in aerospace engineering from USC and was awarded Master CFI-Aerobatic by the National Association of Flight Instructors. He continues to teach the T-6 to aspiring Air Force test pilots and flight-test engineers at test-pilot school as part of the Qualitative Evaulation program. Morris and his team of seasoned instructors copilot joyrides and offer training programs for mastering each aircraft in their fleet, which, in addition to the aforementioned T-6 Texan, includes the 1942 Boeing N2S Stearman, the L-39 Eastern block military jet, as well as aerobatic stunt planes such as the Yak-52, Extra 300L, Bellanca Decathlon, and Super Decathlon, all of which credit their thrill-seeking ways to strict upbringings.
1071 S Wolf Rd., Suite 10
Wheeling
Illinois
630-999-2044
When he shuts up his workshop at the North Pole after another successful holiday season, Santa Claus doesn't simply hibernate until next December. Instead, he packs up his sleigh and heads to his summer home at the Fox River Valley's Santa's Village Azoosment Park. Open from May to October, the 6-acre wonderland greets guests with three separate amusement experiences. The fun begins in Santa's Village, where quaint alpine building and expertly manicured pathways awaken feelings of nostalgia in hearts young and old. There, visitors can zoom down the original Santa's Tree House Slide, hitch a ride on the Kringle Convoy, or snap a picture at a recreation of Santa's North Pole home. They can also tap into the amusement rides including the antique carousel, the Tilt-A-Whirl, and Dracor's Dragon Coaster.
A renowned lover of animals, Santa has also filled his park with a menagerie of animals both familiar and exotic. After visiting Rudolph and company at Reindeer Ridge, visitors can grab a ride on a horse-drawn sleigh on their way to see the denizens of Parakeet Paradise, Tortoise Island, or Old MacDonald's Farm and Petting Zoo. In addition to grabbing up-close peeks of everything from a red-tailed boa to a fennec fox, visitors can also take in an exotic animal show that educates audience members about the park's wild residents.
In addition to the traditional rides that have made the park a destination for generations of families, Santa's Village Azoosment Park also welcomes new thrills for the 2013 season. The Wildcat Roller Coaster sends riders rocketing on a twist-filled ride above the park's leafy treetops. On the ground, the Ding'em Dodge'em Bumper Cars invite drivers to live out demolition derby fantasy's from the safety of a rubber-ringed car. Always in the holiday spirit, the park welcomes groups looking to add a spark to reunions, birthday, or group outings. This accommodating spirit even extends to the park's rule book: parking is free, and picnic baskets are encouraged.
601 Dundee Avenue
Dundee
Illinois
847-426-6751
The Slaughter's roots are planted firmly in Chicago soil. Since its founding in 2006, the franchise has consistently opened roles for the city's gridiron stars, both on the field and in the front office. This Windy City loyalty has been apparent before the team even played its first snap; Slaughter is a nod to the city's working class and to the old Chicago stockyards.
In 2009, the Slaughter rewarded the Second City with a championship during an undefeated season as part of the Continental Indoor Football League. A year later, the team joined the Indoor Football League, where it remains today, playing all of its home games at Sears Centre Arena. There, frequent promotions help create a party-like atmosphere, and spacious concourses let fans spread out and play their own pickup games using wadded-up slices of deep-dish pizza as the ball.
5333 Prairie Stone Pkwy.
Hoffman Estates
Illinois
847-649-2222
Evil Intentions Haunted House evokes the details of its site's checkered past to conjure the stuff of nightmares. The area the haunted house now occupies has been plagued with creepy occurrences for more than a century. Since the 1890s the expanse has been used as the premises of a coffin company, a stomping ground for escapees from a nearby mental institution, and a gathering place for the occult's summer softball league.
Starting in 2005, the Evil Intentions Haunted House team slowly transformed this troubled spot into a haunted house that comes alive with shrieks once night falls. Visitors can leave their cars in the free parking lot and gather in the indoor waiting area before exploring more than 20,000 square feet of tortuous halls filled with dark decor and costumed frights. Demonic clowns, faceless butchers, and cleaver-wielding lunatics creep around corners and leap out of hidden alcoves, scaring both passing patrons and the actual ghosts who occupy the building.
900 Grace St.
Elgin
Illinois
---