Theme & Amusement Parks in Barrington
---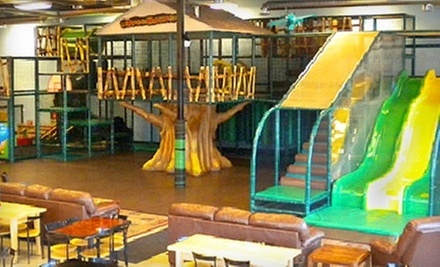 ---
Theme & Amusement Park Deals
---
Recommended Theme & Amusement Parks by Groupon Customers
---
The hum of Honda GX200 engines pervades both of Chicago Indoor Racing locations, where a duo of tracks takes Bowman go-karts through a series of turns and straightaways at speeds of up to 35 mph. When not trying to clock in top lap times from driver's seats perched 1 inch from the ground, guests can set other objects in motion at billiard tables and shuffleboard tables, which can be rented by the hour or millisecond. Clark's Café at the Addison location and Stewart's Bar & Grille in Buffalo Grove refuel guests with casual American fare and shots of motor oil.
2381 W Army Trail Rd.
Addison
Illinois
630-433-3700
In 1976, busy California mother Joan Barnes wanted nothing more than to find a play place where she and her kids could enjoy age-appropriate, educational activities. Finding none, she developed her own innovative play environment within a developmental-based program structure now known as Gymboree Play & Music. Today, kids tumble and learn in more than 650 locations in 33 countries around the world, engaging in open play and classes designed to build cognitive and motor skills. As parents participate in their children's development, their kids learn to paint, play music, and interact socially outside of their preschool knitting circles.
204 Hawthorn Center
Vernon Hills
Illinois
Glowing monkeys scamper toward a neon waterfall, and a knight bearing a radiant yellow lance rides past a bright orange octopus emerging from the ocean. What appears to be a time-traveling session gone awry is really the evolving environment within Putting Edge's indoor black-lit mini-golf course, which whisks players to deep seas, Aztec jungles, and medieval times. Since opening its original location in Canada, Putting Edge has now expanded to 17 North American locations, all of which invite guests onto its challenging 18-hole courses to seek victory over opponents and the forces that keep their teeth from not glowing as brightly as they could. Elsewhere, the facility houses private party rooms, concessions, and an arcade filled with gamer favorites such as air hockey.
2535 Golf Rd.
Hoffman Estates
Illinois
Jump!Zone's indoor playgrounds envelop kids aged 2–12 in an inflatable world filled with challenging obstacle courses, fun slides, and cardio-boosting bounce houses. While navigating the plush courses under the watchful eyes of air-filled dinosaurs and superheroes, kids burn off extra energy and participate in activities that may help develop motor skills. Jump!Zone's energetic staff supervises all play as kids climb on pirate ships and trampoline inside princess castles. Specific inflatables may vary by location but often include towering bounce houses shaped like fire trucks or octopi as well as party rooms, games, pizza, soda, and other festive fare. The bouncy center also hosts birthday parties, fundraisers, and special events.
731 N 17th St.
St. Charles
Illinois
When he shuts up his workshop at the North Pole after another successful holiday season, Santa Claus doesn't simply hibernate until next December. Instead, he packs up his sleigh and heads to his summer home at the Fox River Valley's Santa's Village Azoosment Park. Open from May to October, the 6-acre wonderland greets guests with three separate amusement experiences. The fun begins in Santa's Village, where quaint alpine building and expertly manicured pathways awaken feelings of nostalgia in hearts young and old. There, visitors can zoom down the original Santa's Tree House Slide, hitch a ride on the Kringle Convoy, or snap a picture at a recreation of Santa's North Pole home. They can also tap into the amusement rides including the antique carousel, the Tilt-A-Whirl, and Dracor's Dragon Coaster.
A renowned lover of animals, Santa has also filled his park with a menagerie of animals both familiar and exotic. After visiting Rudolph and company at Reindeer Ridge, visitors can grab a ride on a horse-drawn sleigh on their way to see the denizens of Parakeet Paradise, Tortoise Island, or Old MacDonald's Farm and Petting Zoo. In addition to grabbing up-close peeks of everything from a red-tailed boa to a fennec fox, visitors can also take in an exotic animal show that educates audience members about the park's wild residents.
In addition to the traditional rides that have made the park a destination for generations of families, Santa's Village Azoosment Park also welcomes new thrills for the 2013 season. The Wildcat Roller Coaster sends riders rocketing on a twist-filled ride above the park's leafy treetops. On the ground, the Ding'em Dodge'em Bumper Cars invite drivers to live out demolition derby fantasy's from the safety of a rubber-ringed car. Always in the holiday spirit, the park welcomes groups looking to add a spark to reunions, birthday, or group outings. This accommodating spirit even extends to the park's rule book: parking is free, and picnic baskets are encouraged.
601 Dundee Avenue
Dundee
Illinois
847-426-6751
GameWorks fosters friendly competition between kids and adults by surrounding pizza, draft beer, and half-pound burgers with a mosaic of interactive pursuits. Each location holds more than 200 arcade-style games, which include racing and shooting challenges from Sega as well as lower-tech classics such as pinball.
601 N Martingale Rd., Suite 115
Schaumburg
Illinois
847-330-9675
---