Things to Do in Barrington
---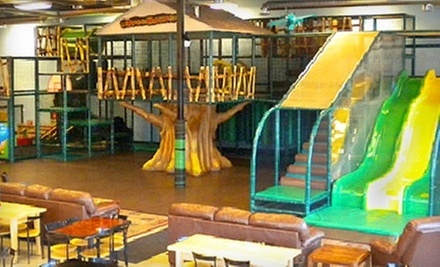 ---
Recommended Things to Do by Groupon Customers
---
Laugh Out Loud Theater
Laugh Out Loud Theater sprays the suburban fringes of Chicago with a thick foam of world-class improv comedy. An extensive, experienced cast brings a highly interactive, audience-assisted experience to the intimate Schaumburg stage, drawing on hive-mind suggestions to kick off its inevitably LOL-worthy sketches. Shows rely heavily on audience participation, and LOL's indefatigable ad-libbers make it a point to invite willing audience members up on stage to help them achieve exponential levels of funny. Though eschewing egregiously blue humor, Improv for Grownups' cast refuses to turn down any suggestion, no matter how risqué, which leads to raunchy riffs that retain the group's trademark wit. On Thursdays, Prime Time performances mix the group's regular ensemble members with in-training improvisers, delighting audiences while giving tomorrow's rib-ticklers on-the-job training.
Laugh Out Loud Theater has a full kitchen and bar—and there is no drink minimum—so guests can fill guts until they bust with each new course during the night's improvised feast of tomfoolery. Well-suited for date nights, group outings, or a way-funnier-than-usual family-bonding experience, Laugh Out Loud's improv comedy will inspire even the most nonspontaneous audience members to put down their cue cards and bust out a few jokes of their own.
601 N Martingale Rd., Suite 171
Schaumburg
Illinois
847-240-0386
Eric and Markay Suevel have run the eponymous Suevel Studios—a full-service glass studio that creates custom pieces and hosts classes—for more than 30 years. Both proprietors have practiced the art for decades, but their partnership marries two distinct approaches. Eric learned the craft at a young age from his uncle, and Markay possesses a liturgical perspective as an ordained minister with a master's in divinity. They cut and fuse alongside a team of worldly and learned glassworkers, all of whom bring their own specific expertise to the table, whether doing restoration work or mosaics. The studio's stained-glass work lights up churches, homes, and restaurants as well as their students' faces after they complete one of 25 classes. There, apprentices acquire the skills required to decorate household windows or liven up bland, translucent reading glasses.
870 S Arthur Ave.
Arlington Heights
Illinois
224-735-2376
A real firehouse sets the stage for hands-on, imaginative activities at FireZone, where actual firefighters show off fire engines, explain educational displays, and oversee games for kids of all ages. In addition to children's parties and drop-in play sessions, FireZone runs school field trips, caters to adults with corporate training days, and rents its trucks for picnics, parades, and festivals.
1100 National Pkwy.
Schaumburg
Illinois
877-597-3473
More than 100 flavors of shisha infuse Milan Hookah Lounge's softly lit atmosphere with a smoky haze that swirls off of premium tobacco from brands such as Fantasia and Starbuzz. Tobacco-free hydro herbal molasses comes in a slew of sweet flavors, satiating nicotine abstainers and easing the conscience of leafy, tobacco-human hybrids, and refreshing colas and teas cleanse smoke-saturated tongues. Guests kick back in a cozy lounge area with ceiling-suspended lamps, low couches, and sports-broadcasting TVs as occasional live music and belly dancing swell the airwaves with melodious and abdominal vibrations.
935 West Golf Road
Schaumburg
Illinois
847-310-4840
Visitors to the Elgin Public House step into a cozy interior reinforced by exposed-brick walls. A culinary crew revives weary locals with a menu of hearty pub eats and a beer selection of 87 varieties imported from across Europe and the United States. Chefs use certified-Angus beef for burgers, stuff pork chops full of bleu cheese cornbread and mango chutney, and hand-cut steaks in-house after aging them a minimum of two weeks to ensure optimal flavor and prevent them from prank-calling patrons. A calendar of weekly events keeps things lively with regular offerings such as Wednesday-night trivia, Friday-night fish fries, and daily specials. One Tuesday each month, limited-seating dinner-pairing events offer six-course meals, with each course accompanied by an alcoholic beverage, such as red wine or tequila.
219 E Chicago St.
Elgin
Illinois
847-468-8810
Multicolored holds dot the climbing walls inside North Wall, granting visitors a variety of gripping surfaces and seemingly limitless routes during their scaling expeditions. Since 1994, the rock-climbing haven has been beckoning climbing enthusiasts to its sprawling confines, where it offers classes and private lessons for climbers of all abilities. Participants can even join teams, in which they can boost their skills for competitions or leisurely scrambles up the noses on Mt. Rushmore.
824 S Main St.
Crystal Lake
Illinois
815-356-6855
---