Barstow, CA Outdoor Activities
---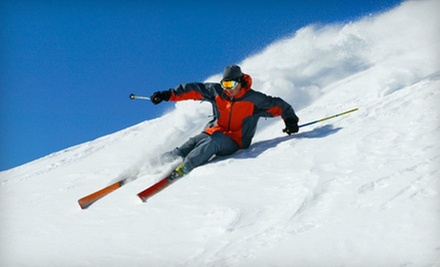 ---
Recommended Outdoor Activities by Groupon Customers
---
In 1992, Phil Dietro's younger brother Stu became enamored with his friend's paraplane, prompting him to learn how to pilot the motor-powered parachute. In an old fashion bout of sibling rivalry, Phil too wanted to master the strange flying contraption, traveling with Stu to Santa Ynez Airport for his first flight. As gusts of wind rearranged his hair, and impressed birds beckoned him over for high-fives, Phil became hooked, later seeking further training from the paraplane's inventor, Steve Snyder.
A year after his first flight, Phil's newfound hobby inspired him to establish Inland Paraflite, where he currently schools fledgling aviators in an airborne classroom high above the Apple Valley desert. His exhilarating flight courses instill cloud-curious students with the knowledge to man a dual-controlled Powrachute Pegasus, which reaches speeds of up to 32 miles per hour—the same speed at which the sound of soft rock travels.
17100B Bear Valley Rd., Suite B263
Victorville
California
760-242-3359
Each year, Boulder Creek Ranch transforms itself into a venue for the autumnal revelry known as the Harvest Festival. During the week, guests trundle about the farm on hayrides, cavort with baby goats in the petting zoo, or pick out their next jack-o'-lantern or replacement head in the pumpkin patch. At the playground and bounce house, kids can build up their cardiovascular endurance with fast-paced trick-or-treating on Halloween night.
Over the weekends, the festival kicks the fun up a notch with live music, a beer garden, and carnival games. Food vendors peddle provender to give visitors enough energy to cheer on their favorite driver during the mini-tractor race. Throughout its two-week run, the Harvest Festival hosts several special events, including a chili cook-off, a battle of the bands, a costume contest, and a Huckleberry Finn-inspired fish-off, where piscatorial hunters haul in their quarry with bamboo poles.
19099 Lemon St.
Hesperia
California
Nobody in Santa Monica has a snow-covered slope in their backyard to practice slalom runs. Some think they can just march up a mountain and dominate a black diamond on courage and instinct alone. Instead, they wind up face first in snow, wishing they'd practiced.
In order to prepare skiers and snowboarders for the real deal, and to spare them from slushy, frostbitten shame, two-time world ski champion Bob Salemo devised his innovative Virtual Snow training system. In a controlled indoor environment far away from menacing ski lifts and snowballs tossed by mountain goats, winter-sports enthusiasts perfect their maneuvers in fun training drills led by skilled instructors and the clever teachings of Salemo himself. The faux ski-course simulator, which resembles a large conveyor belt, mimics the smooth surface and wily turns of a downhill slope as its snowy surface rolls beneath the feet of students on skis or snowboards. Future Picabo Streets or Shawn Whites not only expand their abilities to new levels, but they can also practice tricks without bailing out and shake off any bad habits they learned from sleet gangs.
24510 Hwy. 2 A
Wrightwood
California
---